HHCF starts Los Angeles push!
For Immediate Release
PR Contact: Meek Gaborski
1-888-588-4418
memg@hiphopchessfederation.org

Hip-Hop Chess Federation Launches Chess & Life Strategies Classes at High School in South Central LA… UFC Vet Kenny Florian, Sons of Anarchy's Emilio Rivera and Black Knights Join HHCF to Inspire At-Risk LA Teens
Emelio Rivera (center) gives a stirring speech during the 'Mind Over Yard' panel. RZA (left), Dr. Marin Gomez and Rakaa Irie Science are also pictured on the panel.
Los Angeles, CA 4/1/14- The Hip-Hop Chess Federation (HHCF) is proud to announce that it will be hosting a three day class on "Chess and Life Strategies" at Santee Education Complex in South Central Los Angeles starting April 2nd to April 4th 2014. The course will be the introduction to an after school program hosted by the HHCF to inspire Los Angeles teens to make better decisions in the classroom and on the streets. It is exclusively for students of Santee.
HHCF after school program was invited by Santee Principal Dr. Marin Gomez who met HHCF's Founder Adisa Banjoko while working in San Francisco a few years earlier. HHCF Founder Adisa Banjoko stated,
"We are thankful to Dr. Martin Gomez for inviting us to teach 'Chess & Life Strategies' after school program to the students at Santee. The HHCF program is expanding rapidly because the connection between Hip-Hop and chess is so real, it connects with these young kings and queens like nothing else. Its an honor beyond words."
HHCF will have special guests visit through the week such as actor Emilio Rivera of Sons of Anarchy, Compton Rapper Rugged Monk of Black Knights, Gracie Jiu Jitsu Master Ralek Gracie, UFC vet and fight announcer Kenny Florian, Chessboxing Champion Andrew McGregor, and Hip-Hop Educator Sebastian Elkouby among others.
Some of the lessons in the "Chess & Life Strategies" after school program will come from music on the Street Games Vol. 1 mixtape hosted by DJ Rob Flow and A-Plus of Hieroglyphics. Street Games Vol. 1 is a profanity-free mixtape about the connections between Hip-Hop Chess and martial arts. It includes "A Technical Flow" by Kalhi feat. UFC coach Ryron Gracie, "64 Squares in the Cipher" by Sunspot Jonz, Zumbi and Rakaa Iriscience, "The Chess Clock" by Quadir Lateef and Jasiri X, and "The Maurice Piece," a tribute to the first Black Grandmaster of chess, Maurice Ashley.
Also LISTEN to Dr. Gomez, RZA of Wu-Tang Clan and Adisa Banjoko talk about Hip-Hop, Chess and Education on www.openmatradio.com podcast.
For more information on HHCF visit www.hiphopchess.blogspot.com, www.facebook.com/hiphopchess, follow on Instagram @realhiphopchess. To donate to HHCF visit www.crowdtilt.com.
---
SPONSORS
CTRL Industries
https://www.ctrlindustries.com
Studio Anne Carlton
https://www.studioannecarltonchess.com
United States Chess Federation
https://www.uschess.org
Open Mat Radio
https://www.openmatradio.com
The Chess Drum
https://www.thechessdrum.net
Chess.com
https://www.chess.com
LA Chess Club
https://www.lachessclub.com
DSTRYR-SG
https://www.dstryrsg.com
Jupiter Jiu Jitsu
https://jupiterjiujitsu.com/
Timbuk2 Bags
https://www.timbuk2.com
---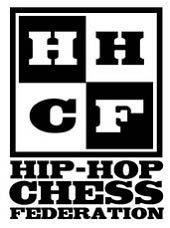 About Hip-Hop Chess Federation: The Hip-Hop Chess Federation is the first nonprofit 501(c)3 to fuse music, chess and martial arts to promote unity, strategy and nonviolence. They host celebrity chess events and panels of life strategies for at-risk, gang impacted and gang intentional youth. Artists like RZA and GZA from Wu-Tang Clan, The Jacka, Immortal Technique, Asheru, Zion I, DJ Qbert, Dilated Peoples, Hieroglyphics and many others have participated in their events. Founder Adisa Banjoko has presented at Harvard University and World Chess Hall of Fame on how chess, martial arts and music promote peace in the streets in 2013. Visit their official website at www.hiphopchessfederation.org.
###
Visit www.BishopChronicles.com today and LISTEN to some of the coolest interviews in entertainment, business strategy and technology on the net. Connect with me on www.linkedin.com/in/abanjoko.