RZA repeats as HHCF King!
For Immediate Release
PR Contact: Meek Gaborski
323-335-4497
memg@hiphopchessfederation.org
RZA of Wu-Tang Clan Successfully Defends Hip-Hop Chess King Title… Suggests A Fusion Math & Music Can Help Educators Reach Youth… Hip-Hop Chess Federation Declares RZA Winner of HHCF Chess Kings Invitational
Kings Battle!
Los Angeles, CA 2/26/14- The Hip-Hop Chess Federation (HHCF) is proud to announce that RZA retained his title at the Chess Kings Invitational , a celebrity chess tournament, Sunday Feb 16th 2014. The event was part of a high level submission only jiu jitsu tournament called KO Finisher. The 8-man tournament included Actor Emilio Rivera of Sons of Anarchy, MMA Fighter Ralek Gracie, Rakaa Iriscience from Dilated Peoples, Hip-Hop producer Shafiq Husayn, LA Chessboxing Champion Andrew McGregor, Rugged Monk of Black Knights and Adisa Banjoko.
Hip-Hop Chess Federation Founder, Adisa "The Bishop" Banjoko stated "The HHCF would like to congratulate RZA on winning the 2014 Chess Kings Invitational. RZA defended his title with the focus of a Shaolin Monk. Additionally, our Mind Over Matter panel proved beyond a shadow of a doubt that educators, artists, chess and martial arts can benefit at-risk teens and kids through sharing new ideas. " RZA and the HHCF raised 5k to benefit an after school chess program at Santee High School in South Central Los Angeles. The program is expected to launch in the next few weeks.
RZA listening to Emelio Rivera
during the 'Mind Over Yard' panel.
The Mind Over Matter panel featured RZA, actor Emilio Rivera from Sons of Anarchy, Dr. Martin Gomez Principal of Santee High, Dr. Sergio Flores Director of Partnership for LA Schools, Rakaa Iriscience of Dilated Peoples, and LA Chessboxing Champion Andrew McGregor. The panelists discussed how Hip-Hop, chess and martial arts can lead American youth to unity, strategy and nonviolence. FULL AUDIO OF RZA's talk on the Mind Over Matter Panel can be heard in its entirety at The Journey Podcast.
RZA, who also serves as the Director of Outreach for HHCF stated:
"It was an honor to do battle and emerge victorious at the Chess Kings Invitational in LA. It was great to share ideas on blending music and math to reach the youth. I believe the conversations on our panel can open some peoples eyes.We hope to share the educational power of fusing Hip-Hop, chess and martial arts with even more people next year."
Video by HHCF.
L-R: Yin Banjoko, Emilio Rivera, Adisa Banjoko, RZA, Ralek Gracie
Photos by Paul Moran.
In related news, the HHCF recently released Street Games Vol. 1 hosted by DJ Rob Flow and A-Plus of Hieroglyphics. Street Games Vol. 1 is a profanity free mixtape about the connections between Hip-Hop Chess and martial arts. It includes "A Technical Flow" by Kalhi feat. UFC coach Ryron Gracie, "64 Squares in the Cipher" by Sunspot Jonz, Zumbi and Rakaa Iriscience, "The Chess Clock" by Quadir Lateef and Jasiri X, and "The Maurice Piece," a tribute to the first Black Grandmaster of chess, Maurice Ashley.
For more information on HHCF visit www.facebook.com/hiphopchess or follow on Instagram @realhiphopchess.
SPONSORS
CTRL Industries
https://www.ctrlindustries.com
Studio Anne Carlton
https://www.studioannecarltonchess.com
United States Chess Federation
https://www.uschess.org
Open Mat Radio
https://www.openmatradio.com
The Chess Drum
https://www.thechessdrum.net
Chess.com
https://www.chess.com
LA Chess Club
https://www.lachessclub.com
DSTRYR-SG
https://www.dstryrsg.com
Jupiter Jiu Jitsu
https://jupiterjiujitsu.com/
Timbuk2 Bags
https://www.timbuk2.com
---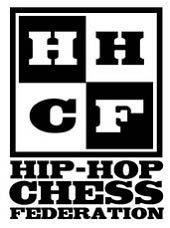 About Hip-Hop Chess Federation: The Hip-Hop Chess Federation is the first nonprofit 501(c)3 to fuse music, chess and martial arts to promote unity, strategy and nonviolence. They host celebrity chess events and panels of life strategies for at-risk, gang impacted and gang intentional youth.
Artists like RZA and GZA from Wu-Tang Clan, The Jacka, Immortal Technique, Asheru, Zion I, DJ Qbert, Dilated Peoples, Hieroglyphics and many others have participated in their events. Founder Adisa Banjoko has presented at Harvard University and World Chess Hall of Fame on how chess, martial arts and music promote peace in the streets in 2013. Visit their official website at www.hiphopchessfederation.org.
# # #
Visit www.BishopChronicles.com today and LISTEN to some of the coolest interviews in entertainment, business strategy and technology on the net. Connect with me on www.linkedin.com/in/abanjoko.
Nate Jackson, "RZA Preserves his Titles as Hip-Hop Chess Master," OC Weekly, 18 February 2014.