World Candidates 2014-14: Anand wins… naysayers silenced
2014 World Championship Candidates
March 11th-April 1st, 2014 (Khanty-Mansiysk, Russia)

Round #14

#

Name

Flag

Rating

Result

Name

Flag

Rating

12.1
Mamedyarov

2757

½-½

Kramnik

2810
12.2
Topalov

2785

½-½

Andreikin

2709
12.3
Aronian

2830

0-1

Karjakin

2766
12.4
Anand

2773

½-½

Svidler

2758

Games
The final round was a formality. The only uncertainty was whether Veselin Topalov would get out of the cellar and the order of standings. Sergey Karjakin ground down Levon Aronian to finish with (by this tournament's standards) a healthy +1 score. Only Karjakin and victor Viswanathan Anand finished with plus scores while Dmitri Andreikin, Shakhriyar Mamedyarov, Levon Kramnik and Aronian finished on 50%, Peter Svidler on -1 and Topalov on -2.
After his victory-clinching 13th round, Anand reflected on a scenario that occurred after the London Classic. He had asked Kramnik to join him for dinner in an attempt to assuage The Russian's feelings after losing a tough game against Hikaru Nakamura, the eventual winner. A bit of serendipity occurred when it was Kramnik who was consoling Anand and urging him to play in the Candidates. Anand's chess results had been abysmal and his defense match against Carlsen was a disaster. Anand credited Kramnik with encouraging him to play in the Candidates. Here is Kramnik's account:
Vladimir Kramnik played a role
in Anand's success.
Kramnik: "…I advised him (Vishy) to participate …" "…he has all chances to win the match against Carlsen". "We really spoke about it in London and Vishy was unsure by that time. I advised him to participate because I really thought he had a chance and I just told him so. The fact is that we are from the same generation of players and we are on friendly terms, so I don't feel like competing, although he beat me in the World Title match. I am really happy for him. As to me I just didn't deserve it. If not him, someone else would win, so I don't regret I advised him to play. I am also happy Vishy could overcome the crises of the recent years of his career – he wasn't winning competitions, so everyone just buried him. Also I think he has all chances to win the match against Carlsen. I had similar crises, so I know what was happening inside him."
Kramnik is referring to a stretch of bad results which was exacerbated by various ailments including his medical condition, ankylosing spondylitis. Of course, Kramnik lost his title in 2007 after Anand won the world championship tournament to unify the title. Since then Anand has been a stabilizing force in the chess world.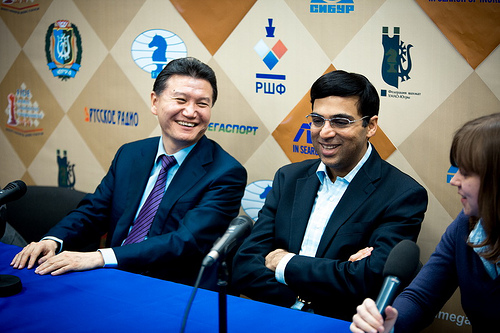 This victory will set the stage for a momentous rematch.
FIDE's Kirsan Ilyumzhinov could not be happier.
Photos by FIDE.com.
During his reign there were no controversies since the ill-fated "toiletgate" debacle between Kramnik and Veselin Topalov in 2006. A conflict that still results in no pre-game shaking of hands. Alas, Anand has too much class for such behavior.
Of course, there was the Anand-Topalov match played in Bulgaria where Anand was delayed (due to a volcano) and not given the requested three-day postponement of the match to arrive and rest. He simply would not be drawn into a hostile environment, arrived on Topalov's home turf and won. The Indian legend has helped to shape a vibrant chess community in India and helped to inspire millions… especially in developing nations.
Last fall, Anand finally lost the crown to a surging Carlsen in his hometown of Chennai. After his loss, even Anand's supporters may have felt skeptical about his chances in the Candidates, but the tiger showed up in Khanty-Mansiysk. The tiger will now be doing the chasing as opposed to being chased. Anand has a chance to make history ala Muhammad Ali… without the trash-talking.
Official Site: https://candidates2014.fide.com/
Drum Coverage: https://www.thechessdrum.net/blog/2014/03/14/2014-world-chess-candidates-khanty-mansiysk-rus/
Video Commentary by GM Daniel King
Standings
Viswanathan Anand, 8.5/14 (+3 -0 =11), Sergey Karjakin, 7.5/14 (+3 -2 =9), Vladimir Kramnik, 7/14 (+3 -3 =8), Dmitri Andreikin 7/14 (+2 -2 =10), Shakriyar Mamedyarov, 7/14 (+3 -3 =8), Peter Svidler, 6.5/14 (+3 -4 =7), Levon Aronian, 6.5/14 (+3 -4 =7), Veselin Topalov, 6/14 (+2 -4 =8),