WCC2013-2: The Caro-Kann Can't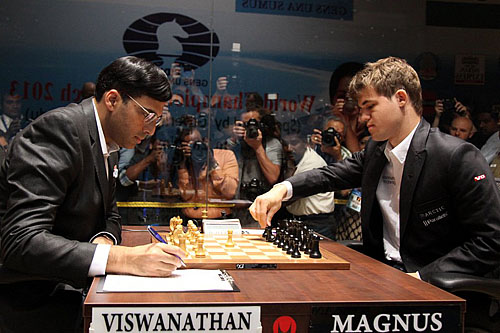 Carlsen surprised Anand with 1…c6.
The media often uses chess as a metaphor for a looming strategic battle. It is considered a symbol for erudition and intellectual guile. Well… today's game may use the same metaphor to describe the strategic jockeying after the second draw in the World Championship match. While fans and commentators were equally disappointed today, the players stated that they were "just getting into the match". Anand also described it as "collecting information".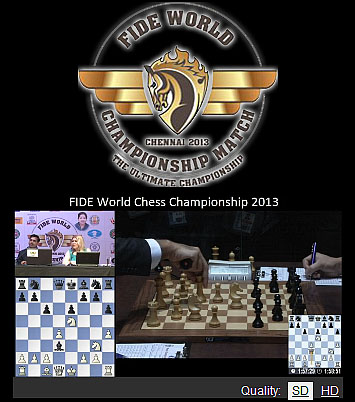 The Caro-Kann was on stage today, but it soon became the Caro-Can't.
No fireworks today.
In today's match, it appeared that Anand was spoiling with a fight after 1.e4 which got a rousing applause. Carlsen surprised Anand with the Caro-Kann and they entered the classical lines after 1. e4 c6 2. d4 d5 3. Nc3 dxe4 4. Nxe4 Bf5 5. Ng3 Bg6 6. h4. This got a reaction, but this is normal main line. Carlsen equalized rather comfortably and the two agreed to a draw in a rather dull position.
Score: Anand 1 Carlsen 1
Official Site: https://chennai2013.fide.com/
Drum Coverage: https://www.thechessdrum.net/blog/2013/11/06/2013-world-championship-anand-vs-carlsen/
---
Game #2
Game Analysis – Game #2 (GM Daniel King)