WCC2013-1: "Damp Squib" in first game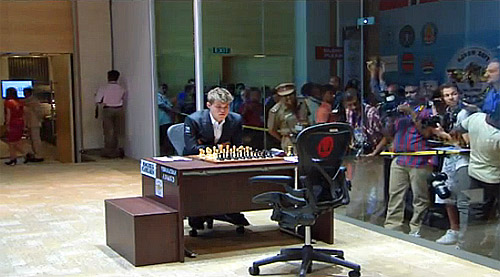 Magnus Carlsen meditates before his first classical match begins.
The highly-anticipated match has begun in what has been billed by some as the "Match of the Century". There was a throng of photographers outside of the playing area, a press room packed with journalists and millions of fans around the world watching. The Indian press has inundated its 1.2 billion citizens with news coverage and both Indian commentators IM Tania Sachdev and GM R.B. Ramesh stated that this match will give an additional greater boost to the growth of Indian chess.
There was a lot of talk about which opening Magnus Carlsen would play. The 22-year old Norwegian is comfortable in many sorts of positions and is known to vary his opening choice. Thus, he started the match with Reti Opening after 1.Nf3 against Champion Viswanathan Anand. Anand replied with 1…d5. The game resembled a Grunfeld and was a surprise amongst the commentators. Carlsen appeared to be a bit cautious in his first game. He certainly respects Anand's preparation.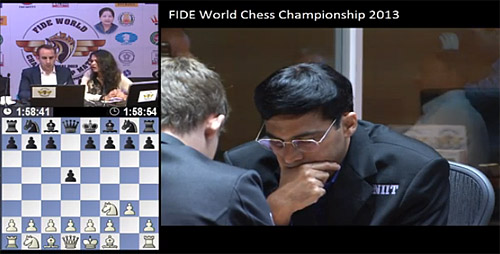 IM Lawrence Trent and IM Tania Sachdev were taken by surprise after 1.Nf3 d5 2.g3!?
GM Daniel King had commented the game and preferred black after 11…Nc5 12.Bc1 Nd5. After 13.Qb3, Anand decided to repeat moves, the two shook hands and draw was agreed. After the game both players looked at a few variations such as 10…Nb6!?, but agreed that there was nothing tangible to play for. Carlsen stated, "I had to pull the emergency break and go for the draw." He did add that he wished that Anand had played on further.
Friendly discussion after today's 16-move draw.
Twitter exploded in disapproval with the 16-move draw with GM Nigel Short calling it a "damp squib," GM Ian Rogers lambasting Carlsen's opening choice and Silvio Danilov calling for rule changes.
Disappointment today,the chess world expected much more from this game.Sofia Rules need to be introduced and the triple repetition banned.

— Silvio Danailov (@SilvioDanailov) November 9, 2013
Others were not as critical saying that these are ebbs and flows of a match and that an initial draw is perhaps a way to work out the tension. Nevertheless, the media mill is buzzing with stories and countless of ways to keep up with the action via the main site chennai2013.fide.com, as well as chessclub.com, playchess.com, chess.com, chessdom.com and of course the various Twitter accounts. Stay tuned!
Score: Anand ½ Carlsen ½
Official Site: https://chennai2013.fide.com/
Drum Coverage: https://www.thechessdrum.net/blog/2013/11/06/2013-world-championship-anand-vs-carlsen/
---
Game #1
Game Analysis – Game #1 (GM Daniel King)