Hou Yifan dispatched Anna Ushenina to regain the Women's World Champion.
Can the 19-year old star invigorate women's chess?
China is back on top of women's chess! Hou Yifan clinched the 2013 Women's World Championship with a crushing 5½-1½ win over a beleaguered Anna Ushenina. The margin of victory was a total embarrassment not only for Ushenina, but also for the meaning of the title, the women's format and women's chess in general. Hou lost the crown last year in the championship knockout tournament (won by Ushenina) and will have to defend it next October in a knockout.
What can be learned from this lopsided match? That the women's cycle is broken and there is no place for the knockout system in determining anything other than a qualifier. Ushenina was seeded 30th in last year's knockout and won. She is currently 17th and may fall out of the top 20 back into obscurity. The entire scene was very sad for Ushenina and women's chess will take a blow here.
Commentary after the clinching game…
Ushenina seemed despondent throughout.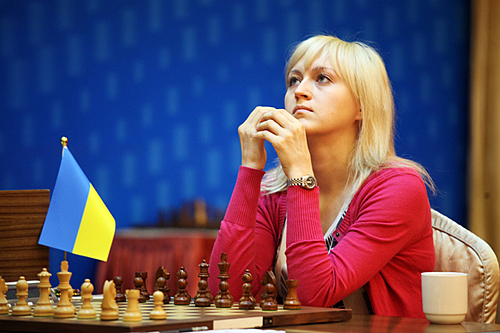 Unfortunately, the "Ushenina brand" never had a chance. Apart from her effort against Peter Svidler in the World Cup, her reign will fade into obscurity. Photos by Anastasia Karlovich.
Susan Polgar was interviewed and made some salient points about the lack of attention to this match. She cited time zone, lack of English commentary, poor public relations, rating gap, the obscurity of Ushenina, and other reasons. Here is what she had to say about the comparisons to the upcoming men's match.
This is a very sensitive question. In general, I would like the prize funds for women to increase to men's level. However, the players must also do their part to help create interest and marketability for their sport. No sponsor would come with millions of dollars for something that does not yield positive returns. In fact, FIDE had a hard time finding sponsors for women's world championship.

It is unrealistic to believe that they can find sponsors for the women's world championship at the same level as Anand vs Carlsen. In addition, there is too much politics in the world of chess that directly hinders the general growth of the sport, especially for women. I have faced a lot of hurdles in my efforts to promote women's chess in the US.

I want to bring chess to the highest level to attract major sponsors and supporters. Chess politicians, on the other hand, only want to have power for life. So the battle is not with the media or sponsors. The battle for chess players from around the world is with chess politicians at all levels.

Women players make too little money. They are afraid to lose what little they have if they get on the wrong side of chess politicians. (Full Story here!)
Now the conversation will swirl around the chess world about how to reinvigorate women's chess. As #17 in the world and with more than 100 ELO difference, few took Ushenina as a serious opponent. Hou Yifan certainly did and was focused. Apart from Ushenina's successful run in the 2013 World, Cup, her reign was unremarkable. Her publicity nightmare of not executing a bishop and knight mate in 50 moves did not help her cause. Now that we have a young, strong, and charismatic champion, the debate will continue. Talks of a match with Judit Polgar will surface once again and perhaps women's chess can flourish.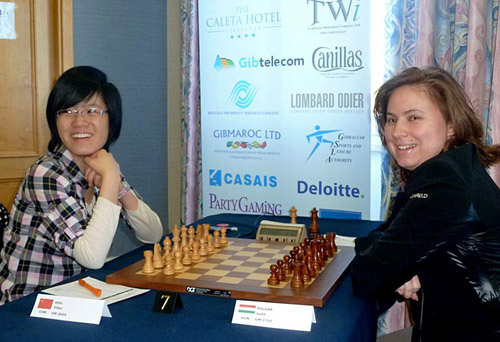 Hou Yifan facing Judit Polgar in a historic battle at the 2012 Tradewise Gibraltar Masters. Photo by Zeljka Malobabic © Tradewise Insurance Ltd.
There is the idea that more women will necessarily produce stronger players. One can find many faults in this logic and has to look no further than the fact that no woman has been able to replicate Judit Polgar's success (becoming #10) despite there being a lot more women playing than when Polgar was rising as a young teen. Let's hope that the women's cycle can be made consistent with the overall cycle and that standards for women's play can increase with an emphasis on quality and not quantity of players.
2013 Women's World Chess Championship


September 10th-28th, 2012 (Taizhou, China – Taizhou Hotel)

1

2

3

4

5

6

7

8

9

10

pts.

Ushenina

1½

Hou

5½

Official Site: https://taizhou2013.fide.com/