After I interviewed Dirk Jan ten Guezendam at the Sinquefield Cup, I gained perhaps another level of appreciation for its history. Starting out as local Dutch magazine it has morphed into a world-class publication. A few years back, the magazine has unfurled a new image with a bold, color format and has never looked back. This issue features a very interesting cover story of Che' Guevara and his chess escapades during his years in Argentina and later Cuba.
Guevara is actually credited with creating a revival in Cuban chess during the 1960s. Having traveled to Cuba a few years ago, it became apparent to me that chess was very much a part of the cultural fabric of society. In fact, chess is almost as ubiquitous as Che's image. Chess can be seen in parks, in murals, street games and of course the legendary Havana Chess Club. The pictures inside the Habana Libre (second floor) are historic. The article takes you through the winding roads of Guevara's life, but what is so intriguing was the passion this crack soldier had for the game. Gem of an article!
Mickey Adams is a strong player, but is not one of the most visible GMs. His strength lie in his simplistic and direct style which is quite refreshing given the maze of complicated variations that is regular fare for top-level events. His victory at Sparkassen Chess Meeting was perhaps a career best with a 2925 performance. While Adams is 41, he is showing the staying power of those in his generation (including Anand, Gelfand, Ivanchuk) remains.
Before this even I looked at my rating and though: it's very high I should have break for a couple of months and look at this rating! ~ Michael Adams
Apart from Maxime Vachier-Lagrave's win at Biel and Shahkriyar Mamedyarov's win in the Beijing Grand Prix, there is Nigel Short's usual entertaining article about his chess sojourns… this time in Canada. Hans Ree reviews John Shaw's book on the improbable King's Gambit. Included are several classic including Spielmann-Grufeld.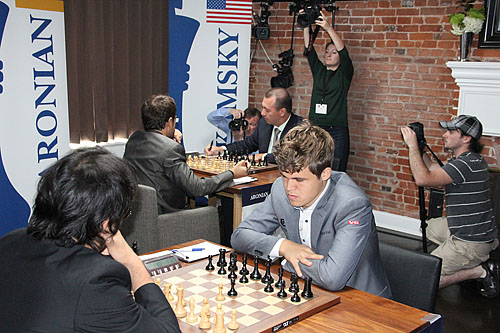 Dirk Jan capturing the action. Sinquefield coverage coming!
Photo by Daaim Shabazz.
CONTENTS
Your Move
NIC's Café
Dortmund
Che and Chess
The Same Excellent Fish
Beware: Brilliancy!
In Search of Maximalism
Commuting to Canada
Beijing GP
Sadler on Books
King's Gambit
Just Checking
Link: https://www.newinchess.com/Shop/ProductDetails.aspx?ProductID=491