Diamond Shakoor
Photo by Laurie Skrivan.
A month ago, the St. Louis Dispatch ran a story about chess families moving to St. Louis to help their children with their chess endeavors. We have heard of stories like this before including the most being Fabiano Caruana's move to Europe where he grew into a world class player.
St. Louis has become a centrifugal force of chess growth in the U.S. after decades of stagnant growth. Rex Sinquefield has built the Midwestern city into a tourist destination for chess players who marvel at the Chess Club and Scholastic Center of St. Louis (CCSCSL). He then made arrangements to move the World Hall of Fame from Miami to St. Louis which is across the street.
This development has attracted many Grandmasters including America's top player Hikaru Nakamura, Benjamin Finegold and the college chess programs at Webster University (with eight GMs) and Lindenwood University. So St. Louis is official the "Mecca" of U.S. chess.
In Columbus, Ohio, Diamond Shakoor had been dominant in her scholastic activity and her father Abdul had decided to move to St. Louis to be close to the bustling scene and to afford his 11-year old daughter with better opportunities for improvement. A single father, Shakoor moved into a modest apartment with daughter Diamond and has created an environment designed for one thing… success. "To be the best," Shakoor said, "you have to be around the best."
Abdul Shakoor counseling Diamond during tournament at CCSCSL.
Photo by Laurie Skrivan.
The Shakoor story is one that we have heard thirty years ago in Baraka Shabazz. The family decided to move from Alaska and California ultimately ending up in the east coast so Baraka would be near the strongest chess competition. Of course, that story ended in heartbreaking failure. However, Diamond is being put into a chess environment that will be much more supportive than what Baraka had. Mr. Shakoor is taking a chance and believes his daughter can one day become a champion.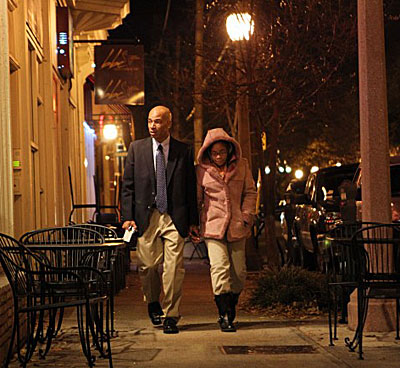 Abdul Shakoor with Diamond walking near the CCSCSL.
Photo by Laurie Skrivan.
Read, "Families move to St. Louis for Chess"!