Amon Simutowe of Zambia has earned the coveted title of Grandmaster. This accomplishment is a marvel for a number of reasons, but suffice it to say, it was a long time coming. As a schoolboy, Simutowe was known as "pawn" but ended up becoming an African giant as his talent was revealed.
By the time other players were able to adjust, Simutowe had begun his rampage on African competition winning national and continental championships by large scores. He then practiced his craft on international competition making an immediate impact at the 2000 World Junior placing joint 2nd out of a #42 ranking. Soon Simutowe's rating shot up from 2240 to 2470 and there was thought that he would secure his last GM norm rather quickly.
Simutowe hit a rough period in his first visit to the U.S. and his rating tumbled. During a reflective period, Simutowe decided that a path to personal success may be secured if he focused on his academics. He received an academic scholarship from the University of Texas at Dallas (USA) and played four years for the university team helping them win two national titles. This may have been a good environment since he was able to continue playing chess while studying finance and economics.
---
"I am not going to play you because it's unfair to play two Grandmasters in a row with black pieces."
~GM Anatoly Lein's remarks when paired with IM Amon Simutowe at 2007 Chicago Open.
---
After a successful academic stint and graduating with honors, he set upon his mission to earn his 3rd norm. In a May 28th interview with The Chess Drum's Daaim Shabazz, he stated his intention. "The most important decision for me was to decide that I would put in the next six months to get the norm done," he stated. One turning point may have been the 2007 Chicago Open where he played inspiring chess. That tournament ended in a humourous, but rather prophetic story.
GM Anatoly Lein forfeited his last-round game with Simutowe by stating, "I am not going to play you because it's unfair to play two Grandmasters in a row with black pieces." This story may have provided more confidence to the young Zambian.
Simutowe would play in a number of American tournaments with mixed results. However, he did score a strong result at the 2007 U.S. Open including a crushing win over Hikaru Nakamura.
Thereafter, momentum begin to build, but perhaps Simutowe was playing too often in order to properly assess his progress. After a disappointing result at the New Jersey Futurity, he admitted that he needed a break. He was invited to Trinidad for the 2007 Caribbean Chess Carnival and may have been the "getaway" trip he needed.
After placing joint first in Trinidad and spending a few days in Barbados, he then traveled to the Netherlands to play in an interesting tournament. This tournament featured several chess legends including former World Champion, Nona Gaprindashvili. He seemed to enjoy the experience, particularly playing the chess legends.
GM-elect Amon Simutowe receives his 1st place trophy at the Euwe Stimulans tourney. Photo by Ben Schulte.

In that tournament, he played some interesting games, but almost lost the norm in his last round game when his opponent 17-year old Helgi Dam Ziska missed a clear win. After holding a draw he would earn his last norm at the Stimulans Tournament. Congratulatory remarks flowed around the world. Of course, the battle was not won yet. He had to get the 2500 ELO rating requirement.
In the next two years, Simutowe had to endure a number of battles and make tough decisions about how to secure the ELO points to get to 2500. Without a sponsor, he had to be resourceful and negotiate conditions on his own. He had requested that The Chess Drum not provide coverage of his events. This may serve to take pressure off of him.
For the next year or so, his results were stagnant despite adding stamps on his passport to many places including Iceland and Spain. He would gain points, then lose points. Simutowe was seemingly growing frustrated, so he changed his strategy. He would begin to play as if he is still earning norms.
Over the next few months, Simutowe added a couple of GM norms and his rating started to edge closer to 2500. However the "last mile" appeared to be the toughest. It was then that Simutowe took a number of tournaments in the spring of 2009 and eclipsed the 2500 barrier.
The good days came in the Zagreb Open and the first few rounds of Verona Open when I went to 2503.
Mission accomplished! Simutowe told The Chess Drum that he had eclipsed the 2500 barrier early in 2001, but thought that the rating had to be published.
The FIDE Handbook states under title requirements,

1.52a Such a rating need not be published. It can be obtained in the middle of a rating period, or even in the middle of a tournament. The player may then disregard subsequent results for the purpose of their title application. However the burden of proof then rests with the federation of the title applicant. It is recommended that players receive a certificate from the Chief Arbiter where they achieve the rating level during an event. Such a certificate should include a note of the date each game was played. Title applications based on unpublished ratings shall only be accepted by FIDE after agreement with the Rating Administrator and the Chairman of the Qualification Commission. Ratings in the middle of a period can be confirmed only after all tournaments for that period have been received and rated by FIDE.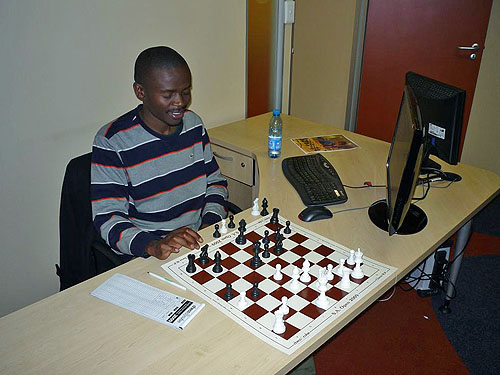 Amon Simutowe playing in the 2009 South African Open, his first tournament as an official Grandmaster. He won the tournament with 9.5/11. Photo by Mark Levitt.
Nevertheless, Simutowe had done something that only 900 others have done. There is a lesson learned in being one of the few, but yet another to overcome the circumstances to achieve such a task. There have been so many examples of individuals coming to the precipe of success, only to give up their dream. Thomas Edison once stated,
Many of life's failures are people who did not realize how close they were to success when they gave up.
The "Zambezi Shark" didn't give up and will now be an example for the African Diaspora and aspiring Grandmasters all over the world. An example that the fruits of one's labor can be rewarded if one is determined. Well done GM Simutowe!
~Dr. Daaim Shabazz
4 Responses to "Simutowe's Last Mile"
Interview with Simutowe

GM Amon Simutowe


Many of us plan a journey and hope we will reach a destination. However, there are often many tangible factors that may affect our progress. Since our goal is success we have to be willing to accept some mistakes. A wise person once said,

"If it is success you're after, then failure is inevitable and constant. The key is how one deals with the failure."

Back in June, the Fédération Internationale des Échecs (FIDE) bestowed upon Amon Simutowe of Zambia the title of Grandmaster. It was a long journey, but during the last mile, Simutowe accomplished his goal. This goal is a personal, but it is a goal that people of African descent take ownership in.

The Chess Drum's Daaim Shabazz requested a brief interview and asked the "Zambezi Shark" how he was able to reach his goal. This interview focused on achieving the final requirements.

---

Daaim Shabazz: Did you have a strategy for reaching 2500?

Amon Simutowe: OK, this was a little complex situation. Travel costs to Europe are high and moreso if you are flying twice a month. Then there is this challenge… if you get back home to rest one or two weeks, you are in another mode. So I decided I will be in Europe until I became a GM. That meant playing a lot. Now the problem with playing a lot is that you will be getting tired in some events and losing ELO… and at the same time you will be gaining in some. So the gain should outweigh the losses, but this is unlikely because you have no time to study chess and increase your playing strength. I was therefore mainly relying on my concentration, will to win and on the board creativity, but I was competing against opponents who were usually prepared for me and well rested.

Because the tournament organisers were covering hotel expenses most of the times, playing a lot worked out to be more convenient. However, Grandmaster trainers recommend 60 games a year so that one has more energy reserves for playing and for creativity. I was playing about 27 games a month and changing countries within Europe every week on average. The problem with playing so much was that I didn't have much energy to prepare for my opponents. I used to just look at what they played and saved the little energy I had left for the game.

So I told myself, "I want to be GM" and my situation makes it unlikely at least by the methods of experts. So the will to want the GM title should compensate for the not so optimal situation. Anyway it worked. I relied more on my will than the most logical strategy of becoming a GM.

The good days came in the Zagreb Open and the 1st few rounds of Verona Open when I went to 2503. I then had two bad tournaments before the rating over 2500 was published. So lost some points, but at least the GM issue is done.

Daaim Shabazz: You may have received lots of advice? Is there any useful advice you found helpful in reaching your goal?

Amon Simutowe: As for advice… I don't know. There are people who gave me general encouragement and this was useful especially at times when the going was so so or negative. The real lessons were from negative gestures made by some people I respected.

When I was 15 and already senior national champion someone prominent told me that I should forget about becoming a GM. "Maybe the next generation had a chance," he stated. He encouraged me to instead enjoy the positive qualities chess imparts. He said it with so much confidence and a body language that seemed to indicate I should appreciate his wise advice.

In other instances, I told a few close people I wanted to go for my final GM norm after I graduated. One told me that if I had waited before going to college I would have managed to make my final gm norm. That was the answer he gave me regarding if he could help with getting me sponsorship. OK… I made three more GM norms instead of one. In both of the mentioned cases above, I don't think the people meant to discourage me… they thought they were giving me timely advice.

The lesson I drew from the mentioned incidents is that at the end of the day, one should have the comfort of believing in his goals or what he feels he can do even if the people he respects or trust, doubt him.


Daaim Shabazz: What was the defining moment after your 3rd norm? A point where you knew you would reach your goal.

Amon Simutowe: I realized I could become Grandmaster during the 2000 World Junior Championship. I think this helps because if things are not going well you are not asking if you will do it, but how you will do it. So if this does not work, you go to the next plan… how is it going to work… next, next. It might take relatively more time, but you choose to do it or not. Be comfortable with some failure on the way. I think that's a good quality.

I remember once the going got tough. I gained points and then lost more points than I gained. I was physically and mentally tired…I laughed unconsciously and thought this was going to be a more challenging ride than I had earlier imagined. Quitting was not an option.

I think players from Eastern European countries and Russia, received so much advanced chess training at a young age such that they probably didn't realise how good their progress was in chess when they became GMs.

Daaim Shabazz: Did you have any doubts in getting the 3rd norm? 2500 ELO?

Amon Simutowe: I knew I would do it, but the question was how. A good formula for success is to focus on how you can or will do something… not if you can.

Daaim Shabazz: Is there any advice for young African players?

Amon Simutowe: OK for my case, I think I also probably used qualities outside chess skill to progress. It was challenging not having had any training along the way. I also did things such as organising visas, flights and so forth. You cant be losing energy on arranging flights and visas before chess tournaments, but i had no other option.

I think my contribution is probably more on the psychological barrier. This is what Watu Kobese and several others seem to insist about my progress. Geographical gender or racial barriers are quite challenging if you find yourself in one of those situations.

I also think sponsors have to come up. In my country there are sponsors, but I don't have time to talk to them. Generally organisers are the best people to talk to sponsors, but most of the organisers think getting players sponsorship is doing them a favour in return for nothing. I am not sure if incomes should be introduced to administrators as a solution. It's very difficult to find administrators who would perform for no significant material reward or reward in self interest, but hope we will see positive change in future.

Generally the administrators project an image to the public that they are doing very well in promoting chess even if they are not. Many people, especially in my country, were surprised that I paid to represent my country at several occasions. The federation has been trying to get sponsors…but not yet successful.

As for the advice to young players… they start with one advantage, the psychological barrier is gone. They can have hope even without trainers because I still managed without one. However, it's still a challenging ride to become GM. They should be ready for it.

Daaim Shabazz: Where do you see the future of African chess?

Amon Simutowe: We need to achieve the basics first. I don't understand why the African Junior tournament has free accommodation provided for the participants and the African Individual (which is more important) requires players to pay. This situation gives an initial advantage to players who are supported by their countries. If organisers fail to make this event one of meritocracy, we are in a sad situation.

We also need to create players who signify progress in their communities. I played chess because of them and I imagine future players would be more encouraged by good players. That's how we could get high numbers of people to chess, but many organisers don't believe this.

Generally players have to be supported. I fell in the trap at the just ended African Championship. I paid attention to not getting support from the sports decision makers in my country and realised it was too late to get my energy back half way the tournament. Hence my six draws and so-so performance. So you cant play chess and complain about unfairness at the same time.

We also have to hope for organisers who have time for chess. We normally put up people who have no problem with saying that they are busy with something else when you are posing a chess related query to them. So if chess administrators don't view chess issues with some urgency, it's quite a problem. Anyway the good news is that things could change in future.

Daaim Shabazz: You are receiving a number of invitations now. What are your plans?

Amon Simutowe: I am not sure how much longer I will compete, so I take my progress as my contribution to my country. Managing to become GM from Sub-Sahara Africa should be enough for my basic happiness.

In either case, if I decide to set further goals in chess, I would get trainers. The logic for getting trainers is that you compete against all sorts of talents. Your talent alone is unlikely to be effective against all your competitors, so trainers or seconds bring some more knowledge or talent to you to handle a wider base of opponents effectively. This idea also fits in the trend because many active GMs have assistants, trainers or training partners.

However, I need a break from chess. Oxford University offered me a place last year for my Master's degree but I was unable to take it. I am quite late this year and decide what to do. Maybe I might start at another university soon because I am hungry for school. At the same time… in my position… I have to do something regarding promoting chess. So I will give it some thought.

on 09 Aug 2009 at 4:09 pm

2

Jan Peo

Well done Simutowe.I am very proud of you.I thoght my favourite player(The talented Robert Gwaze )would get it before you but I was wrong.
Now all of us own that title although you worked alone and hard.A bit unfair but that's life

Congratulations!!!!

on 10 Aug 2009 at 8:49 am

3

Wanyama

Nice story, I enjoyed it ..plus its inspiring

on 28 Oct 2010 at 4:50 am

4

Fidel

Wat an inspiring story. U did it the hard way and that makes it so special for yourself n Sub Saharan Africa. Congratulations man.
Leave a Reply!