Amon Simutowe of Zambia has earned the coveted title of Grandmaster. This accomplishment is a marvel for a number of reasons, but suffice it to say, it was a long time coming. As a schoolboy, Simutowe was known as "pawn" but ended up becoming an African giant as his talent was revealed.
By the time other players were able to adjust, Simutowe had begun his rampage on African competition winning national and continental championships by large scores. He then practiced his craft on international competition making an immediate impact at the 2000 World Junior placing joint 2nd out of a #42 ranking. Soon Simutowe's rating shot up from 2240 to 2470 and there was thought that he would secure his last GM norm rather quickly.
Simutowe hit a rough period in his first visit to the U.S. and his rating tumbled. During a reflective period, Simutowe decided that a path to personal success may be secured if he focused on his academics. He received an academic scholarship from the University of Texas at Dallas (USA) and played four years for the university team helping them win two national titles. This may have been a good environment since he was able to continue playing chess while studying finance and economics.
---
"I am not going to play you because it's unfair to play two Grandmasters in a row with black pieces."
~GM Anatoly Lein's remarks when paired with IM Amon Simutowe at 2007 Chicago Open.
---
After a successful academic stint and graduating with honors, he set upon his mission to earn his 3rd norm. In a May 28th interview with The Chess Drum's Daaim Shabazz, he stated his intention. "The most important decision for me was to decide that I would put in the next six months to get the norm done," he stated. One turning point may have been the 2007 Chicago Open where he played inspiring chess. That tournament ended in a humourous, but rather prophetic story.
GM Anatoly Lein forfeited his last-round game with Simutowe by stating, "I am not going to play you because it's unfair to play two Grandmasters in a row with black pieces." This story may have provided more confidence to the young Zambian.
Simutowe would play in a number of American tournaments with mixed results. However, he did score a strong result at the 2007 U.S. Open including a crushing win over Hikaru Nakamura.
Thereafter, momentum begin to build, but perhaps Simutowe was playing too often in order to properly assess his progress. After a disappointing result at the New Jersey Futurity, he admitted that he needed a break. He was invited to Trinidad for the 2007 Caribbean Chess Carnival and may have been the "getaway" trip he needed.
After placing joint first in Trinidad and spending a few days in Barbados, he then traveled to the Netherlands to play in an interesting tournament. This tournament featured several chess legends including former World Champion, Nona Gaprindashvili. He seemed to enjoy the experience, particularly playing the chess legends.
GM-elect Amon Simutowe receives his 1st place trophy at the Euwe Stimulans tourney. Photo by Ben Schulte.

In that tournament, he played some interesting games, but almost lost the norm in his last round game when his opponent 17-year old Helgi Dam Ziska missed a clear win. After holding a draw he would earn his last norm at the Stimulans Tournament. Congratulatory remarks flowed around the world. Of course, the battle was not won yet. He had to get the 2500 ELO rating requirement.
In the next two years, Simutowe had to endure a number of battles and make tough decisions about how to secure the ELO points to get to 2500. Without a sponsor, he had to be resourceful and negotiate conditions on his own. He had requested that The Chess Drum not provide coverage of his events. This may serve to take pressure off of him.
For the next year or so, his results were stagnant despite adding stamps on his passport to many places including Iceland and Spain. He would gain points, then lose points. Simutowe was seemingly growing frustrated, so he changed his strategy. He would begin to play as if he is still earning norms.
Over the next few months, Simutowe added a couple of GM norms and his rating started to edge closer to 2500. However the "last mile" appeared to be the toughest. It was then that Simutowe took a number of tournaments in the spring of 2009 and eclipsed the 2500 barrier.
The good days came in the Zagreb Open and the first few rounds of Verona Open when I went to 2503.
Mission accomplished! Simutowe told The Chess Drum that he had eclipsed the 2500 barrier early in 2001, but thought that the rating had to be published.
The FIDE Handbook states under title requirements,

1.52a Such a rating need not be published. It can be obtained in the middle of a rating period, or even in the middle of a tournament. The player may then disregard subsequent results for the purpose of their title application. However the burden of proof then rests with the federation of the title applicant. It is recommended that players receive a certificate from the Chief Arbiter where they achieve the rating level during an event. Such a certificate should include a note of the date each game was played. Title applications based on unpublished ratings shall only be accepted by FIDE after agreement with the Rating Administrator and the Chairman of the Qualification Commission. Ratings in the middle of a period can be confirmed only after all tournaments for that period have been received and rated by FIDE.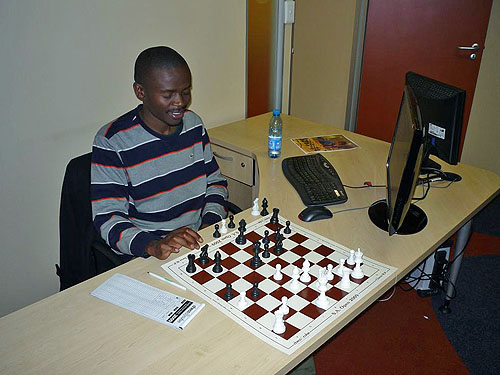 Amon Simutowe playing in the 2009 South African Open, his first tournament as an official Grandmaster. He won the tournament with 9.5/11. Photo by Mark Levitt.
Nevertheless, Simutowe had done something that only 900 others have done. There is a lesson learned in being one of the few, but yet another to overcome the circumstances to achieve such a task. There have been so many examples of individuals coming to the precipe of success, only to give up their dream. Thomas Edison once stated,
Many of life's failures are people who did not realize how close they were to success when they gave up.
The "Zambezi Shark" didn't give up and will now be an example for the African Diaspora and aspiring Grandmasters all over the world. An example that the fruits of one's labor can be rewarded if one is determined. Well done GM Simutowe!
~Dr. Daaim Shabazz