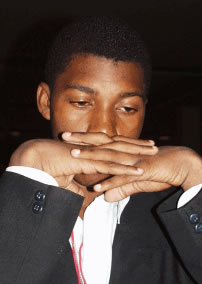 We remember the visa problems suffered by African players for the 2008 Olympiad. There were a multitude of reasons that Africans were denied. These problems have surfaced at 2009 the African Individual Championships and the backlash has been voiced.
The tournament is being held in Tripoli Libya without several of the continent's strongest players. The breaking news is that several players have been denied entry because of passport technicalities. Defending champion Robert Gwaze of Zimbabwe (pictured right) is one of them.
In one case, two players from Angola (IM Pedro Aderito and FM Erikson Soares) were traveling from South Africa to Libya with GM Amon Simutowe. They had gotten a flight to Libya to Dubai, but when they arrived in Libya they did not have the passport translated into Arabic as was requested in the official invitation. It appears that some players did not fulfill this requirement. All the visas had been approved initially. Simutowe had the paperwork and was admitted through customs.
i was out waiting for them to come out…only to hear they had been sent back..initial word was that they would fly up to dubai then fly back…but it turns out the situation was worse than that…
Jackie Ngubeni then posted to The Chess Drum that the two players were back in South Africa at a hotel and would miss the championship. Defending champion IM Robert Gwaze of Zimbabwe was also unable to get a visa, but the reasons for his denial are unknown. So both Gwaze (champion) and Aderito (2nd) will not make this year's championship.
The tournament is entering its second day of action. More details are forthcoming.
46 Responses to "Africans wracked by visa problems… again!"
Here is a story out of Malawi about the visa issue, but they admit to processing the paperwork at the deadline. They have blamed FIDE for the late notice. However, we have to be a bit more reasonable about this. The venue was known months in advance. Why didn't they know?

on 22 Jul 2009 at 11:38 am

2

Darren Porter a.k.a the Truth

I wonder why Daaim you seem to be stressing about all this,we all know the situation with organisation in F.IDE and African Federations don't we ? Whats new here?This is normal in Africa ,life goes on .Honestlt I expected this and more.We been here before many many times.

Darren,

Because we know of past problems does not preclude us from reporting about current events or at least trying to address them. I'm reporting what's happening. This did not happen in any of the African Championships that I have covered. Which ones are you talking about? Afropessimism is something that is easy to assume since problems are commonplace, but does that mean we have to accept the conditions by ignoring them? In psychology that is called "learned helplessness" and I don't think Africans are at that point.

on 22 Jul 2009 at 12:24 pm

4

deskpro

Just doing a lookup to see if in the previous WOrld knock-out world championship in Tripoli, Libya anyone faced problem so far got this
https://www.pocketfritz.de/newsdetail.asp?newsid=2566

deskpro,

That controversy was well-known at the time, but not as clear as has been stated in Milov's letter. In addition he stated,

My claim was not against Libya as in my view they didn't do anything what would contradict their policy. The claim was against Fide who in spite of their promises clearly failed to enable me to compete under equal conditions.

There were some politicially-charged issues at hand, but ultimately the tournament was a success and the players in attendance were very pleased with the conditions. There was a suspicious article circulated by Israeli press that was not corroborated by any other journalist attending the same event. Believe me… I looked all over the place for a similar story that was not pulled from the same wire source.

The main question was whether Israelis would be allowed to compete in the 2004 World Cup Knockout. Libyan authorities stated that they would be allowed, but then suddenly news articles were released with Mohammad Qathafi hurling invectives at the Israelis. It had him making harsh and crude comments, but the story was never verified or reported anywhere else (except the AP wire services and Israeli papers). I filed this op-ed piece:

https://www.thechessdrum.net/newsbriefs/2004/NB_FideCh3.html

on 22 Jul 2009 at 12:47 pm

6

deskpro

Thank you for the info Daaim At least a debate about next venue for next African Champs can start and the participants consulted before maybe ?! in advance or i am just dreaming?!

Well… these things were discussed at the African Continental meeting in Dresden during the 2008 Olympiad. There was talk about using CACDEC funds for certain activities in Africa, but I'm not sure if that was discussed. I proposed that someone talk to Allan Herbert (President of CACDEC) in this regard, but I'm not sure that happened.

I'm aware that Simutowe was trying to contact the Libyan Embassy because he stated that the Libyan Chess Federation had not sent the visa invitation letters to the respective Libyan Embassies. He even requested that they start the tournament a few days later. It's good he got there as well as IM Watu Kobese.

There are lots of questions.

on 22 Jul 2009 at 1:23 pm

8

deskpro

Yes maybe Amon Simutowe will be OUR CHESS "OBAMA" if you get what i mean !?

on 22 Jul 2009 at 2:21 pm

9

Political Pete

Afropessimism? Church!

on 22 Jul 2009 at 3:47 pm

10

nevermind

What kind of f___ed up championship is this? Half of the participants can't play, there is no website, no games, no results,…
And this is supposed to be continental championship???
Do the organizers think that they are playing only for them???

Funny that I could only find results for women's championship, but not for the men's

https://chess-results.com/tnr23976.aspx?art=4&lan=1&m=-1&wi=1000

Typical problems in chess tournaments. The biggest problem will be the games because you need someone to key in all the games by hand unless they are using Monroi or DGT boards. I'm not sure why chess-results.com did not have the men's results.

on 23 Jul 2009 at 7:00 am

12

Wanyama

How can the defending champion not participate in this edition of the African individuals?? has this ever happened? Its sad we shall miss gwazes chess at these games…. and yet again Visa denial shows its ugly head…I must say that the invitations were sent late and I personally gave up on attending (4 Uganda)after just 1 week of trying… Kawuma Steven also couldnt make it but that was because of visa denial.. Its almost like getting a visa to the states!

on 23 Jul 2009 at 7:54 am

13

deskpro

WAMYAMA ACCEPT MY 6MIN CHALLENGE ON PLAYCHESS

on 23 Jul 2009 at 9:43 am

14

Chipika Simanwe

You can't expect players to play well with such nagging issues on their minds….GM Amon Simutowe has time and again "wrestled" with the Chess federation of Zambia and other relevant authorities for not reimbursing him..The guy pays for all his expenses!…It's been rough for you Amon but good luck with the games…Too bad for Gwaze and the rest that couldn't part of this showpiece I always look forward to every year….

Could players not well in advanced apply for visas and all such stuff? I would have thought that each country's official chess body would help/support the players? or am I a bit "miss-informed" about how things are done? That's just my logical mind, I might sound a bit silly…but that's what I would think those people are there for too – to take care of their players?

on 23 Jul 2009 at 10:33 am

16

titikiza

too bad for africa's chess

Chipika,

You're right. I realize that Amon is not on good terms from some political reasons, but he has every right to feel slighted. If he goes to the World Cup and makes an impression, then Zambia will benefit in ways they could not imagine.

nikita,

This is the puzzle here. Federations are often stretched so thin and it appears that the communication is not very fluid between officials and the federations. The African Union has a website, but it is barely functioning. Much of the problem is the poor information infrastructure on the continent. Nevertheless, players bear some responsibility for making arrangements.

on 23 Jul 2009 at 11:24 am

18

nevermind

Typical problems in chess tournaments.

No. It's very untypical. They don't have a website, fine – but how hard is it to publish the results and a crosstabble ANYWHERE.

The biggest problem will be the games because you need someone to key in all the games by hand unless they are using Monroi or DGT boards.

Arbiters take a copy of a scoresheet where players record the game. They have it. And I believe they have to send it to FIDE after the tournament is finished. No classical game can ever be "lost".

Even if there is no live transmission, we would be content if we got the games with a 2 or 3 day delay, which could be easely done.

I'm not sure why chess-results.com did not have the men's results.

This one is mind-bogling. Results from tournaments that normally use Swiss Manager are sent to this server. So they are either using a different pairing program (very unlikely) for men's competition or the organisers/arbiters are so incompetent (very likely) that they "forgot" to send it.

I'm curious to see whether women's competition will be updated at daily basis or not.

nevermind,

Trust me… it's typical (even in major tournaments) not to have timely results. I'm not saying it's acceptable, but it's a typical detail that gets neglected unless someone is dedicated to this task. I see every tournament eventually using DGT boards or something like Monroi.

Of course there are scoresheets that are collected. On a two or three-day delay… you're assuming that there is someone there to key in all the games. These may seem like minor details to handle (and I'll be the first to say they should be handled), but it is not uncommon. There is always problems either with updates, legal copyright issues, no reports, lagging and even incorrect scores and results.

Even if there is no live transmission, we would be content if we got the games with a 2 or 3 day delay, which could be easely done.

Even if you got two or three-day delay, there would be complaints. Even if we got the same day, there would be complaints about something else.

I just got a message from Nizar ElHajj from Libya saying there are major difficulties with Internet connections at the venue. So I suppose they have only had the time to post two rounds of the women's results.

on 23 Jul 2009 at 1:31 pm

20

nevermind

I disagree.

Afterall this is a continental championship and a qualifier for the World Cup – in short – it is the most important tournament in Africa that only happens every two years.

What did organisers do for this tournament? From what I see they've done absolutely nothing. They made no atempts to present this tournament to public (do you know that these blog is the only site that has ANY information on this tournament?)

And believe me I know, because I followed/am following ALL the continental and zonal tournament that are part of this world championship cycle. Before this, I had most troubles finding information on the 3.1 zonal and I'm still uncertain thether Al Sayed or Al Modiahki qualified (they had the same score). I saw some report said that Al Modiahki qualified, but this is very unofficial, since that report only mentions it (no mentions on the official tie-breaker or anything).

So I thought I already reached the low point with 3.1 zone, but now this. A continental championship and I even don't know who is playing, not to mention the current ranking or even games (I already gave up on ever seeing them).

You can disagree, but that doesn't make the organizer's problems any easier to deal with. Yes… it is a continental championship, but problems are still common… particularly out of Africa where Internet connections may not be reliable. It is very difficult to get information from chess events out of Africa. Even when I'm on site covering an event, there are a host of issues that chess fans do not know about or realize.

I have asked Nizar ElHajj to have someone relay results to me and I'll get them up as fast as I can. I'll also make contact with some players there.

on 23 Jul 2009 at 1:50 pm

22

nevermind

I have asked Nizar ElHajj to have someone relay results to me and I'll get them up as fast as I can. I'll also make contact with some players there.

That would be great.

on 23 Jul 2009 at 5:11 pm

23

nevermind

Finally some results:

https://chessaleeinlondon.wordpress.com/2009/07/23/african-individual-chess-tournament-2009/

Simutowe said this may be the strongest field in history and he made a comment in an e-mail today that everyone is very focused on placing in the six positions. He said the results will be coming a bit later.

As for the visa issue… the translation issue is strange, but it was clearly stated in the invitation. It's a shame that Robert Gwaze, Pedro Aderito, Erikson Soares and Abiye Williams did not make the trip. It appears at least a couple of the cases, the players had to share some of the blame. Abiye Williams' case was preposterous. He said the Libyan Embassy in Rwanda would not translate his document and they told him he had to go to the Libyan Embassy in Nigeria to do it.

A luta continua.

hi Daaim,
What about faxing scoresheets/scanning it, sending if off to sites to publish results…just my thoughts. I know this is not a very professional way to do it, but if there's a problem with internetconnection, then there are always other ways to get things done. Even a telephone. Still no results of the men at this stage, very sad.

on 24 Jul 2009 at 6:55 am

26

Wanyama

Deskpro just seen ur reply… Wats ur username on playchess and when are u usually on?

Unless you are discussing visa issues, check out the updates at the link below. Still not much information…

https://www.thechessdrum.net/blog/2009/05/28/2009-african-individual-championships/

on 24 Jul 2009 at 12:49 pm

28

Darren Porter a.k.a the Truth

People should simply get over this .Its very normal when you allocate Federation posts to people who don't care about Chess .This is simply what they do .if any professional players in Africa are reading this ,its simple ,stop whinging and get in there yourselves or you will get abused until your soul cannot take it anymore.

The solution is simple ,players should run the Federations themselves because nobody else cares about them .Do you honestly think a President of Angolan Chess would care if Aderito Pedro is starving??Ok Azmai and Makro are at least GM.s themselves.Ever wondered why patzers like Omuku,Dabilani and Ncube hang around Chess?? of coz the money and small incentives!!

I love the Jamaican Federation where the players hold posts themselves like Shane Matthews,Elliot Warren ,nobody pushes them around and decisions are made collectively . Why should people give responsibility to non responsive reptilians to run something their lives depend on??

on 24 Jul 2009 at 7:47 pm

29

guncha

See results of General section here:
https://www.chess-results.com/tnr24026.aspx?art=0&lan=1&fed=ALG&m=-1&wi=1000

on 25 Jul 2009 at 10:16 am

30

Glenn Bady

Darren you are so correct concerning your comments about chess players concerning chess.

The problem with Darren's rationale is that the strongest players do not have the time to run chess organizations AND focus on playing too. I'm sure chess players have lives outside of chess too. Where would you find the time to organize tournaments, raise funds and have aspirations for titles?

on 25 Jul 2009 at 11:17 am

32

Darren Porter a.k.a the Truth

There is nothing complex about that Daaim ,if Sunye Neto,Azmai ,Joel Lautier,Tregubov etc can do it ,looks very possible,I know of a Polish GM who does the same .Anything else is better than placing your destiny in hands of someone who does not care especially if you are a professional.

The patzer organisers have taken a speciality these days in "Organizing" tournaments week in week out from extortation like entry fees .This is not helping the Chess World.Its ultimately to the players themselves to shape their destiny than whinge over and over again.

None of the players you have mentioned are very active players. Does Lautier or Azmaiparashvili even play chess anymore? Active players do not have the time if they have any aspirations. The players you mentioned are apparently happy with their successful chess careers and dedicate themselves mostly to chess service.

There are so many players who are now full-time trainers, but have mostly given up any aspirations for loftier titles. It is hard to do more than one thing in chess (i.e., teach, organize, play, write) and do them all well. You end up compromising somewhere. If you haver aspirations of earning a title, it is best not to become involved in chess politics. In fact, chess politics may even cause a conflict of interest since you will often take stances that will benefit personal interests. You may also be denied opportunities because of your political views.

If you are a talented player, focus on playing. If you are an official, then officiate. Whatever one decides to do in chess, then DO IT or leave it alone!

What we really need are officials who are skilled in marketing chess. For example, Ali Nihat Yacizi has been responsible for growth of the Turkish Chess Federation. Turkey is probably the fastest-growing federation in the world. Ian Wilkinson of Jamaica is another example. Both of these leaders are passionate, active and lead by example.

There is no reason that this visa issue should have caused several top players to miss the championship. Why is it that some players were able to make arrangements and others were not? In Abiye's case, the result was strange since he followed instructions he was given. However, some of it was poor planning by the federations AND the players.

on 25 Jul 2009 at 12:55 pm

35

Darren Porter a.k.a the Truth

Daaim what you have exactly are a bunch of selfish people.I know countless GMs and IMs who are occupied with small hustles ,i.e blogging rubbish and printing worthless paperbacks.The majority are even prepared to hussle for a prize fund as little as $400 with amateurs .Imagine what would happen if they would come together try take Chess on Tv ,set up sponsorship committe.es than try "professionalism" in small hustles that ultimately go nowhere.As long as they trust anybody especially "patzer organisers" ,nothing will come out and their poor souls will even be more sorry. You forget to mention Yacizi narrowly won last time against player power.Azmai and Joel see sense and play only where its worth it not small hustles.Nigel Short tried a bit in Commonwealth and lost in ECF ,an example of a player trying to do something.You keep referring to this Abiye case and keep on ranting on this sham event in Libya where costs run over $2000 for players chasing in case of women something like $2500 .You just do not get it .We are discouraging these kind of shams yet you keep insisting on people to participate.I am sure blogging from the comfort of Florida you can be excused for not knowing how it feels to leave your Children (if you got any at all) hungry chasing a prize fund that does not cover travelling expenses ,something you keep referring to as "sacrifice".I bet you could make one of these "organisers" anytime.

Darren,

I'm sure you noticed that 34 players have made the trip and not all of them are a stone's throw away from Tripoli. IMs Watu Kobese and Kenny Solomon had to travel the farthest, yet they have found a way to make the tournament. Amon Simutowe also traveled from South Africa. I know each of them and have the highest regard for them.

I don't know what arrangements they have made, but they are competing. I doubt if these players are going because of a prize fund. You assume that money is the only motivation in playing chess. The players are trying to qualify for the World Championship cycle and earn norms.

As I said before, if a person is in a situation like the one you described, then it is foolish to think of chess. I doubt if any of the players are leaving their children hungry chasing a prize as you put it. Do you know any of the players in Libya well enough to know what motivates them in chess? Yes… these players are making a big sacrifice and that is why they are the best Africa has to offer. I don't know anyone who has sacrificed more than Simutowe, but he keeps charging on.

L.P. Jacks once wrote,

A pessimist see difficulty in every opportunity,
An optimist sees opportunity in every difficulty.

Certainly, we have to be proactive and continue to look for solutions while we move forward. Players are in Libya with optimistic hopes to shine. They could've stayed home, moped and groaned about how expensive the trip was or how FIDE is doing nothing to help African chess. No… they moved forward and are trying to represent Africa in the best light.

By you blogging from wherever you are, you are also sitting in the comfort of some abode. I'm sitting in a chair at a computer like you are. The truth is… that you are not interested in solutions… only negative thoughts and pessimistic motivations. What is your role in improving the situation?

on 25 Jul 2009 at 1:53 pm

37

Darren Porter a.k.a the Truth

Daaim I would not want to delve into the personal lives of these players but as Jackie Ngubeni wrote about the dejection on the players' faces when he broke down the expenses ,the whole story is obvious .To cut a long story short ,there is a thin line between sacrifice and foolhardy .

Right… the point is that players actually raised funds and traveled. Some players were dejected and THEN raised the funds. Some players were dejected and decided they could not go. Some did not go because of the visa issue.

Of course, many chess players are ambivalent when they have to travel at their own expense. It's expensive to travel for chess when you think of the low return on investment. However, you have a choice depending on your goal… (1) find a way to raise the funds and go or (2) if it isn't possible, then stay home and prepare for the next tournament. There is honor in both.

However, a man who leaves his children hungry while chasing a prize at a chess tournament is certainly foolhardy. You're right… I don't know what that's like. Furthermore, I don't believe any of the 34 players have done that.

on 30 Jul 2009 at 8:39 am

39

Jackie Ngubeni

Daaim & Darren
I read your comments with great interest and believe that somehow, by debating the issue around Chess moving forward, you are touching on pivotal issues that require rigorour addressing. In fact, since I know many of the African players personally, some even when they were literally boys, and has had an impact on their current chess and or otherwise being, I am excited by your verbatim tussles. However please disist from attacking each other personally. You will then fail the incredible moment you unwittingly stumbled upon; i.e. DRUMMING-UP POSSIBLE SOLUTIONS TO WHAT'S HOLDING BACK THE DEVELOPMENT OF CHESS. In fact Darren, you really are passionate about us moving forward. You truly excite me and make me believe that there is hope! Albeit in a no nonsense approach. Just don't get carried away into personal domains, hammer the point relentlessly! I see this as not pointing a finger at Daaim, I can imagine some people being uncomfortable with what you say in places you may not expect!I have spent the last 15 years delving into this Game. In my humble opinion you both are raising important issues that have readily been swept under the rug. The Libyan imbroglio is indelible through-out all developing countries. No reporting, no games, no pictures, and yet we wish that the sport be sponsored and progress be made. The problems we experience in hosting this important event for this besieged continent, a continent riddled with corruption and mismanagement from a political perspective, is emblematic of just how difficult it is to play chess and hope to make a living out of it. Thus think about then how a person like IM. Kobese feels when faced with all this brohaha, looks back at his teen age where he was a straight A top student, who made a wrong detour persuing chess when his less intellectually gifted peers went on to "make it" in the "normal" world? The challenge is similar to other erstwhile obscure sports or persuations that emerged to take center stage and made those who sacrificed deservedly heroes. I am a believer that because of the lack of recognition for this heroes, we are destroying the future of this sport. One thing is crystal clear, The current bunch of ACU officials have no interest in moving the sport forward. Don't forget that Nizar was the ACU President! So, maybe the Idea that chess players take over affairs of their destiny is no far fetched!

Jackie,

Certainly chess players should take over their own affairs (i.e., Simutowe), but chess players can take over the federations ONLY if they sacrifice their playing aspirations for the next generation. There is simply not enough hours in the day to do both well and to have a personal life too.

Players certainly have a right in their endeavors, but it is far more efficient if they "outsource" fundraising and organizing to those who are skilled at doing it. The key in every team and organization is putting people where their skills are best employed.

The travesty of the matter is that everyone is complaining about sponsorship (which is necessary), but even the basic level of coverage of events is not done! No photos from the 2009 African Championships! No reports from the organizers! Those who sponsored players will not have anything to show for their investment… only goodwill to know they have helped a player achieve his/her dream of playing in the continental championship.

on 30 Jul 2009 at 10:33 am

41

Jackie Ngubeni

I am in total agreement with you Daaim. With the hearsay that Solomon and Kobese have been sponsored for Libya, i am sure the sponsor is going to think twice now! Thanks to this inept organisation.

on 31 Jul 2009 at 2:25 am

42

Eddie Thompson

Thanks Daaim for the info.
Methinks nobody must condone any shabby treatment meant out to any one.
The Libyans must be ashamed of themselves for a poor tournament.
I am quite shocked at the strange visa arrangement.
Ghana's rep.(Francis Anquandah) to the games pulled out at the last minute due to this same visa problem.
I personally sent a complain to FIDE.
We should do it better next time.

on 31 Jul 2009 at 4:40 am

43

Gilton

Now the tournament is over, please the organizers should make sure the next venue of tournament is known atleast a three month time.
Here in Malawi we failed to send a team in Libya just because of Visa problem. we received an invitation letter in July 2009.

We are Africans do not be too harsh, see only few players from Sourthen part of Africa participated

Gilton,

I'm glad you voiced the lateness of the letter. There is a thought from FIDE that it must be the Africans' fault if something goes wrong. This also happened in Dresden when African federations were mistreated in securing visas to Germany. FIDE assumed that Africans were late or delinquent in dues and never admitted any fault in the matter.

From what I saw, African officials were not forceful enough (except Kebadu Belachew from Ethiopia) in voicing their displeasure with the visa process. Ethiopia was rudely mistreated as were some other nations. Nigel Freeman (FIDE Treasurer) came in the Continental Meeting in Dresden and promptly put the blame on Africans for not paying dues and being late in applying, but this did not occur in the majority of the cases. In fact, in Nigeria's case FIDE's records were incorrect and they had indeed paid.

Rwanda was not give a visa for the entire Olympiad, but only long enough to play 10 rounds. A couple players got cleared only to arrive toward the middle (Ghana) or the end (Uganda) of the tournament. Just as in Dresden, players had so many different types of problems with Libyan Embassies.

Interesting quote from Maxwell Solomon on his brother's blog:


As the final standings show below, the Egyptians (ten in number) made a clean sweep of the top 6 positions. They dominated this year's edition of the African Individual Championship from start to finish. Apart from their classy play, the Pharoah Kings were very well supported by the Egyptian Chess Federation. The same cannot be said of Chess South Africa (CHESSA) and the other chess federations in Africa. Simply nominating players to participate in such a prestigious event is simply not enough. Amongst others, players need logistical, financial and managerial support. If these concerns are not addressed, the rest of Africa, particularly sub-Sahara, will not be able to compete on equal terms with Egypt for years. (It will be recalled that the defending champion IM Robert Gwaze (Zimbabwe) did not even make it to Libya because his visa was not approved.)

[…] – 24th July -…there are all sorts of "issues" around this tournament. Read here about it. The link will open in a new window. For the results of the MEN's section,  please […]
Leave a Reply!