Africans wracked by visa problems… again!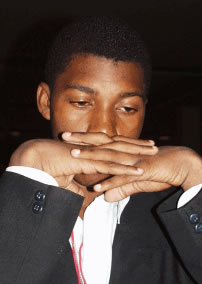 We remember the visa problems suffered by African players for the 2008 Olympiad. There were a multitude of reasons that Africans were denied. These problems have surfaced at 2009 the African Individual Championships and the backlash has been voiced.
The tournament is being held in Tripoli Libya without several of the continent's strongest players. The breaking news is that several players have been denied entry because of passport technicalities. Defending champion Robert Gwaze of Zimbabwe (pictured right) is one of them.
In one case, two players from Angola (IM Pedro Aderito and FM Erikson Soares) were traveling from South Africa to Libya with GM Amon Simutowe. They had gotten a flight to Libya to Dubai, but when they arrived in Libya they did not have the passport translated into Arabic as was requested in the official invitation. It appears that some players did not fulfill this requirement. All the visas had been approved initially. Simutowe had the paperwork and was admitted through customs.
i was out waiting for them to come out…only to hear they had been sent back..initial word was that they would fly up to dubai then fly back…but it turns out the situation was worse than that…
Jackie Ngubeni then posted to The Chess Drum that the two players were back in South Africa at a hotel and would miss the championship. Defending champion IM Robert Gwaze of Zimbabwe was also unable to get a visa, but the reasons for his denial are unknown. So both Gwaze (champion) and Aderito (2nd) will not make this year's championship.
The tournament is entering its second day of action. More details are forthcoming.