Jamaica: Chess Review in 2007
Peter Myers, "CHESS YEAR IN REVIEW: Wilson, Pitterson Shine in 2007."
The 2007 chess year was another good one for chess in Jamaica. The year started with the surprise victory by junior player Mikhail Solomon in the New Years Open in January. This was however not a sign of things to come, as Solomon failed to build on this success either at the junior or senior level. On the junior chess scene, the symbol of schools chess supremacy the RBTT National Schools Chess Championship, was won by Glenmuir High School in February. Glenmuir's top player Onaje La Mont went on to register a mild upset over the 2006 National Junior Champion Brandon Wilson to take the 2007 National Junior chess title in March.
Wilson however rebounded convincingly from this disappointment to take two regional junior titles in both Trinidad and Tobago and Barbados in August. In securing these titles, Wilson twice dispatched the best juniors from the English-speaking Caribbean to cement his place as the English-speaking Caribbean's top junior player. On the local scene, Wilson was also one of the top players at the senior level. He placed first in the Robert Wheeler Open in April and the Clarendon Open in November, second in the New Years Open in January and third in the Harold Chan Open in September and the Jamaica Open in October.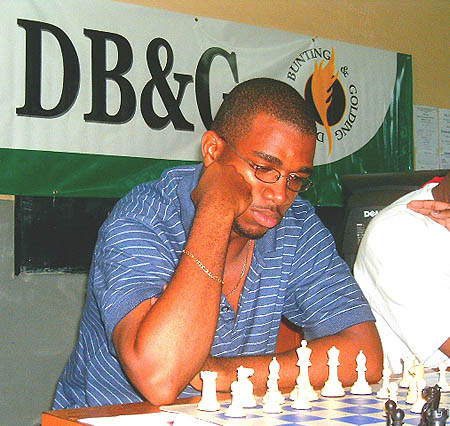 Brandon Wilson at 2007 Fred Cameron Open. Photo by Peter Myers.
For his achievements in 2007, particularly his regional triumphs, Wilson received the Prime Ministers Youth Award for Excellence in Sports in December. He was also awarded the title of National Master by the Jamaica Chess Federation.
Only one chess player, National Master Jomo Pitterson, can claim to have outperformed Wilson in 2007. Pitterson focused his attention on playing overseas and a few select local tournaments.
In May, Pitterson made a tentative start to his overseas exploits with an eighth place finish at the Digicel RBTT Heroes Day Masters Cup in Barbados. In June, he convincingly defeated seven-time Jamaica National Champion National Master Shane Matthews to win the Masters KO Championship in Jamaica. In July he again ventured overseas to participate in the Curacao Chess Festival, where he performed creditably, suffering only two losses to Grandmasters. In August he travelled to Trinidad and Tobago where he entered the CMMB Caribbean Open and again improved on his previous performance, sharing the fourth place prize after ending unbeaten, with two draws against International Masters Amon Simutowe of Zambia and Humberto Pecorelli-Garcia of Cuba, both of whom tied for first place. 
Prize winners: IM Humberto Pecorelli-Garcia (1st), IM Amon Simutowe (2nd), Roger Matoewi (5th), Roderick Noel, President of Trinidad Chess Association, Jomo Pitterson (4th), Ryan Harper (3rd). Photo by Daaim Shabazz. 
Pitterson saved the best for last, when in December he journeyed to the Jamaica Conference in Kingston to enter the biggest tournament in the history of Jamaican chess, the JMMB/Burger King Frederick Cameron Open, which had over 200 entrants including Grandmaster Maurice Ashley. Pitterson won the tournament with 5.5/6 and in the process became the second Jamaican to defeat a Grandmaster when he defeated Ashley in the last round.
Jomo Pitterson on the move against GM Maurice Ashley. 
Photo by Peter Myers.
FM Warren Elliott also had good year after winning the Jamaica National Championship and the National Blitz Title in September. Apart from Wilson, Pitterson and Elliott no other player was able to win more than one title during 2007.
Complete open tournament victories for the year include:
(January) New Years Open – Mikhail Solomon, Amateur Section – Samuel Lamont, (April) Robert Wheeler Open – Brandon Wilson, Amateur Section – Brandon Badal, (August) Independence Open – NM Equitable Brown, Amateur Section – Annesha Smith, (September) Harold Chan Open – NM Geoffrey Byfield, Amateur Section – Andre Rowe, (October) Jamaica Open – NM Duane Rowe, Amateur Section – Margoe Williams, (November) Clarendon Open – Brandon Wilson, Amateur Section – Douglas Johnson, (December) Frederick Cameron Open – NM Jomo Pitterson, Amateur Section – Kareem Wright
Complete National Championship victories include: (February) RBTT Schools Chess Championships – Glenmuir High, (March) Junior Championships – Onaje La Mont, (April) – Prep and Primary Schools Championship – Sts. Peter and Paul Prep, (July) Blitz Championship – FM Warren Elliott, (July) Under 18 Championship – Phillip Pryce, (September) National Championship – FM Warren Elliott, (November) Women's Championship – WFM Deborah Richards*.
Other tournament victories include: (June) Masters' Knockout – NM Jomo Pitterson and (September) President's Invitational – Alain Morais.
Other Significant Events
The Annual General Meeting of the JCF and 2006 Awards Ceremony (June)
The awarding of the title of FIDE Arbiter to National Master Robert Wheeler by FIDE the World Governing Body for Chess (June)
The untimely passing of Jamaican Chess Legend and former President of the JCF National Master John Powell (October)
Official Launch of Magnificent Chess Limited and the second chess book written by JCF President Ian Wilkinson (Chess in All its Glory) (December)
The staging by Magnificent Chess Limited of the JMMB/Burger King Frederick Cameron Open, with the largest turnout (a little over 200) of competitors in the history of Jamaican chess and the entry of Grandmaster Maurice Ashley – (December).
Attorney Ian Wilkinson signs a copy of his new book, "Excitement Galore: Chess in all its Glory", for former Jamaican international footballer, Wolde Harris. Both Mr. Harris and Ian Wilkinson are Alumni of Kingston College (KC). Photo by Bertram Scott. 
* This was WFM Deborah Richards' sixth straight Jamaica National Women's Champion Title, the last three of which were won with perfect scores of 6/6. Richards' last loss or draw in the Women's Championship was a loss to Iyatiti Mokube in September 2004! This record is both a sign of her complete dominance of Women's Chess in Jamaica and an indication of the magnitude of the work to be done to develop Women's Chess in Jamaica.