Two healing after Olympiad health crises
During round three of the Chess Olympiad in Chennai, India, there were two attendees suffering health crises. Both received immediate medical attention and were taken to local hospitals. Both were stabilized. Chess can certainly be a stressful activity, but of course, it is the thrill of combat that we enjoy.

Jamaica's Jaden Shaw was excited to make his first Olympiad team. In Chennai, he played a French Grandmaster, and while he lost, he gained from the experience. In the 4th round, he was coming off of his first Olympiad win when he was penciled into the lineup against Estonia. His opponent was Meelis Kanep, a Grandmaster and three-time national champion.
The start of the Estonia-Jamaica match. Jaden Shaw is playing Meerlis Kanep at the far end.
Photo by Jamaica Chess Federation
The Incident (Estonia-Jamaica)
The battle was tense as the 15-year-old student at Wolmer's Boys School went blow-for-blow in a Rossolimo Sicilian. This game had the making of a classic minor piece battle with asymmetrical pawns and pieces scattered about. The Estonian GM tried to sacrifice a pawn so he could free his bishop pair after 31… d5 32.exd5 Bc5.
At that point, the evaluation was -0.87 or black with an advantage. However, Kanep got lost in the complications and played 34…Rxe2 instead of 34…Bxe2 (-0.87). It appeared that the black bishops were swarming the board, but after Meelis' 40…Ba4? 41.Rc4! Ba5, Shaw played 42.Rc1 which was the last move when the incident happened. (diagram) Very interesting position!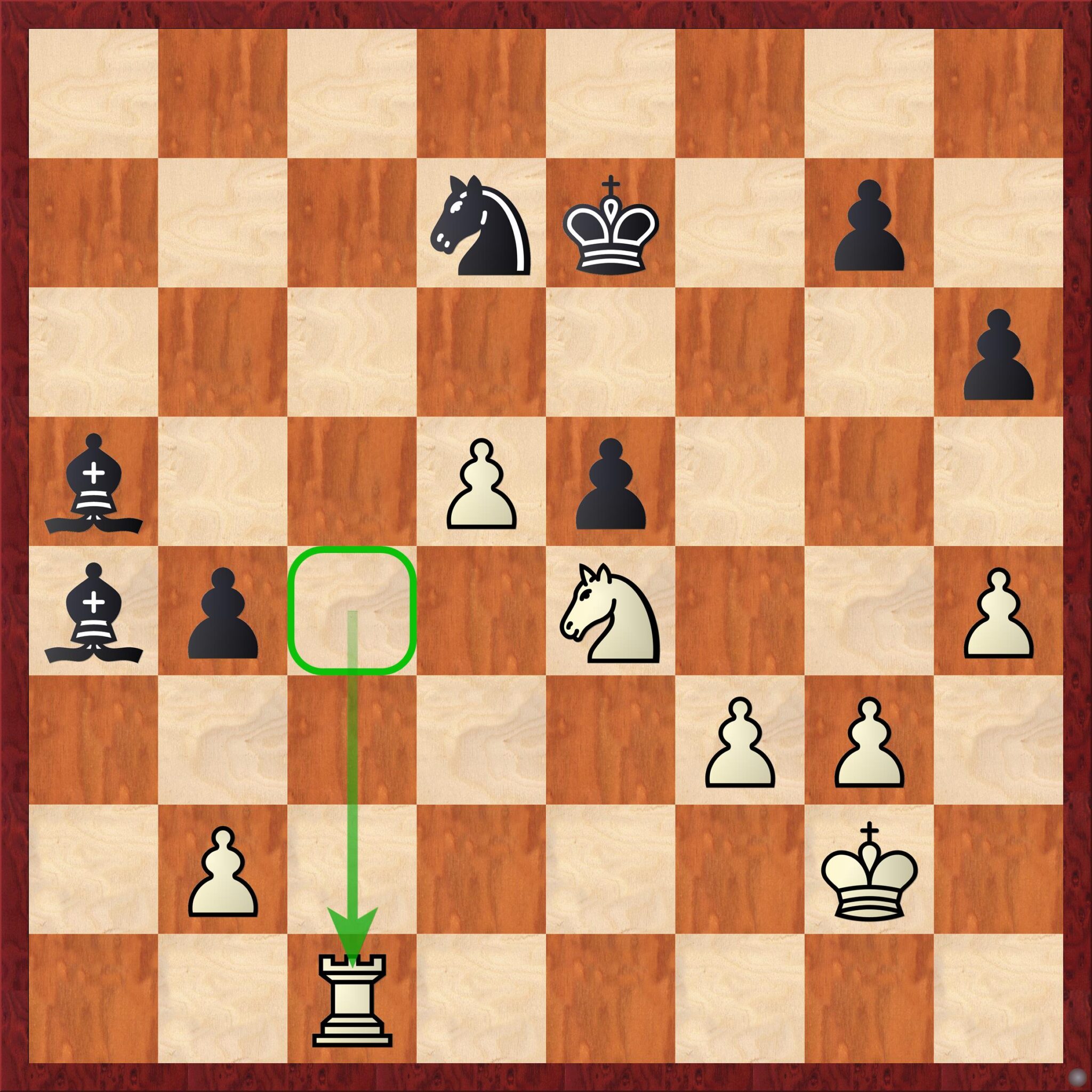 Final Position: Shaw-Kanep after 42.Rc4-c1
(Note: There was a relay error for Shaw-Kanep. Their game appears as being played by Jordi Fluvia-Duany Ajak in the database)
Ian Wilkinson told The Chess Drum that all the games were stopped as the Estonian GM lay on the ground with medical personnel tending to him. As a crowd gathered, the two captains met and discussed a solution with Shaw present. After the discussion, Shaw stated that he would agree to a draw when in fact, he would've been credited with a win.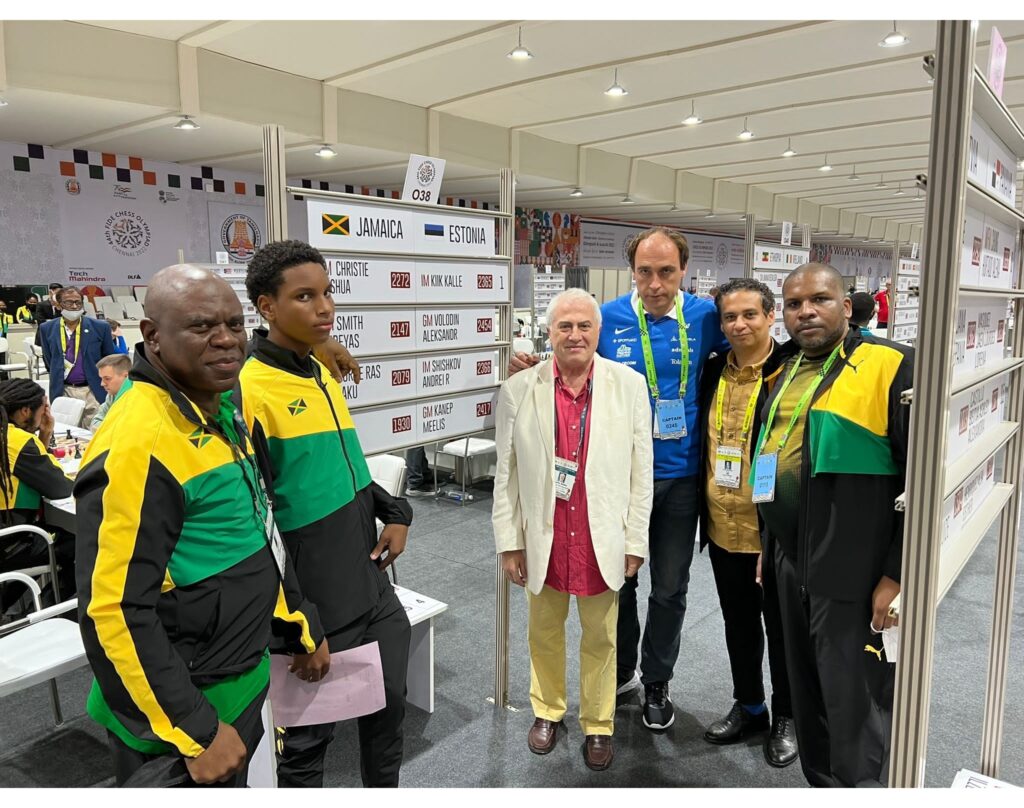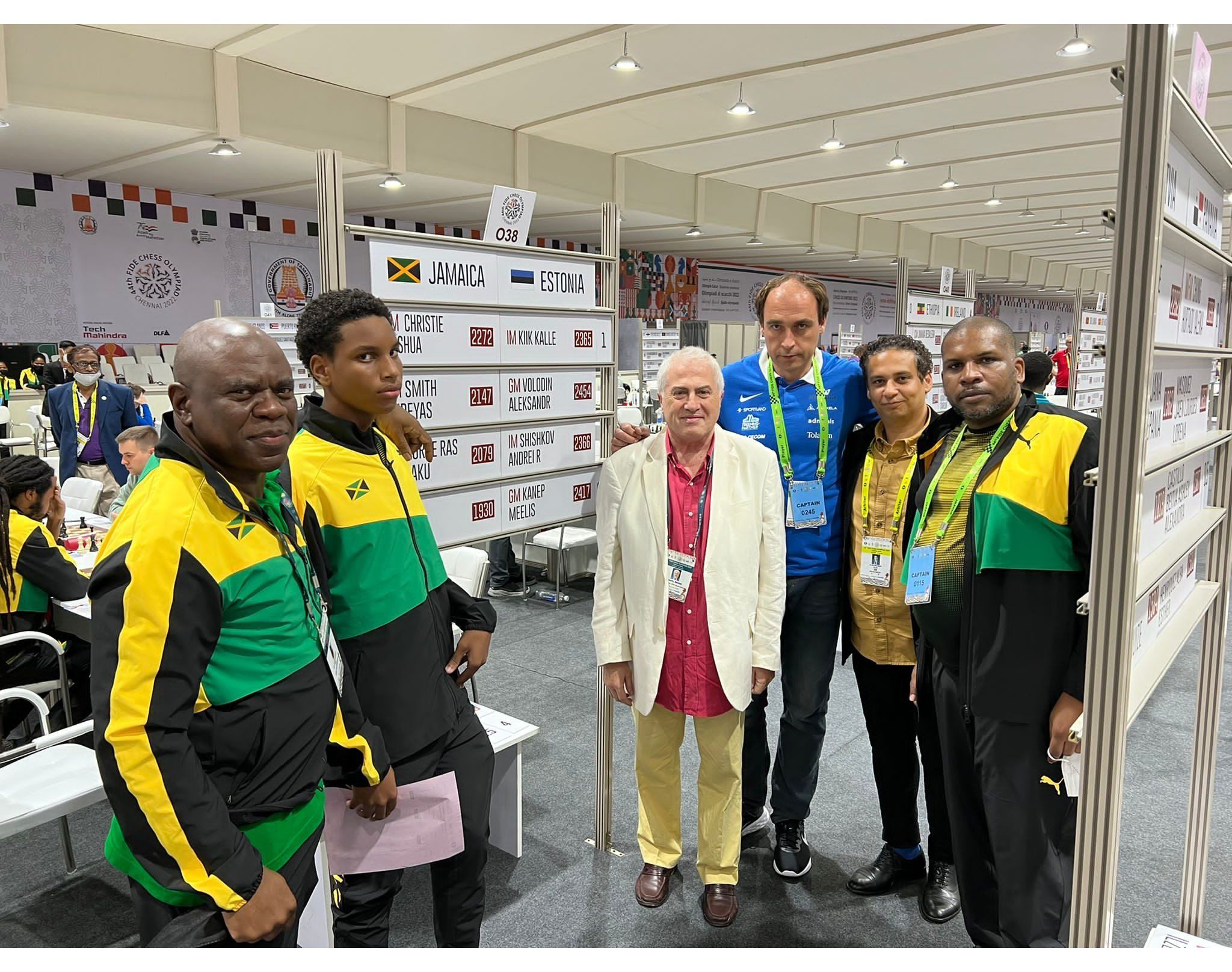 Jamaicans and Estonians immortalize a moment of humanity and good sportsmanship
Photo by Jamaica Chess Federation
The Incident (Armenia-Egypt)
In another emergency, Egyptian captain Amro Farag was stricken while watching the Armenia-Egypt match. Top Egyptian player Ahmed Adly posted a message from the Chettinad Super Speciality Hospital:
Tshepiso Lopang of Botswana went to the hospital to join Adly in support of the coach. Farag was in the ICU, but stabilized. The reason was revealed later in Adly's WhatsApp message:
Thanks sister Tshepiso for joining me to the hospital in Chennai to follow up the medical care of Egyptian team captain FT Farag Amro who got stressed after Armenia match in round three yesterday.

EGY men team was winning 2.5 to 1.5 Armenia, but after five hours of stress EGY lost 1.5 to 2.5. So the coach was upset and got stressed, which led to increase of his heart beats and blood pressure. He is better now but he has to stay at hospital another 24 hours to follow up his case.

Thanks to all sisters and brother who were worried for him.
God bless you all
Illness (or Death) at the Board
In 2014 Chess Olympiad in Tromso, Norway, Kurt Meier from Seychelles collapsed at the board against Rwanda. While people nearby rushed to his aid, he later died at a Norwegian hospital. In that case, his Rwandan opponent Alain Patience Niyibizi awarded Meier with a win by resigning the game.
Alain Patience Niyibizi (Rwanda)
Photo from @Alain_Patience (Twitter)
The death of Kurt Meier was certainly a tragic ending to the Olympiad, but we applaud the Niyibizi for showing compassion and humanity by offering a result other than a loss for the afflicted player. In this spirit, we also give kudos to Jaden Shaw.
In a Chess Drum essay, "Playing Chess to Death," there were noted a number of cases where players were fatally stricken while playing. The rule awards the survivor with a win and the incapacitated person with a loss. It is a harsh rule that FIDE and national federations should revisit. These cases do not happen often enough for abuse and there is no good reason not to come up with a more compassionate rule. If the ruling were changed to a "no loss" result or simply a vacated result, there is little chance that someone would fake an illness in a losing position to get a better result.
In the case of round three, it is fortunate that both players received medical attention and were stabilized. In the times of a coronavirus pandemic and the rise of other pathogens like "monkeypox," we all hope that all of the attendees of the 2022 Chess Olympiad get through the event without any health crises. If a health crisis does happen, we would hope that the opponent of the afflicted player would do the right thing.
GENS UNA SUMUS!