Shabazz to get Special Services Chess Award!
Dear Chess Community,
On June 17th, I was informed that I would be the recipient of a U.S. Chess Special Services award. It is indeed a great honor and I will be accepting this on behalf of The Chess Drum community worldwide. The Awards Ceremony will be held on Friday, August 5, in Rancho Mirage, California during the U.S. Open.

The Chess Drum has been beating for 21 years and its sound has reached many corners of the globe. The original idea of the chess medium has been to widen the audience of the worldwide chess community and provide a platform for those stories often overlooked and otherwise untold. This content attempts to show the universality of chess with the intent to destroy stereotypes that limit the scope and reach of the game.
Me posing with the championship plaque for the 1980 Chicago City Championship
with teammate Reginald Williams (5th board).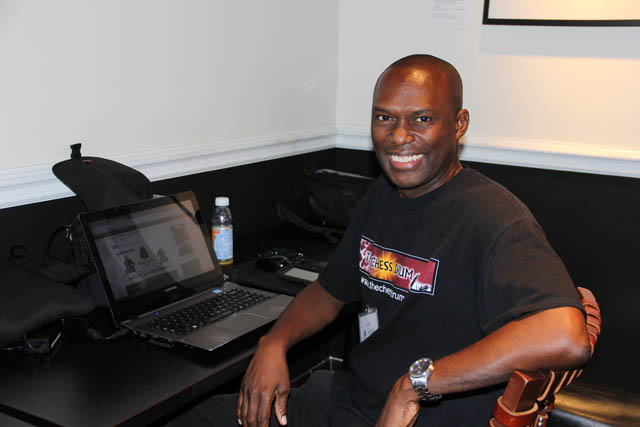 At 2015 Sinquefield Cup in St. Louis, Missouri
Launched February 12, 2001, the site started as a modest 10-page site including news briefs, feature articles, op-eds, puzzles and the popular "Fire on Board." Most of these were centered on the subject of players of the African Diaspora and community activities in countries not often featured in mainstream chess publications.
This year, the U.S. Chess Federation has accepted a nomination to honor me with a service award and I am grateful. Starting as a scholastic player in the City of Chicago, the last 21 years have been enriching and fulfilling. It has also been a great challenge. There are nights when I have pondered whether the time spent has been worth the investment.
It is enlightening to know that many will remember (for a long time) what I have tried to accomplish. It is my hope that I have made an impact on the African Diaspora, the U.S. chess community, and the worldwide community at large. It's been an interesting journey.
Thank you, and…

…KEEP THE BEAT GOING!!!

Daaim Shabazz, The Chess Drum