2021 World Chess Championship: Game #2
2021 World Chess Championship
Dubai, UAE (November 24th-December 16th)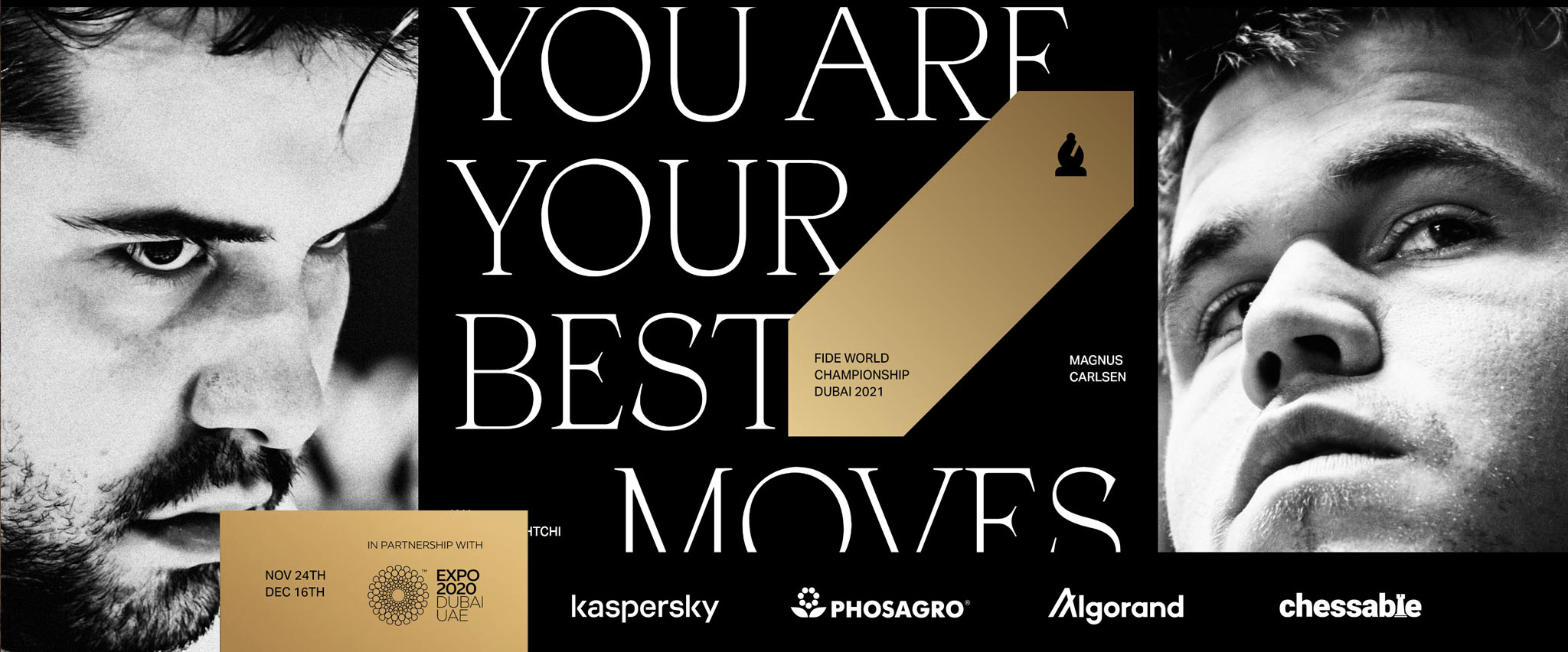 Game 2
Match Score: 1-1
Official Site:
https://fideworldchampionship.com/
2021 World Chess Championship: Game 2
Saturday, 27 November 2021
Game almost a Knightmare… but another draw!
The 2021 World Chess Championship match has gotten off to an exciting start with neither player "feeling out" the other. Yesterday saw tremendous preparation and a game treading on a razor's edge. Today's encounter was interesting and a unique theme saw both players getting knights entrenched in the opponent's camp. Both knights had to be eliminated with an exchange sacrifice showing how delicate the position was throughout. Nevertheless, another draw was reached.
That brings us to the most amazing tweet…
It has been 5 years since a classical game was won at the World Chess Championship

— GothamChess (@GothamChess) November 27, 2021
The game started as a Catalan with a few wrinkles. Carlsen played 8.Ne5 when only 15 games are found in the database. Generally, 8.a4 is the common move. After 13…Nd3 black's steed takes up residence. Hou Yifan was a guest on chess24 and stopped in midstream to assess the position after 17.Ne5!
Mind-dizzying complications in #CarlsenNepo after 17.Ne5. @chesscom has Hou Yifan as a guest commentator. Always refreshing perspectives on chess! Game 2 heating up quickly! @thechessdrum pic.twitter.com/uXalv6NzWy

— Daaim Shabazz (@thechessdrum) November 27, 2021
Carlsen sacrificed an exchange to get his own steed on the dominant d6-square after 19. Nd6! Then Nepo started a sequence that saw 24…c3. Watch David Howell's reaction…
…c3 and… "This was not on my radar at all – he's just given up a pawn, for free!" – David Howell reacts to Nepo's mysterious move. Real drama! Watch it here: https://t.co/95hMInBd7Y #c24live #CarlsenNepo #FIDEMatch2021 pic.twitter.com/1CL7Sd5HzJ

— chess24.com (@chess24com) November 27, 2021
Nepo stated that 24.Be4! took him by surprise, so he wanted to offer a surprise of his own. If the idea of 24…c3 was to get a passed pawn, then it may have been a bit ambitious. Meanwhile, white switched operations to the kingside and started making threats, the knight still dominant on d6.
After relentless pressure by Carlsen, Nepo decided he had enough of the intrusive knight and sacrificed back the exchange with 37…Rxd6. It resulted in a completely drawn 3+2 rook ending. Both players were clearly exhausted. Yesterday, Nepo was asked by FM Mike Klein about his workout regimen. It is clear that after two games, both will need to be in excellent physical form. Tomorrow is the last game before a rest day.
.@lachesisq after an interesting game 2 of #FIDEmatch2021. #CarlsenNepo pic.twitter.com/cHrOz7ZBOf

— Chess.com (@chesscom) November 27, 2021
Video by GM Daniel King
Video by FIDE Chess