2021 World Chess Championship: Game #1
2021 World Chess Championship
Dubai, UAE (November 24th-December 16th)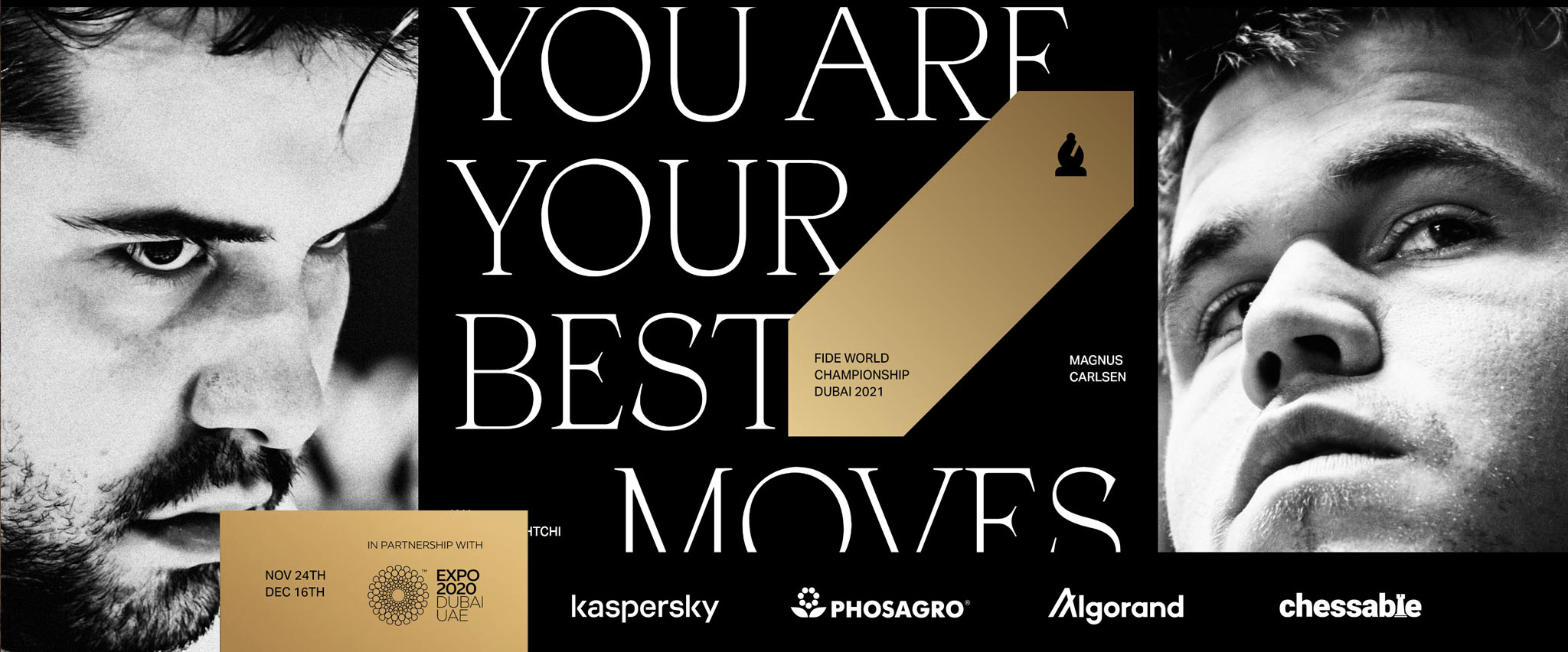 Game 1
Match Score: ½-½
Official Site:
https://fideworldchampionship.com/
2021 World Chess Championship: Game 1
Friday, 26 November 2021
Intense beginnings, but Carlsen holds
The first game of the 2021 World Chess Championship match between Magnus Carlsen and Ian Nepomniachtchi began with much fanfare with commentators bubbling with excitement. GM Judit Polgar (chess24) talked about the Expo vendors while FM Mike Klein (chess.com) was wondering if Carlsen would turn his knights when he adjusted the pieces. There was Jonathan Corblahh who was giving trivia questions and history lessons. However, the match was the main focus.
Stopped by @chess24com and heard @GMJuditPolgar talking about the @dubaiexpo2021 with vendors from 191 countries. Sounds like the Olympiad of vending! 🙂 @thechessdrum pic.twitter.com/jVoi7V2i3C

— Daaim Shabazz (@thechessdrum) November 26, 2021
The chess24 team had previous challenger Fabiano Caruana giving commentary with IM Danny Rensch and GM Robert Hess hosting in a relaxed type of format. It was an interesting switch from the "Sportscenter" type of format that other chess broadcasts have. Former World Champion Viswanathan Anand was giving commentary for FIDE and left a very insightful comment.
Viswanathan Anand is sharing a lot of his own match experience while commenting on #CarlsenNepo. pic.twitter.com/2nb9C0dOYG

— International Chess Federation (@FIDE_chess) November 26, 2021
The game started 1.e4 e5 and the game entered a very tense Ruy Lopez. It was a game where precision was at a premium and also showed how deep preparation is at the highest levels. Nepomniachtchi team, led by Vladimir Potkin, showed quite a bit of steadiness as this game can be considered a success as far as first games go.
Nepo gave not an inch to the champion and showed that his 4-1 advantage is no fluke. There were some subtleties such as Nepo's 14.Kf1! showing a keen eye. His 30.Ne1 got its share of critics…
Judit: "I don't understand why Nepo went Ne1. He wants to keep his rook on a1 desperately?"
Anish: "Magnus is just blinking. He blinks a little more intensely than normal. Normally it's 1 blink/5 seconds, now 2 blinks/3 sec. Now he's back to the I think I'm slightly better pose" pic.twitter.com/tzvRleVoPH

— chess24.com (@chess24com) November 26, 2021
…but returning the pawn after Carlsen's 33…b4! was the right decision. Good start for Nepo. For Carlsen, he stated in the press conference that a draw was OK, but he was out-prepared today.
Video by GM Daniel King