Chicago chess legend FM Albert Chow dies
FIDE Master Albert Chow died shortly after 5pm on Saturday, October 30, 2021. According to his friend Bill Brock, he had been diagnosed with metastatic squamous cell carcinoma (neck cancer). Chow was born on January 26, 1964, and was 57 years old on the day of his passing.
FM Albert C. Chow
(January 26, 1964 – October 30, 2021)
Photo Karen M. Larkin (Facebook)
Chow had been consumed with the care of his mother whom he was very close to. It was during this time he noticed a lump on his neck. However, he remained focused on the care of his mother Joyce and delayed treatment. After her death in 2018, he was completely devastated by the loss of his beloved mother and took time to mourn and handle her affairs. Over time, he noticed physical changes. Six weeks ago, he visited the physician and the diagnosis was metastatic cancer. Unfortunately, it had traveled to his bone structure.
Brock visited him last Saturday and stated that Chow wanted to leave the hospital and return home. He was released two days later on Monday. As climbed the stairs to his home, he suffered a heart attack and had to be revived twice. He was with loved ones in the Intensive Care Unit (ICU) when he passed away. It is truly a devastating blow to Chicago chess as we have lost a home-grown talent and a library of chess knowledge. He was loved and admired.
Chow playing long-time friend Bill Brock with Vince Berry watching.
Photo by Chicago Chess Center
Chow had a very interesting perspective on life. He has passionate about a lot of topics and his LinkedIn page lists some of his interests as "Animal Welfare, Arts and Culture, Civil Rights and Social Action, Disaster and Humanitarian Relief, Economic Empowerment, Education, Environment, Health, Human Rights, Politics, Poverty Alleviation, Science and Technology, and Social Services."
From High School to Pros
Al Chow clearly made his mark in Chicago chess. A standout scholastic player, he played top board for Lane Tech H.S. I remember seeing this diminutive freshman walk in the room in the 1979 City Championship. Everyone had heard of him.
The next year, I played Chow for the first time in the 1980 City Playoffs as the first board for Chicago Vocational H.S. (CVS). While his rating was around 1800, he was probably 200 points higher in strength. Coach Thomas Fineberg drove us to Lane Tech in the middle of the week. CVS was grossly underrated, but Lane was a clear favorite. Despite losing to Chow, my teammates swept the other boards, and the following weekend, we claimed the City Championship unexpectedly. It would be my only consolation against Chow (+0-4=1).
By Chow's own account, he won about fifty games as a scholastic player with a sole loss being the controversial loss to Chris Slupik. This incident was described in Illinois Chess Bulletin (June/July 1980, page 3), but the commentary is given here by Slupik who was the scholastic editor at the time. Many felt that Proviso's state title was tainted by this situation.
While this was a devastating loss, it was also a pivotal event in Chow's life. After being totally disgusted with this situation, he made clear his intentions to leave scholastic chess and enter the professional chess realm.
Joining the Illinois Elite
Chow was totally passionate about his pursuit of chess and would talk about how his mother supported his decision. He took pride in that. As he continued to get stronger and stronger, he became a tremendous threat to the strong masters like Leonid Bass, Leonid Kaushansky, and Morris Giles. His breakthrough may have come after winning the Illinois Open in 1982 when he was only 18 (pictured right).
By this time, he has passed all of his high school contemporaries, most of whom had relegated chess as a hobby and entered universities. Chow charged on and begin winning all of the major tournaments. His friend Bill Brock told him privately that Chow was clearly one of the strongest players in Illinois during the 80s.
"Although he denied the claim when I made the assertion to him last month, Albert was clearly the strongest player in Illinois for a brief period in the mid-1980s, as evidenced by his seven Illinois Open titles. In 1994, he tied for the US Open Championship held in Rosemont, Illinois."
FM Albert Chow (right) playing FM Morris Giles in the 5th round
of the 1988 Prairie State Open.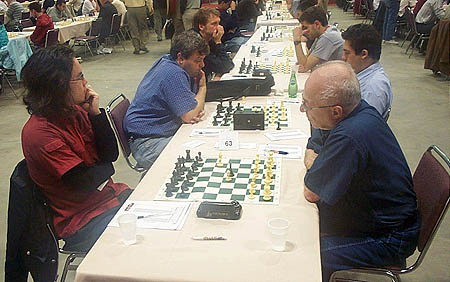 Chow playing GM Anatoly Lein at HB Global Chess Tournament in 2005.
Photo by Daaim Shabazz
Chow had 15 years of progression before his peak. He won the Illinois Open outright in 1982, 1984, and 1995, and tied for the title in 1985, 1996, 2002, and 2008.
In 1994, he scored his crowned achievement tying for joint first in the U.S. Open with five others including Smbat Lputian, Dmitri Gurevich, Ben Finegold, Georgi Orlov, and Leonid Kaushansky. This would be a deserving victory given all the time and effort he invested. To go in the annals of history as having won the U.S. Open, is something only a select few non-GMs can claim.
Legacy
Chow had been a National Master since 1981, was a USCF Life Master and earned FM title. His peak USCF rating was 2489, and his peak FIDE rating was 2360. According to his LinkedIn page, he still had the goal to earn the IM and GM titles. Before leaving the game to care for his mother, he listed the following activities:
"CHESS. Playing. Winning. Teaching-Coaching. Writing. Tournament Director. Book reviews. Simultaneous Exhibitions of up to 50 people at a time. Organizer. Club creator consultant. Collector of fine chess sets and art."
FM Albert Chow at 2016 Chicago Open
Photo by Daaim Shabazz
Chow will be remembered as a gentle soul. He was kind, yet passionate about social justice. He had also developed an interest in preserving the legacy of Chicago chess legends and had the game collection of Dr. Eugene Martinovsky. He congratulated me on the Emory Tate biography and talked about the importance of keeping the memory alive of these players such as Martinovsky, Tate and Morris Giles. Indeed, there may need to be a game collection of players… now we will have to include Albert Charles Chow.
Selected Games of Albert C. Chow
Peace and Blessings

Visitation at Christian Funeral Home
3100 W. Irving Park Rd.
Nov 11, 2021, 4-9 p.m.
773-478-3240