Chicago's "Uncle Marv" Dandridge… the story of a chess mentor
One of the fascinating features of chess besides its attractive entertainment value is the social fulfillment gained from its community of personalities. Chess players cover the gamut in terms of demographics despite being erroneously portrayed in the media as a monolith of bespectacled geniuses with high IQs. After 40 years of involvement with chess, many people have enriched my chess life. However, few of my early friendships in chess were as important as the one I shared with Marvin Dandridge.
Marvin has been a fixture in Chicago-area chess for the past four decades and is known as one of the most personable figures. A few minutes younger than his twin brother Martin Dandridge, both attended perennial powerhouse Chicago Vocational High School (CVS) where they excelled in sports.
Martin was a standout athlete, captaining the top-rated CVS football squad and winning city honors in wrestling. While Marvin was sectional champion in wrestling and also lettered in football, it would be chess where Marvin would make his legendary mark. CVS took the city title in 1975 and then placed 3rd in the state competition on the strength of Marvin's 1st place performance on 2nd board and Gene Coleman's 2nd place performance on 1st board.
Chicago Vocational High School (CVS) would win the City Championship in 1975. This photo was taken from the 1975 CVS yearbook. Sitting (L-R): Jerome Mitchell, Derrick Sudduth, Kevin Rouse. 2nd Row (L-R): Tom Fineberg, Rory Trotter, Mitchell Channell, Gene Coleman, Marvin Dandridge, Frederick Turner, Michael Chatman. 3rd Row (L-R): Earl Hall, Lester Bullard, Dewayne Moore, Rodney Johnson. Dandridge and Fineberg would become mainstays of the southside chess scene. Photo from CVS Technician yearbook (1975).
Having written thousands of pages of contemporary chess history at this point, I would be remiss if I didn't honor those players who contributed significantly to my chess confidence. Incidentally, three were fellow CVS alumni… Roger Hickman, Marvin Johnson and of course, Marvin Dandridge. I have a biological big brother, but all three were my "big brothers" in chess. Hickman provided me with life skills perspective, Johnson mentored me during my scholastic rise at CVS and finally Dandridge who contributed to raising my skill level in chess.
Extending the CVS tradition, I am holding the plaque for the 1980 City Championship with CVS teammate Reginald Williams (5th board) on the right. CVS went on to place 9th in the Illinois H.S. state championship.
CVS and Tuley Park
Sitting on 27 acres and once housing an airplane hangar, the massive Chicago Vocational High School (CVS) had a thriving chess club under the direction of the indefatigable Thomas Fineberg, a math teacher of a rather corpulent stature. CVS, with its enrollment of 4,000+ students, was powerhouse in all athletics, but also a traditional chess powerhouse. After a few battles in the lunchroom and classrooms, I had joined the school club as a 15-year old sophomore on the urging of a classmate named Cornelius Plunkett.
The campus of Chicago Vocational High School
As a new member, you got the standard club rating of 700. Fineberg had devised an internal rating system to determine the board orders for the chess team. There were more than 100 players on the "CVS ladder rating list," and after my first year in the club, I went from 700 to 1000. "Ten hundred" was the threshold to be a "strong" player. By my senior year, I ascended to board one and had a club ladder rating of 1500-1600.
My first chess interactions outside of CVS were at Tuley Park where meetings were Saturdays from noon-5pm. Every week CVS Coach Fineberg would religiously unload his sets and boards from the trunk of his Dodge and wait for the crowd. Tuley Park attracted players from the south side of Chicago including players from various area high schools.
My CVS club mate and sparring partner Jeffery Allen encouraged me to visit. He had been attending club meetings and his improvement was evidence of it. Jeffery had won top "C" prize at the 1979 U.S. Open and had beaten GM Arthur Bisguier in a simultaneous exhibition. He was very studious and stronger than me at that point.
Chicago's Tuley Park Field House
The southside chess scene centered about Tuley Park on 91st and M.L. King in a rather attractive area of well-kept, middle-class homes. It housed a public library, hosted tennis tournaments, and baseball leagues, but became known as the watering hole for chess competition.
J.A. Miller
started the meetings at Tuley and Fineberg merged his "87th St. Chess Club" at the same location.
Meeting Marvin
I finally made my way to Tuley Park on a Saturday, walked in the buzzing room, and there was an immediate pulse of energy felt in the place. I saw players engaged in various skittles games, blitz battles and heard pieces clicking and the staccato of chess clocks being slapped. There were occasional taunts and lots of laughing. The place was electric.
I surveyed the room and saw this rather large guy take a pawn in his hand, slam it on the board and yell, "MATE!!!" I wondered to myself, "What kind of chess is this?" I was a relatively new player, and I had never seen bughouse before. It was not as big as it is today. I was impressed by this spectacle, but also his constant laughing, jokes and trash talk. It was infectious as he had the entire club buzzing. It was where I wanted to be. That brash player would be Marvin Dandridge.
The next time I saw Marvin was when he visited CVS chess club and gave a simul. Fineberg told us of his top board from the City Championship team in 1975. We were in awe. Marvin was mowing everyone down. My game was the last one going, but we were unable to finish as Fineberg had put all the equipment away and prepared to leave. As I stood there pondering, Marvin dismissed the game as being lost. It indeed was, but it would be the first of many encounters with him.
My encounters with Marvin were vital because he set an early bar for me. I began the process of serious study… buying some basic books and getting Chess Life & Review out of the school library. I continued my improvement and was a regular at Tuley Park. Somewhere along the line, I must've impressed Marvin because I would find myself visiting his home on 77th and Marshfield to study openings, go over a tournament encounter or play training games. I was not at his level, but he motivated me to get serious about chess study. After my junior year, I studied 6-10 hours a day over the summer and rose several places to claim 1st board as a senior.
"OH YEAHHH!!!"
In those days, Marvin exhibited a larger-than-life personality with a biting sense of humor. He was an excellent impressionist covering cartoon characters, actors and singers (even Bootsy Collins!). During blitz battles, you had to have some fairly thick skin, or he would rankle you easily. His tactical eye was brutal, and when he hit you with a combination, he would let out one of his roars… "OH YEAHHHH!!!!" while twirling his arm around in victory. His signature line came from a barbecue sauce commercial whose main line was "Oh yeah!"
Marvin was relentless in his banter, and everyone in the club would be in stitches laughing. All you could do was get up after a loss and try to be a good sport. If you sat down to play him, you knew what you may a target of his humor. His physical humor was also hilarious. Make a poor move and Marvin would start sniffing the air implying that your move was smelly or stunk.
There were several occasions later on when Marvin's antics got the best of his opponents. There is a famous encounter between Marvin and (now FM) Albert Chow, who at the time was one of the top young players in the state. Chow had been a regular at Jules Stein's Chicago Chess Center (2666 N. Halsted) and after the tournament was over, he played some blitz in the small skittles room.
FM Albert Chow (right) playing FM Morris Giles in the 5th round
of the 1988 Prairie State Open.
After Chow trashed me a couple of games, Marvin sat to play him. The first couple of games Chow crushed him and was in a joking mood. Marvin had been a bit quiet, but then broke through winning a game… then another… and another! By this time Marvin was pumped up and turned up the volume of trash talking. They continued to trade barbs, but it took on a more personal tone… with suggestive references. Marvin won another game and bellowed "OH YEAHHH!!!" Usually very composed, Chow appeared unsettled.
In the next game, Marvin went a bit far when he put his hand on Chow's leg with some off-color humor. Chow, who was already upset, swept the pieces off the board, and stormed out of the room. Marvin was still amidst laughter when an angered Chow came back into the room after a few minutes and shot another verbal missile at Marvin, even questioning his sexual orientation. Not to be outdone, Marvin delivers the final punch.
"Don't worry. Don't be mad. You're young. You'll get better. You'll get stronger, and stronger… (pause for effect)… and I'll STILL crack you off!"
The room filled with raucous laughter. On another occasion, Marvin sprung that same joke on 1979 Illinois H.S. state champion Melvin Alsberry who laughed along. As time passed by, Chow would laugh at that day and told me, "I don't know why I was so mad at Marvin Dandridge."
Even if you were mad at Marvin, it usually didn't last long. He once told me after a training session that I wasn't challenging him. The words hit me hard. I was shaken, but determined to be better… and I was. Marvin had his own way of motivating you.
"Getting the Strauss"
After graduating from Eastern Illinois University, Marvin began to become more active in tournaments. I remember going down to the 1979 U.S. Open with him to watch the games and even work the demonstration boards. It was my first-time seeing professionals up close. Marvin also pointed out players to me such as Emory Tate and David Sprenkle (see the amazing Sprenkle-Dandridge).
In the Dandridge-Rizzitano, white seems to be in trouble due to the menacing bishops and the advanced pawns. Black's threat of Ba3 and c1 (Q) seem hard to meet. Of course b2 appears devastating, but Marvin reels off a gem. Can you find the move?
In 1980, he was a graduate student at Chicago State University and played in the 1980 Pan-American Intercollegiate along with Raheem Muhammad Ali, Gene Scott and Angelo Armistead. At that tournament, Marvin (then rated 2040) played a classic encounter with FM James Rizzitano (2355) of Boston College. Rizzitano (now IM) was the 1979 National High School champion and one of America's brightest young stars. This game was also featured in the Chess Life issue covering the Pan-Am tournament and put Marvin in the national spotlight! Understandably, the game attracted a huge crowd.
Marvin "got the strauss" as he would so often say after a victory. The next year, Marvin and I played as teammates for Chicago State University at the 1981 Pan-Am Intercollegiate (Statler Hotel in New York). He was finishing his Master's in Psychology, and I was a freshman studying Computer Science. Also on the team was my other mentor and CVS alumni
Roger Hickman
, and my high school archrival
Melvin Alsberry, a Carver High legend
. It was my first flight. We had a blast, visited the now-defunct Manhattan Chess Club and had many fun memories.
Representing Chicago State University at the
1981 Pan-Am Intercollegiate in New York. I ended on 5½-2½.
Unfortunately, I misplaced my hotel key almost immediately after we checked in at the desk. Everyone was mad at me because they put us in a smaller room. Marvin didn't perform well at the tournament losing to an 1800-rated player from the University of Chicago, Tom Kang. Meanwhile, Roger accepted draws against weaker players… sometimes making the offer. All of these memories resulted in an exchange of jokes we share even to this day. Roger quipped (about Marvin), "Our master didn't show up."
Marv's Magic
During tournament play or when studying, Marvin appeared very focused and composed. I remember studying some very complicated opening systems with Marvin. I particularly remember analyzing the Sveshnikov where black plays …f5 and …d5. We also looked at the French Poisoned Pawn line where white plays Kd1. He also essayed the aggressive Dutch Defense. Fortunately, I was an 1.e4 player. Here is a battle with (now GM) Ben Finegold. Crazy!
Here's another crazy Dutch Defense against the legendary
Arthur Bisguier
…
I remember becoming disappointed when Marvin took up the positional Caro Kann and started playing the English starting with 1.Nf3. He had abandoned our "tactical" fraternity and joined Hickman for more positional chess. I remember trying to convince him to play 1.e4 again. Looking at the craziness of his games, you can understand why he needed a different direction. However he still knew how to uncork some tactical gems.
One of the things about Marvin is he was a great sport and I never saw him angry after a loss. I saw him lose a blitz session to Colombia's (now GM)
Alonso Zapata
who was giving him 5:3 time odds. I couldn't believe it. He told me with a chuckle, "No more 5:3 against IMs." Marvin knew how to laugh at himself when on the brink of losing. He would shout out "OH NOOOO!" No… it wasn't from Mr. Bill of the
Saturday Night Live
fame, but taken from the
Calgonite commercial
.
Unfortunately, Marvin was "Calgonited" in this game…
Becoming "Uncle Marv"
I left Chicago in 1989 and lost the contact with Marvin except for a happenstance encounter at one of the chess meetups or the Chicago Open. His activity had slowed a bit, but he was still involved in the chess community and had earned the affectionate name of "Uncle Marv." After I launched The Chess Drum in 2001, I began to feature his games and penned a popular article titled, "Dandridge brings Chicago Fire" featuring the above win over Boris Kreiman.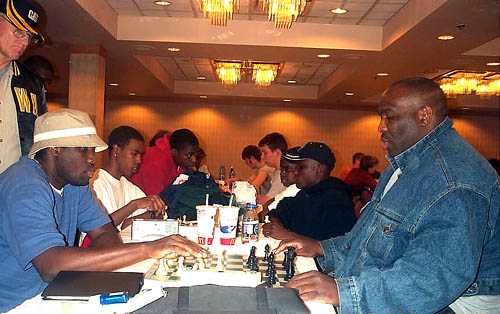 A classic blitz battle with Nigeria's Oladapo Adu at 2004 Chicago Open.
Photo by Daaim Shabazz.
During my trips back to Chicago, I'd try to catch up with old acquaintances. A few years back at a Chicago Open tournament, Marvin and I went out to grab a bite to eat, and it was great to catch up. We reminisced about the good times and how things had changed in chess. Many of the people we knew had moved in different directions in life. Some has passed away and others had health challenges. Nevertheless, it was good to spend that time.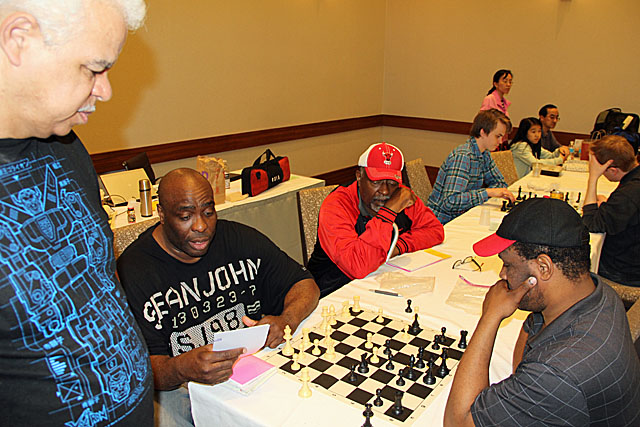 At the 2016 Chicago Open, Marvin Dandridge shows his game (against Galina Novikova) to Remi Adekola and Roger Hickman with Brooklyn's Steve Colding (left) looking on. Photo by Daaim Shabazz.
It's nice to remember the good times. Chess provided those moments of happiness that one can reflect on. I remember card parties at Marvin's house, the pizza outings with Roger Hickman and the times when the three of us descended on Harper's Square in Hyde Park or one of the chess clubs on the northside. Those were the good days.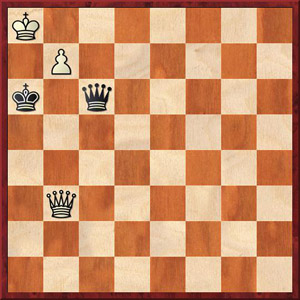 In the diagrammed position, white has to find some incredible moves to win. Queen endings are challenging. Try if you dare!
Marvin had a peak rating 2350-2400 and earned the rank of Life Master. While he is no longer the blitz enthusiast that he once was, one of the things that I see in him is his joy in analyzing positions. This activity was something I spent hours doing with him. He enjoyed the challenge, the mental competition, and spotting tactical patterns. He also enjoyed solving problems. At one session, he presented this problem on the right. After we couldn't solve it, he offered the solution, and we were amazed. Such influence was what I needed to improve.
As I pushed to improve, I urged Marvin to play more. To my chagrin, he told me that he was unable to spend entire weekends at tournaments. Perhaps there were other reasons, but as a licensed psychologist in a city like Chicago, his caseload must've been overwhelming.
Dandridge is being interviewed at the 2016 Emory Tate Memorial during which he offered insight about a number of psychological issues pertaining to Black chess players. Very interesting!

Dandridge has worked for decades as a licensed clinical professional counselor. At this point in the interview, he spoke about the case of Issac Braswell, who died tragically in 2012. Photos by Daaim Shabazz.
Good Mentorship + Good Plan = Success
Although "Uncle Marv" may quickly scoff at being called "legend," such a label would be fitting in local chess circles and within the larger African Diaspora. If nothing else, he has helped to fuel my passion for chess and years later I'm traveling the world writing about hundreds of other trailblazing players of African descent.
In fact, Marvin has some very intriguing and amusing stories about Chicago-born IM Emory Tate and he had tremendous respect for FM Morris Giles. These three were the head of the small group of Black masters in the Chicago area during the 80s. All three have had their moments in the spotlight and they would (in fact) become a major impetus for me starting The Chess Drum.
One of the objectives of The Chess Drum is to provide inspiration in the lives of Black people in the worldwide community. If I have not expressed this enough, we cannot underestimate mentorship and role modeling as key inspirations. If we want to create institutions for chess excellence, we have to have this essential element. Grandmaster Maurice Ashley, whom I met at the 1989 U.S. Open, mentioned this key element in his success.
With Marvin at 1989 U.S. Open in Oakbrook, Illinois prior to me moving to Atlanta, Georgia for graduate school.
Chess mentorship seems to be lacking, particularly in the Black community. Today, there is the idea that aspiring masters need "trainers," but there is also a need for mentorship. A trainer can be a mentor, can be from a different community, but there are other social elements required. Unfortunately, young players in the Black community have little connection to their predecessors.
Mentorship could undoubtedly boost confidence, not only in chess, but with career and social development. Perhaps it's not always the student who chooses the mentor. Sometimes the mentor who chooses the student. I have been a university professor for nearly 25 years. Finding an understudy with whom to share your wealth of knowledge (and to see them thrive) is a tremendous blessing. I was fortunate to have benefited from such mentorship and I am forever grateful. Thanks Marvin!