Chess brought before Kenyan Parliament



Kenya has long been an active member of the international chess community over the years, but in the past decade, they have increased the profile of chess within the country. Chess Kenya has been promoting chess in underserved areas.
TEAM KENYA with Ministry of Sports
Most recently Fred Sagwe trekked 165km to get chess in the national conversation. As a result of his advocacy, chess is now being debated in the Kenyan Parliament for inclusion into the curriculum.
According to Chess Kenya President Bernard Wanjala, Sagwe was appointed as the Head of Chess-in-Schools and "hit the road immediately."
It's great to see finally the motion found its way to the floor and chess had 30 minutes fame (starting at 00:07:39). Of course, some Senators did not have kind words particularly those in pastoralist areas but generally, it was well-debated.
Debate of Chess-in-Schools (00:07:39-00:46:52)
Video by Parliament of Kenya
To show how the theory was put into practice, Kenya recently participated in the 2021 World Amateur Championship sending an entire delegation to Rhodes, Greece. Kenya was able to bring home both gold and silver with Glenda Madelta and Joyce Ndirangu taking the honors in the under-1700 section. It was a proud moment for the Republic of Kenya as the national anthem was played at the medal ceremony.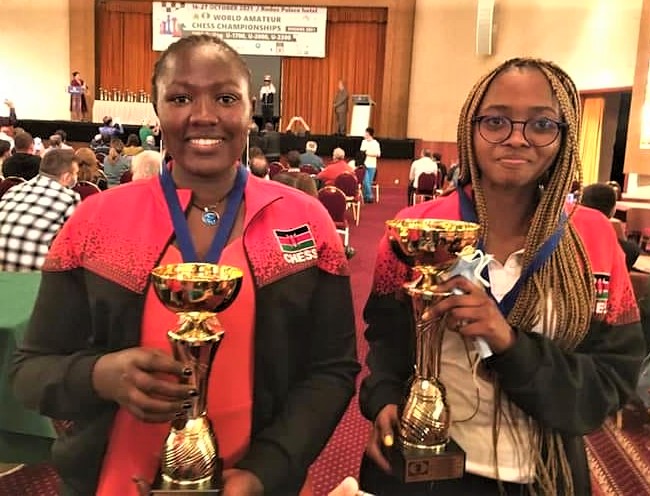 Joyce Ndirangu Nyaruai and Madelta Glenda the silver and gold medal winners of the 2021 World Amateur Chess Championship Women's (under-1700). Photo by Chess Kenya
Kim Bhari of Kenya Chess Masala wrote daily reports covering the action of the Kenyan players. The initiative to move chess as an extracurricular activity in the curriculum is one that has shown results worldwide and perhaps Kenya's medal winners can attest to this. Many studies have been done to show the effects and if nothing else, Many studies have been done to show the effects and if nothing else, provide chess players with the mental discipline to excel in other fields.
This discussion in the Kenyan parliament was a historic event, not merely for the East African country but for the global appeal of chess. It was a very important discussion and other nations can look at this debate for determining whether chess (despite obstacles) can play a similar role in the community.
There is obviously a human and material resource requirement to implement these programs. This was prominently mentioned in the debate. However, one can at least look at how chess can be integrated to reach the learning outcomes. There are many examples in countries of all economic levels. What was missing in the debate was someone who could bring cases of successful efforts in peer countries. That may be a debate for another day.
Well done Fred Sagwe and Chess Kenya!