2021 FIDE World Cup: Round #1
Round 1, Game 1
Monday, 12 July 2021
Sizzling start at the 2021 World Cup in Sochi!
Chile's Salinas uncorks brilliancy…
Egypt's Moaataz upsets Ushenina
25…Qg1+! 26.Nxg1 Nxh2# wrapped up a beautiful game! https://t.co/m7GDW4MQKE #c24live #FIDEWorldCup pic.twitter.com/HtILsWQjxr

— chess24.com (@chess24com) July 12, 2021
With 78 games today in the open, there were massive expectations as players from 93 federations kicked off the World Cup in Sochi, Russia. The top 50 seeds received byes, but the rest would entertain the chess world longing to see a variety of classical games.
For the women, the top 25 received byes and will advance to the second round automatically. Aleksandra Goraychkina, a championship contender, is the top see who recently crossed the 2600 rating. She is only the 6th woman to ever achieve this.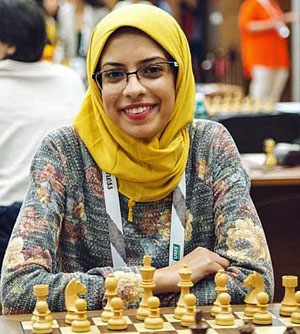 Egypt's Ayah Moaataz
Photo by Egyptian Chess Federation
Today's biggest upset was Egypt's Ayah Moaataz who brutally mated former women's World Champion, Anna Ushenina. The Ukrainian won the women's world championship, but has had shown periods of sluggishness and disinterest. In today's chess, preparation has become so much more important and even a player outrated by 300-400 Elo can find the motivation. In the game against Moaataz, Ushenina failed to capitalize on an opening mistake after 15.axb5?? Bd5! winning material.
Her text move 15…Nxc2 was still winning, but lost significant momentum after Moaataz complicated matters with 19.Rxb4!? Nevertheless, Ushenina was still better. Fast forward to Moaataz's 34.Rd4? the evaluation ballooned to -6.29. Despite this evaluation and being a rook up, black's weakness became an issue and Ushenina lost her sense of danger. After 38…Rbd7?? the Egyptian didn't miss her chance and was mating after 39.Qg8+ Kg6 40.f5+ Kh5 40.Qh7! mating. Wonderful win for Moaataz!
Uganda is ably represented by International Master Arthur Ssegwanyi (left) and International Arbiter, @sskisuze at the FIDE World Cup 2021, one of the biggest international chess events. In the middle is Arthur's highly rated round one opponent. Keep the #Uganda flag flying. pic.twitter.com/CirnVMmg16

— Vianney Mpungu Luggya (@vluggya) July 11, 2021
The Open section did not have much in the way of drama, but there was a close call in Nihal Sarin's game. ChessBase India was covering the games and there was a dark mood in the chat. Arthur Ssegwanyi of Uganda had outplayed the Indian prodigy for 30 moves before he started shuffling his pieces around in an aimless way. His Rh1-h3-h1-a1 was puzzling. The Qc1-d2-c1-a3-a2 also lost a lot of time as black slowly mounted an attack on the g-file. The Ugandan IM had totally lost the thread on the position and after 48.Rb1 Nf7 49.Ke3?? Qh4! A disappointing result for Ssegwanyi.
As far as the other games, most ended with the favorite coming out on top. There was one game that GM Nigel Short stated should be showered with gold coins and that was Pablo Salinas Herrera's brilliant win. Daniel Naroditsky had fellow GMs Hou Yifan and Veselin Topalov on the chess.com broadcast as they seem astounded.
GM Pablo Salinas Herrera of Chile likely played the Game of the Day vs. the Danish GM Mads Andersen. What a beautiful finish!https://t.co/B45YsNq4q5 pic.twitter.com/w72QJL2lFn

— ChesscomNews (@ChesscomNews) July 12, 2021
As far as the African players, it was not a good day as only one player scored a victory and that player (Ahmed Adly) was winning his compatriot Abdelrahman Hesham. Here are the results of African players. GM Bassem Amin has a bye.
Africans at World Chess Cup
July 12th-August 6th, 2021 (Sochi, Russia)

Round #1, Game #1 (Open)

1
IM Daniel Barrish

RSA

0-1

GM Aryan Tari

NOR
2
GM Adham Fawzy

EGY

½-½

GM Evgeny Alekseev

RUS
3
GM Hovhannes Gabuzyan

ARM

1-0

GM Bilel Bellahcene

ALG
4
FM Sergio Miguel

ANG

0-1

GM Ivan Sarc

CRO
5
CM Chiletso Chipanga

MAW

0-1

GM Adhiban Baskiran

IND
6
GM Vladislav Kovalev

FID

1-0

IM Rodwell Makoto

ZIM
7
IM Olanrewaju Ajibola

NGR

0-1

GM Alexey Sarana

RUS
8
IM Arthur Ssegwangyi

UGA

0-1

GM Nihal Sarin

IND
9
GM Ahmed Adly

EGY

1-0

GM Abdelrahman Hesham

EGY
10
GM Haik Martirosyan

ARM

1-0

IM Chitumbo Mwali

ZAM
11
GM David Paravyan

RUS

1-0

IM Mohamed Tissir

MAR
12
GM Alexander Motylev

RUS

1-0

FM Abobker Mohamed Elarabi

LBA

Round #1, Game #1 (Women)

1
IM Nataliya Buksa

UKR

1-0

WIM Sabrina Latreche

ALG
2
GM Valentian Guinina

RUS

1-0

WIM Jesse February

RSA
3
IM Almira Skripchenko

FRA

1-0

WGM Shahenda Wafa

EGY
4
WGM Shrook Wafa

EGY

0-1

IM Laura Unuk

CRO
5
WGM Amina Mezioud

ALG

0-1

IM Iulija Omonova

UZB

Official Pairings
Egypt's GM Ahmed Adly
Photo by Eric Rosen
Games (Open)
Games (Women)
Video by FIDE Chess
Video by ChessBase India
Critical Links: official site, YouTube, Twitter #FIDEWorldCup2021, Results