Trinidadian chess princess Della-Marie remains comatose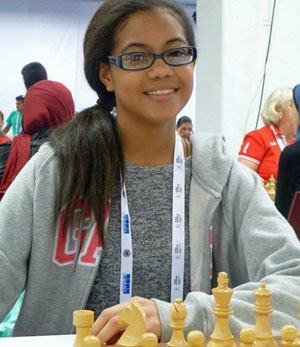 Della-Marie Walcott at
2012 Chess Olympiad in Istanbul, Turkey
Photo by Rohan Waite
Della-Marie Walcott
had everything going for her. At 14, she was confident, smart, pretty with an effervescent personality. She was also a rising talent in chess! Her parents
Dominic Walcott
and
Debra Walcott
, were immensely proud, as was her large extended family. Then tragedy struck.
For years, Della had been suffering from migraine headaches. After the family doctor advised a CT-scan, they discovered a blockage and accumulated fluids (hydrocephalus) within the brain cavities. An MRI was scheduled to get a closer look at what was causing the problem. On December 17, 2015, she visited the doctor and found that she had a small brain tumor requiring immediate surgery.
The procedure was done at the Eric Williams Medical Sciences Complex in Mount Hope. After the surgery five days later, a biopsy of the mass determined that it was benign (non-cancerous). That was the good news after such a tragic turn of events.
However, there were complications post-surgery, so a second surgery was recommended to relieve pressure and drain fluids. Physicians completed the operation, but Della lapsed into a coma. After an extended stay of 27 days at the hospital, she was released to home care as the medical bills mounted.
Four years later, she remains in a coma with around-the-clock care from nurses and family members. According to a news report in NewsDay, Della's cousin Amiel Mohammed stated,
"Della is still in the coma; she is home. Generally speaking, she is good; she is doing good."
Mohammed added,
"She does not have any responses. Her eyes are open and everything, her bodily functions work as normal, but she is — for the lack of a better term — just asleep."
The Chess Drum recently contacted Sonya Johnson of the Trinidadian Chess Association, whose daughter Gabriella Johnson is close friends with Della. As one would imagine, the entire nation is sending all kinds of love and positive energy. What is amazing is that Della-Maria is not on a life-support machine. She is fed through a feeding tube and according to the report, breathes on her own!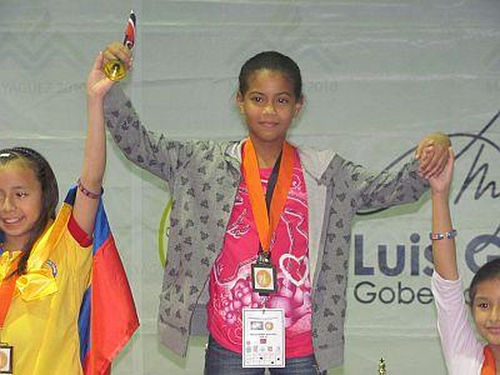 Della-Marie Walcott getting 1st place at 2013 CARIFTA Junior Championships
Photo courtesy of Amiel Mohammed
Della was present at the 2010 Caribbean Chess Carnival when The Chess Drum was on-site to cover the event. Then she was nine years old but continued to play and shine for her island nation. She won gold at the 2013 CARIFTA junior championship, and joined the women's national team competing in the Chess Olympiads in 2012 (Istanbul, Turkey) and 2014 (Tromso, Norway).
The Walcott family seeks your prayers and if you find the kindness in your heart to help defray the cost of ongoing medical expenses, please donate to "Friends of Della Marie Walcott" open at Republic Bank Limited (account number 180801224831).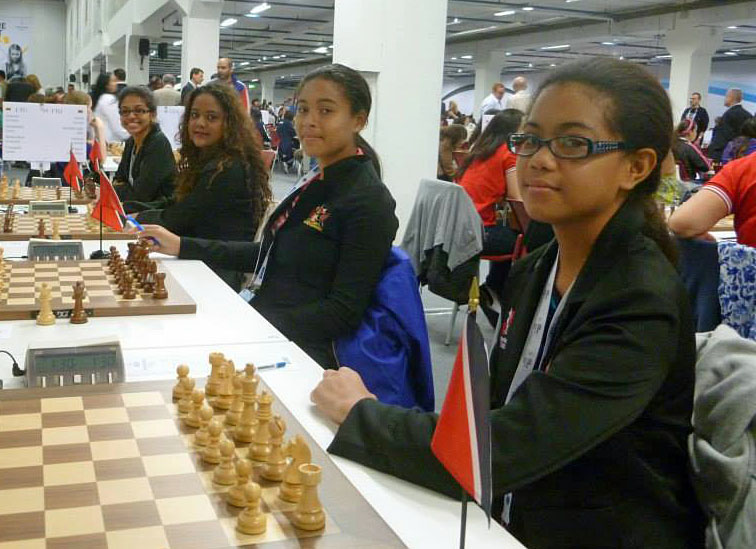 2012 Chess Olympiad (Istanbul, Turkey) L-R: Nikeilia Chuniesingh, Aditi Soondarsingh, Gabriella Johnson, Della-Marie Walcott. Photo by Rohan Waite
Della-Marie (center) at 2010 Caribbean Carnival Championships.
Photo by Daaim Shabazz
Video by C Sports Live