Gwayne Lambert wins Chicago's Tate Memorial!
Emory Tate at 2009 World Open.
Photo by Michael Williams.
When one thinks of chess, perhaps visions of old men in barbershops and parks may come to mind. Maybe it is the snotty-nosed, anti-social bookworm that comes to mind… or even the foul-mouthed, trash-talking chess hustler. All of these are windows into the chess world known for its exclusivity, when in fact, chess is very accessible and has a long list of heroes of every kind. Emory Andrew Tate, Jr. was one such hero in the annals of chess history. Daring, brash and unapologetically rebellious he gave a type of energy to chess that was rarely expressed by a master-level player. Tate, a quintessential chess performer, passed away last year October 17, 2015 and left behind a memorable legacy (death, obituary, funeral).
On June 25, 2016, Lion's Paw Chess Academy held a memorial tournament for the International Master. He was a veritable role model within the African Diaspora and had widespread appeal around the world for his will competing at a chess event in Fremont, California. Tate was a man of scholarly pedigree, spoke multiple languages which included his stint as a Russian linguist in the Air Force. Ultimately, he would express himself through chess in the most vibrant way and the power of his creative mind would explode onto the chessboard.
Many men and women of African ancestry love chess and its fascination in Africa can be traced back to the Moors who brought the game into Spain. Certainly this history may be lost on the millions of people who play, but for Emory chess was a passion that he shared. Tate was a five-time Armed Forces Champion, six-time Indiana state Champion and a one-time Alabama state champion. He was a fixture in tournaments across America and inspired a worldwide fanbase.
Many of those who benefited from Tate's presence were the 13 men and one boy who assembled at the Salaam restaurant to participate in a tournament in Tate's honor. Daniel X Jones, founder of Lion's Paw, organized this event to honor the Chicago-born Tate and hopes to make it an annual event. The tournament attracted players young an old and featured some mainstays on the Chicago scene. Roger Hickman (1878), who attended Chicago Vocational High School (CVS), knew Tate and used to drive him to Northwestern University where Tate attended for a year. It was a rare sighting for the long-time veteran of the Chicago scene. Legendary blitz players Tom Murphy (2115) and Sam Ford (1860) were also in the field ready to do damage. However, Sedrick Prude (2133) was the top seed. National Master Marvin Dandridge (CVS alumni also) later came by to support the event. Members of the southside chess scene were out in force.
There were introductory remarks by Jones before he officially launched the inaugural tournament. Overall there was a very upbeat spirit in honoring such a chess warrior. Tate left behind so many memorable stories and many of the players were being interview by videographer Seed Lynn about their reflections. Despite some of the key matchups (Ford-Prude), (Porter-Murphy), there was no clear-cut favorite at the halfway point.
During lunchtime, the participants were treated to a few presentations. Daaim Shabazz (another CVS alumni) gave some reflections on Tate's life, showed various photos and gave a preview of the ongoing book project. The book is scheduled to come out in Fall 2016. While the players were eating a delicious lunch, they watch a documentary produced by Kirby Ashley titled, "The History of Black Chess Players." It was an overview dealing with the long history of the chess from the Indians, Persians and then the to the Africa Disapora including the Moors, Europe's chess renaissance and the 19th century figures such as James McCune Smith and Theophilus Thompson. The history segued into the competitive, trash-talking scene of Chicago chess personalities such as "Sideline Grandmaster," "Steele Bill," "Chet Nation," "Uncle Marv," "Checkmate the Great," "Heavy Hitter," "Mo Dog," and "Head Hooker." The 30-minute film is one highlighting the subcultures that practically exist in practically every major city around the world and even some backwoods locations.
Round 1 in action… the inaugural Emory Tate Memorial!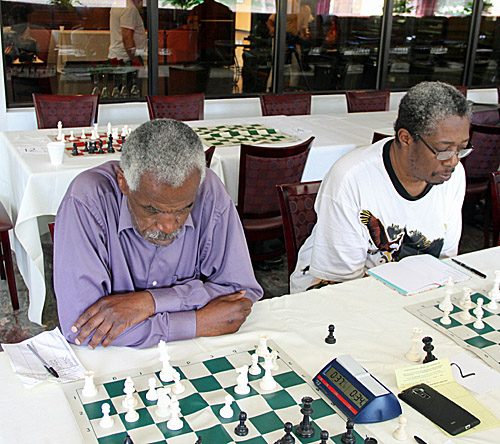 Sam Ford and Tom Murphy…
both knew Emory Tate quite well from Chicago and DC area, respectively.
Kareem Abdullah (1581) came from Charlotte, North Carolina to participate
and had a creditable +1 score.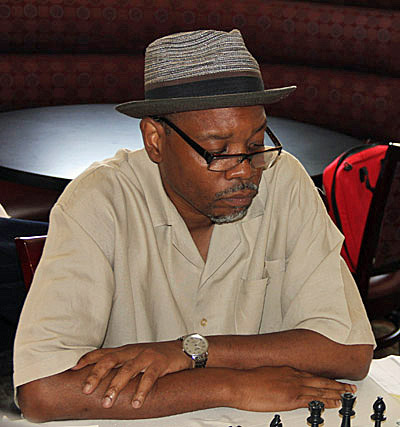 John Porter looks poised here,
but had to win in a time scramble against Madison Loftis.
He played a fine game!
George David, Madison Loftis, Roger Hickman
NM Marvin Dandridge watches the action.
After the second round, the participants watched an intriguing
video documentary produced by Kirby Ashley.
After lunch the tournament continued and Prude pulling even with Murphy and former Whitney Young standout Gwayne Lambert. Lambert held Murphy to a draw making a three-way tie with 2.5/3. In the last round it would be Lambert-Ford and Prude-Murphy for the championship. Prude and Murphy fought to a tough draw, but Lambert beat Ford to win the tournament! After his years as a state champion at Young teams, Lambert is having some success as a cars salesman. Now 26 years old, he has not played in a tournament since 2012, but his unexpected victory showed that he is seeking to ignite his passion once again. His state championship runs at Young along with teammate Kayin Barclay were historic. Hopefully he will defend his title next year.
Tom Murphy, the legend of Dupont Circle (Washington, DC).
He now resides in Chicago.
William "Steele Bill" Crawford being asked for his reflections on Emory Tate.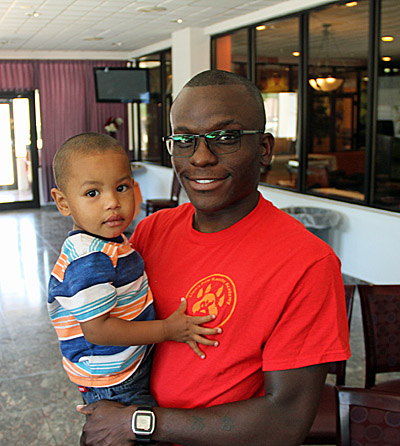 Daniel X Jones with son, Malachi. 🙂
This author watches Murphy and Lambert battle
in the penultimate round… 1/2-1/2