2017 Cote d'Ivoire Team Invitational
Cote d'Ivoire, also known as the "Ivory Coast," has been an active chess presence in West Africa. Under the leadership of Dr. Jean-Claude Essis Essoh, the Chess Federation of Cote d'Ivoire (FIDEC) has participated in the past few Olympiad tournaments and has been helping to lead an increase in popularity in Francophone West Africa. The federation had risen from dormancy in 2013 and has seen a growth of approximately 15 clubs around the country.
FIDEC recently partnered with the Kasparov Chess Foundation Africa (KCFA) in hosting a team event in the capital of Abidjan from Thursday 26th October until Sunday 29th October 2017. According to a press release, teams from the ECOWAS region were invited to participate. ECOWAS is the Economic Community of West Africa States, a subregional grouping of 15 West African nations. Recently the KCF celebrated its 15th year in New York city and this event will become one of the 15 events planned for the continent.
Prior to running for FIDE President in 2014, the KCF focused efforts on Africa creating KCFA. Garry Kasparov said one of the things he took away from his campaigning was the potential in Africa. After losing the election, efforts continued and are managed by Graham Jurgensen of South Africa. He was on hand to witness the event. The tournament was held at the Olympic Village of the Francophonie Games. There were two FIDE-rated events… a 4-player team invitational and an Open Swiss Rapid tournament. Mr. Privat Kouakou (FIDEC Director General ) and Mr. Charles Lorng, (FIDEC Vice President) were the co-organizers of the event.
Next year will be an election year and FIDE President Kirsan Ilyumzhinov has announced that he will run for office once again. During the last election Dr. Essoh wanted Ilyumzhinov to explain the activities implemented and executed in Africa. 3:40 minutes A fierce debate followed with Georgios Makropolous after Essoh tried in vain to get FIDE officials to describe their plans for the growth of chess in Africa.4:13 minutes This issue is certain to surface during the FIDE General Assembly in the Republic of Georgia next year.
Dr. Jean-Claude Essoh at 2014 FIDE General Assembly.
Photo by Daaim Shabazz
Ivorian delegation in Tromso, Norway for the 2014 Chess Olympiad
Chess in West Africa has been undergoing incremental growth over the past 20 years with Nigeria being the most active federation in the ECOWAS region. French-speaking Africa is generally the hotbed of some of the world's top draughts players, but chess has made a presence as well. With the help of Kasparov Chess Foundation, that chess has made inroads. Togo (2012) and Burkina Faso (2016) are two of the newest members of FIDE and both sent representatives for the FIDE Arbiter's Training Seminar. In fact, Togo will be hosting the African Junior Championship next month.
The FIDE Arbiter's Training Seminar was held in parallel with the main tournament. IA Stephen Boyd conducted the sessions in both English and French. The successful candidates were Mr Koffi Botsoe (TOG), Mr Tyeoulou Kouya (CIV); Mr Paul Zirimba (CIV), Mr Jocelin Trah (CIV), Mr Leon Ndrin (CIV) and Mr John Solarays (GHA).
In the main team event Nigeria won the event with an undefeated score while Liberia and Sao Tome and Principe came in second and third respectively. The Nigerian team was the top seed with an average rating of 2116 and two Candidate Masters. According to the KCFA press release,
"This rapid tournament was won by CM Dieyi Roland from Nigeria with a score of 6/7. He ended ahead of a strong group of 4 players on 5.5 which consisted of FM Harmon Barcon from Liberia, CM Abiola Akinseye from Nigeria, Philip Ameku from Ghana and Justin Aka from Cote d'Ivoire."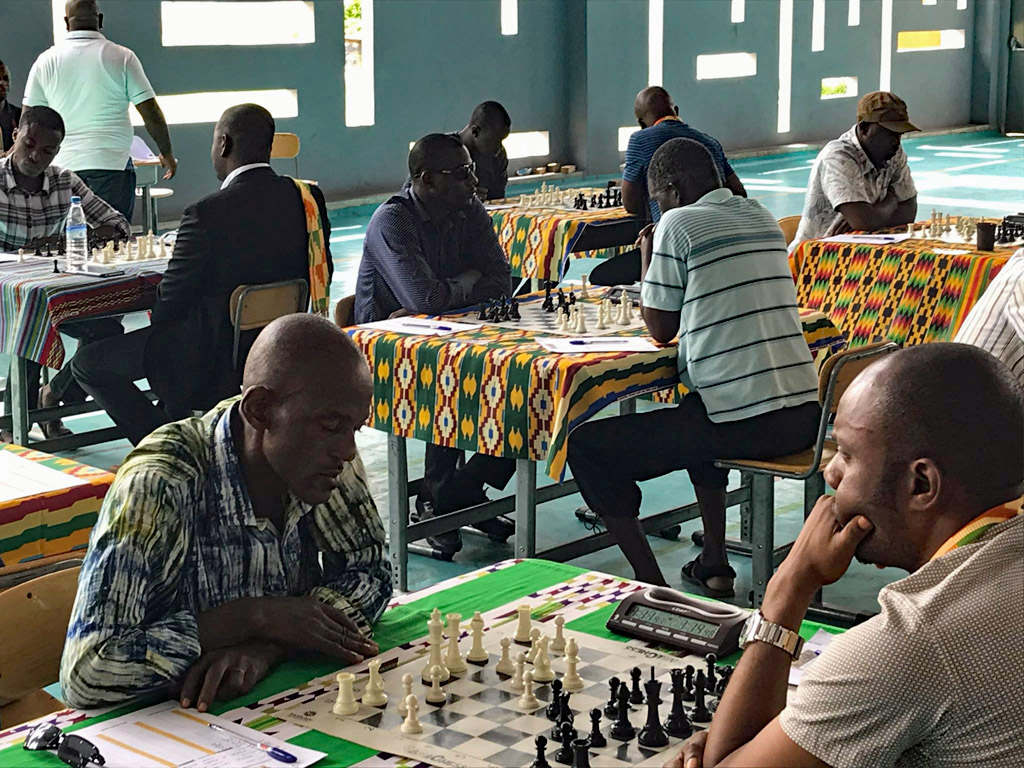 Photos by Kasparov Chess Foundation Africa
Team Results
https://chess-results.com/tnr310505.aspx?lan=1
Rapid Results
https://chess-results.com/tnr310879.aspx?lan=1
Before the event, Dr Essoh Essis was unanimously re-elected as the President of FIDEC during the General Assembly meeting. The result represented a resounding endorsement for the tireless efforts of Dr Essis and his team who have been instrumental in developing chess in Cote d'Ivoire and in hosting and arranging this latest tournament.
NIGERIA
Champions of 2017 CIV Team Invitational
Photos by Kasparov Chess Foundation Africa