TCD in "Best of U.S. Chess" 2016
U.S. Chess Line Online ranks its top articles each year and The Chess Drum's feature on FM Josh Colas made the cut at #8. Colas is a freshman at Webster University and at the time of the article had just earned his first GM norm. The article features the evolution of this humble product of White Plains, New York. Below are the judges' laudatory comments.
The Judges Sound Off
"This inspiring article written by Daaim Shabazz is a great tribute to Joshua Colas and his family. I especially appreciate the biographical style of the article covering Josha's upbringing, his family life, school life and his future plans to attend Webster on a scholarship. Knowing what kind of talent Webster churns out, it looks like Josh's journey has just begun!"

-Jennifer Vallens
"I certainly connected with this piece on a personal level. Josh and I followed similar paths over the course of our childhoods by taking advantage of the countless opportunities in American scholastic chess. We now both study at Webster University and competed for our C-team at Panams. Daaim does a great job of documenting Josh's journey and highlighting the triumphs and obstacles along the way. The words "?Keep him interested" is some of the best advice for the parents of a young chess player. Josh has undoubtedly kept interest!"

-Eric Rosen
"Josh Colas' rise in U.S. chess is well chronicled by Shabazz who writes engagingly about our nation's young talents, national and international chess. Josh annotated his masterful victory over GM Jinshi Bai for this article. His annotations are clear, precise and demonstrate awesome technique in what was a difficult endgame to win. 'Young Josh will be looking to make history of his own,' writes Shabazz. We agree wholeheartedly!"

-Michael Ciamarra
"This interesting story describes the journey of young Joshua Colas from a sharp 7 year old playing his father to an experienced master battling a Chinese Grandmaster with the IM title at stake. These are true words of wisdom from the talented rising star himself. 'After earning his GM norm, Josh stated, "My parents constantly remind me that if I work hard and believe in myself, nothing is impossible."

-Michael Aigner
Thank you judges… hopefully I'll be writing another article about Josh very soon.
Revisit the article here!!
Here is Josh blitzing with his father (Guy Colas) at the 2006 World Open. This was the year he started playing. He's all grown up now.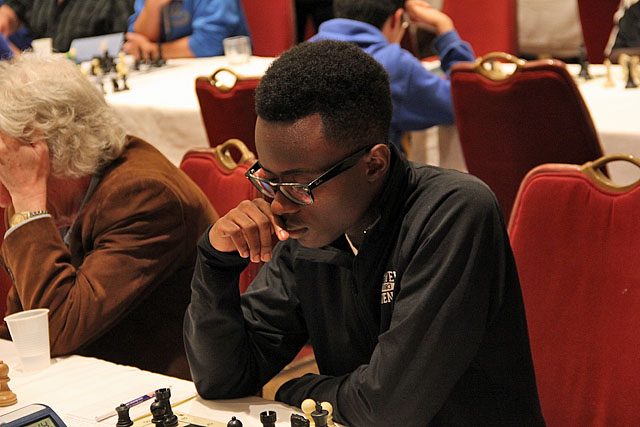 Josh Colas at 2015 World Open in Arlington, Virginia
Photos by Daaim Shabazz