Wesley So wins 2017 Tata Steel!
Wesley So was at a low point a couple of years ago placing last in the 2015 Sinquefield Cup. Now only 16 points behind Magnus Carlsen while bolting ahead of Fabiano Caruana. Caruana is currently playing in Gibraltar where he was upset by Nigel Short in the sixth round. This allowed So to overtake him on the live rating list.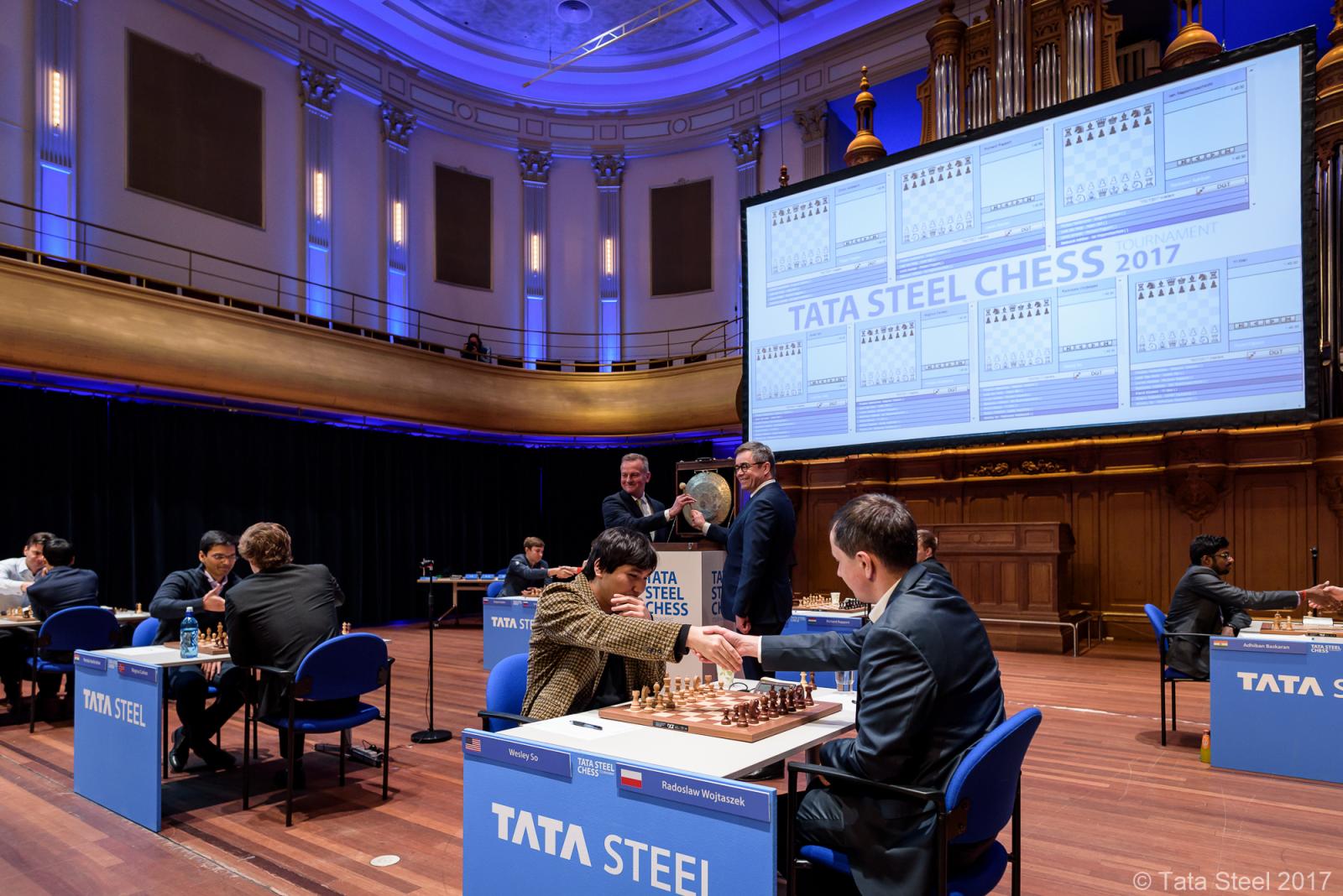 Wesley So in action against Radoslaw Wojtaszek of Poland
Photo by Alina L'Ami
Both Carlsen and So seem to be going in opposite directions on the rating ladder. Carlsen came in 2nd in the 2017 Tata Steel, but struggled throughout to find his footing. So played solidly and was worse in only one encounter (against Rapport). The Filipino's victory was his third supertournament victory in a row along with the Sinquefield and the London Classic. Carlsen was busy with the pre- and post-match World Championship affairs and didn't participate, so this was the first tournament So has won with the reigning World Champion competing.
---
"Winning this tournament is huge, with the world champion in it —
the best player in the world."
---
He credits his success to his faith and surrogate family. During his run of 56 unbeaten games, he has become a fixture in top-level chess. Many have pointed out his humble persona and unpretentious manner. After winning two gold medals at the Baku Olympiad, he has made a nice run on the tournament circuit.
Wesley So, winner of 2017 Tata Steel Chess Photo by Alina L'Ami (Tata Steel Chess)
In this tournament, he scored +5 including three wins in a row against Richard Rapport, Loek van Wely and Pentala Harikrishna. As Carlsen struggled with consistency and Sergey Karjakin was off form, So held off surges from 17-year old phenom Wei Yi and Baskaran Adhiban of India. It was enough and So would take home his first Tata winner's cup.
There were some interesting moments in the tournament such as several opening experiments (Karjakin's 6.a3!?) and Adhiban's King's Gambit! The good thing about Tata 2017 was the new faces as opposed to the usual suspects of yesteryear. It gets to be tiresome seeing the same ten players competing in every supertournament, but this one had an air of newness. Gawain Jones will join the Masters group next year after winning the Challengers' section on tiebreaks over Markus Ragger. Both ended with 9/13.
Official Site: https://www.tatasteelchess.com/
Videos: (YouTube, Chess24)
Games: (Masters, Challengers)
Drum Coverage: https://www.thechessdrum.net/