The first major tournament has begun and marks the first classical tournament for Magnus Carlsen since he defended his title. He will be one of the 14 competitors in the 79th edition of the Tata Steel Chess tournament in Wijk aan Zee (Netherlands). Pea soup will not be the only thing served up as the stage is set for some sizzling play in one of the longest running tournaments.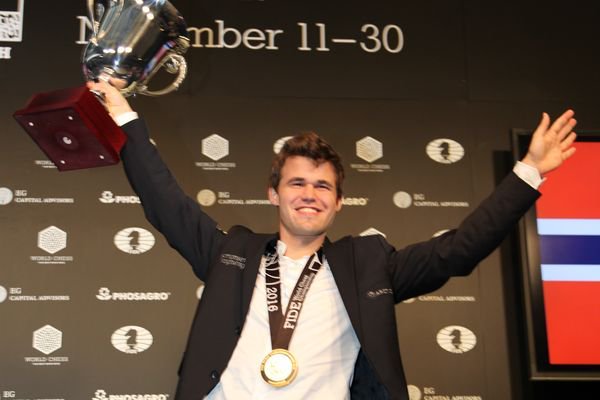 Carlsen hoists champion's trophy.
Photo by chess24
Carlsen is joined by the newly-emergent Wesley So and his nemesis Sergey Karjakin. There are several new faces in the "Masters" group including the winner of last year's "Challengers" group Baskaran Adihban and Wei Yi, who won the group in 2015.
GM Jeffery Xiong
Photo by Daaim Shabazz.
The Challengers tournament will be led by Mark Ragger of the Austria, but will have some interesting faces including World Junior Champion Jeffery Xiong. This field has a number of young talent including Norway's hopeful new GM in Aryan Tari. China's Lu Shanglei was known most for his performance in last year's World Cup, but will be trying to make a presence here and well as his compatriot Lei Tingjie, the world's highest-rated girl.
Tata Steel is an Indian multinational conglomerate consisting of a number of industries. Those following the tournament from the early days will remember it as the Hoorgovens, a Dutch steel company that would later merge with British steel to form the Corus Group. When Tata steel purchased Corus in 2007, the tournament took on the name of Indian conglomerate.
Official Site: https://www.tatasteelchess.com/
Videos: (YouTube, Chess24)
2017 Tata Steel Tournament
January 13th-29th, 2017 (Wijk aan Zee, Netherlands)

Masters

#

Name

Title

Federation

Flag

Rating

1
Carlsen, Magnus
GM
Norway

2840
2
So, Wesley
GM
USA

2808
3
Karjakin, Sergey
GM
Russia

2785
4
Aronian, Levon
GM
Armenia

2780
5
Giri, Anish
GM
Netherlands

2773
6
Nepomniachtchi, Ian
GM
Russia

2767
7
Harikrishna, Pentala
GM
India

2766
8
Eljanov, Pavel
GM
Ukraine

2755
9
Wojtaszek, Radoslaw
GM
Poland

2750
10
Andreikin, Dmitri
GM
Russia

2736
11
Wei, Yi
GM
China

2675
12
Rapport, Richard
GM
Hungary

2702
13
Van Wely, Loek
GM
Netherlands

2695
14
Adhiban, Baskaran
GM
India

2653

Challengers

#

Name

Title

Federation

Flag

Rating

1
Ragger, Markus
GM
Austria

2697
2
Smirin, Ilya
GM
Israel

2667
3
Xiong, Jeffery
GM
USA

2667
4
Jones, Gwain
GM
England

2665
5
Grandelius, Nils
GM
Sweden

2642
6
Lu, Shanglei
GM
China

2612
7
van Foreest, Jorden
GM
Netherlands

2612
8
Bok, Benjamin
GM
Netherlands

2608
9
L'Ami, Erwin
GM
Netherlands

2605
10
Hansen, Eric
GM
Canada

2603
11
Tari, Aryan
GM
Norway

2584
12
Dobrov, Vladimir
GM
Russia

2499
13
Tingjie, Lei
WGM
Netherlands

2467
14
Guramishvili, Sopiko
IM
Georgia

2370

Official Site
18 Responses to "2017 Tata Steel Chess (Wijk aan Zee)"
Leave a Reply!