2016 London Chess Classic (Round #9)
1
Aronian, L

ARM

0-1

Topalov, V

BUL
2
Anand, V

IND

½-½

Kramnik, V

RUS
3
Giri, A

NED

½-½

Caruana, F

USA
4
So, W

USA

½-½

Vachier-Lagrave, M

FRA
5
Adams, M

ENG

½-½

Nakamura, H

USA

Official Site
Round #9: Sunday, 18 December 2016
Wesley wins London Classic and Grand Chess Tour!
Topalov ends tournament with a win!!
@MauriceAshley congratulated him on his lucrative prize winnings @london_chess and Wesley So grinned and simply responded, "Taxes." 🙂

— Daaim Shabazz (@thechessdrum) December 18, 2016
While Wesley So is not yet a U.S. citizen he has learned one of the certainties in life. One is death and there other… taxes. OK… the US$295,000 combined winnings of Wesley So will certainly get hit with a hefty tax from Uncle Sam, but he will soon add to the $100,000 he won in 2014 at the Millionaire Chess Open. It's a good problem to have and the former Webster University student has been basking in the glory the entire 2016 campaign. Winning the last two Grand Tour events and two gold medal in between, it's been a banner year for So.
So – MVL (after 6.d2-d4)
Hand-to-hand combat on move six!
While he clinched the Grand Chess Tour yesterday, there was still slight drama today as Fabiano Caruana and a couple of other could technically tie with So if he lost. All he needed was at least a draw to tie for first. So-MVL was rather short and another English. It is strange that the girl who played the opening move played 1.c4, but So transposed into a fashionable line with 1.Nf3 c5 2.c4 (2.e4!) Nc6 3.Nc3 e5 4.e3. Fast forward, the game exploded after 6.d4!? This is actually a line that the two of them played in Leuven which also ended peacefully. In this game, MVL deviated and enjoyed nice piece play, but got little more than equality.
There was excitement when two former World Champions were introduced. Both Viswanathan Anand and Vladimir Kramnik had played a total of 90 classical games in their careers with a score of +10-8=72 with Anand holding the slight edge. This game did not have any redeeming qualities or moments where the game hung in the balance. It would be their 73rd draw and lasted only 24 moves. In Giri-Caruana, we already know the result. The joke, puns and cracks are piling up. Hikaru Nakamura said he would rather have fun playing chess (win or lose) than "drawing every game." Sergey Karjakin piled on…
If you ask me Giri has just become World Chess Draw Champion.

— Sergey Karjakin (@SergeyKaryakin) December 18, 2016
Despite playing the most exciting chess, Nakamura drew his game uneventfully in a Berlin. That meant he took 2nd place in the Grand Chess Tour (GCT) and won US$50,000. He has also qualified for the 2017 GCT circuit.
Aronian-Topalov (after 18…Nxd5)
Space Invaders coming to crush!
Last but not least, we turn to an interesting encounter in Aronian-Topalov. Topalov has been a client this tournament losing six games, some in uncharacteristic fashion. This game was very characteristics of his bold and imaginative play. Against the Armenian, he play an enterprising piece sacrifice with 16…bxc4!? After 17.axb4 cxb4 18.Bd2 Nxd5. Had Topalov become unhinged? Many thought he was heading for his 7th loss. Black had three pawns and they looked like the monsters in the old Space Invaders video game.
Topalov seemed a bit overzealous and tried to advance the pawns immediately with 19…c3? The commentators predicted that pawns were too weak, would be picked off and blockaded. However, Topalov got tremendous play and Aronian decided to give the piece back, but the monsters proved to be unstoppable and the final position forced resignation.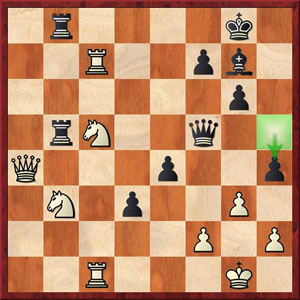 Constellation of pieces with Space Invaders advancing (diagram #1) and the final blow 53…Re1! A relieved Toppy gets the win! (diagram #2).
Topalov has happy to end the tournament on a high note.
Postscript: The London Chess Classic was an exciting event with a sterling performance by Wesley So (no pun intended). He has capped off a spectacular year winning the Sinquefield Cup, team and individual gold at Baku Olympiad, winning London Chess Classic and the Grand Chess Tour. while keeping his humility.
There are many who are picking So as the next challenger along with Caruana. Unfortunately, no one saw this coming. No one. Last year no one would have picked him after his poor showing in the 2015 Sinquefield Cup as a wild card. It just shows that fans typically go with whomever is rising at the moment.
A few years back, many were saying Hikaru Nakamura and most recently Maxime Vachier-Lagrave (as he rose over 2800+). In fact, few picked Sergey Karjakin and even Anish Giri didn't mention him when he wrote his book, "After Magnus: Who can dethrone the World Chess Champion?" Personally, I believe all of the above players have an favorable chance to challenge Carlsen in 2018. It is safe to say that we should just be patient and enjoy the ride! Congratulations Wesley and to all the competitors for a fantastic tournament!
Wesley So accepting the winner's trophy from organizer IM Malcolm Pein.
Photos by London Chess Center
Round Highlights
Video by GM Daniel King
Full Broadcast (Round #9) 6:51:54

Video by CCSCSL
Here are the final standings of the 2016 #LondonChess Classic! pic.twitter.com/3TVUILXp3d

— London Chess Classic (@london_chess) December 18, 2016
2016 Grand Chess Tour final standings #LondonChess #GrandChessTour pic.twitter.com/tfFSF5FYLJ

— Grand Chess Tour (@GrandChessTour) December 18, 2016
Official Site: https://www.grandchesstour.com (live games)
Live Coverage: https://live.londonchessclassic.com/grand-chess-tour-2016.php
Drum Coverage: https://www.thechessdrum.net/blog/2016/12/09/2016-london-chess-classic-london-england/