Hip-Hop Nonprofit Teaches the #ScienceofDope and
it's Not What You Think
CONTACT: Marcus Moody, Senior Brand Manager of Words Beats & Life, Inc.
1525 Newton St., NW
Washington DC 20010
(202) 667-1192
Wblinc.org
FOR IMMEDIATE RELEASE
On Saturday, November 14th, D.C. Hip-Hop nonprofit, Words Beats & Life Inc., will host the 10th Anniversary of Bum Rush the Boards Hip-Hop chess tournament at the Columbia Heights Recreation Center from 10am-4pm.
Words Beats & Life, Inc. throws STEM on the wall, graffitis in an "A," knocks negative mainstream stereotypes of Hip-Hop out of the way, and bridges the gap between Hip-Hop culture and education. With free workshops like the physics of breakdancing and the sound engineering behind Hip-Hop production, WBL Inc. is focused on its mission of being unapologetic advocates of Hip-Hop, proving the necessity and presence of intellect within the culture.
This is critical to the millions of youth who aspire to live Hip-Hop – critical to those presented with and often represented by a repetitive and frequently destructive image of Hip-Hop culture. Words Beats & Life wants youth to be so proud of and confident in their intellect so that their minds become their weapon of choice.
Registration for a full day of competition is only $10 for young kings and queens of all skill levels. Those supporting or just passing by can also enjoy the food, workshops, and an all-around fun-filled afternoon for free. Join us on the 14th to learn what the #ScienceofDope is really about.
Registration and more information can be found at
https://www.wblinc.org/bum-rush-2015/

Twitter: @wordsbeatslife
Instagram: @wordsbeatsandlife
Web: https://vimeo.com/wordsbeatslife
Contact: Marcus@wblinc.org

###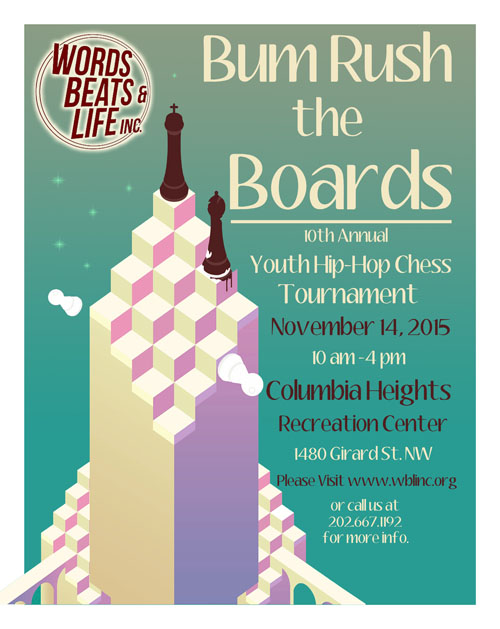 2 Responses to "10th Annual "Bum Rush the Boards""
Thorough overview of Words, Beats & Life, Inc.

2012 Bum Rush The Boards Hip-Hop Chess Tournament
from Words Beats & Life on Vimeo.

on 22 Nov 2015 at 3:15 pm

2

LIonel Davis

Keep Buildin.
Leave a Reply!