Kevin Cupid… Trinidad's 2015 Champion!
Author: Carl Jacobs
Published: Thursday, November 5, 2015
Congratulations to 24-year-old CM Kevin Cupid for winning this year's National Chess Championship, topping a list of 12 finalists including several of the country's most distinguished players. The former Holy Cross College student finished the 11 round contest on nine points, losing only to David Christopher and drawing with FM Frank Yee and CM Dev Soondarsingh. Among his conquests was FM Joshua Johnson, 16-year-old junior star, who took second place with eight points after a storming finish of four straight victories.
KEVIN CUPID
2015 National Champion of Trinidad & Tobago
Cupid confirmed his rapidly improving skills by his other victories against CM Adrian Winter Atwell, former champion Anderson Gordon and FM Mario Merritt who scored six and a half points each and finished third, fourth and fifth, respectively. Cupid also defeated ex-champion FM Ryan Harper, veteran Hayden Lee, Mahendra Singh and veteran CM Frank Sears.
The young T&T chess champion credits much of his success to the training he has received from Harper and two foreign coaches, Pontus Carlsson of Sweden and Rachmanov Alexander of Russia.
Cupid began his chess career at Holy Cross College where he spent five years and emerged as the school's best player. Then he entered the tournament circuit playing with increasing success in the National Under-18, the Orchard Grand Prix, the Sagicor tournament in Barbados where he placed third in the U-16 group. He finished fourth in last year's east qualifier and second in this year's preliminary.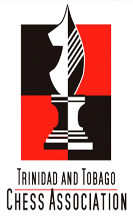 Having captured the national chess title, the young economics student is now looking for wider contests to conquer. Next year, for example, he will be leading the T&T team at the Olympiad at Baku in Azerbaijan. Also on his prospective agenda are the Sub Zonals in Barbados and GM Maurice Ashley's Millionaire Chess in Las Vegas for which, of course, he would require the help of sponsors. This unique open event offers the sport's highest money prizes and attracts top class players from across the world. It has become quite popular because even amateurs can win huge amounts in their respective rating groups.
How far the new T&T champion will eventually set his sights in the chess world, whether to pursue IM or GM titles for example, would depend largely on his performance in Baku, Las Vegas and other international contests where he will test his skills against giants of the international mind game.
Aditi Soondarsingh regained the National Women's Championship playing unbeaten in the nine round contest. In another keenly fought women's final, she finished on eight, edging out by half a point second placed WFM Javanna Smith, the former champion. Soondarsingh conceded draws to Shannon Yearwood who scored seven and a half and WCM Gabriella Johnson on seven, the two finishing third and fourth, respectively.
Apart from winning the national title nine times, Soondarsingh has wide experience in representing T&T internationally. She played top board at four world Olympiads, in Mallorca, Spain; Dresden Germany; Siberia, Russia and Istanbul, Turkey. At Istanbul, she became the first T&T player to defeat a woman IM, Iman Al-Rufaye of Iraq. Soondarsingh also represented T&T at the World Youth Championship in France, at the Commonwealth Games in India and in tournaments in Barbados, Venezuela and El Salvador.
ADITI SOONDARSINGH
2015 National Women's Champion of Trinidad & Tobago
The prize-giving function for these events will be held at the tournament venue RHAND Credit Union, Abercromby Street, Port-of-Spain, on Saturday November 7. For the first time, trophies will also be presented to the Absolute Champion, the Female Champion and winner of the National Blitz contest.
PRIZES
Absolute: First, $3,000; second, $2,500; third, $1,500; fourth, $1,000; fifth, $800; sixth to 12th, $500. Female: First, $2,000; second, $1,500; third, $1,000; fourth, $500; 5th, $300. Blitz: First, $1,000; second, $700; third, $500.
Results: https://chess-results.com/tnr190509.aspx?lan=1&art=4&flag=30&wi=821
T&T Guardian: https://www.guardian.co.tt/sport/2015-11-05/cupid-wins-tt-chess-crown