Korley wins "King of the Park"
Sean Miller congratulating IM Kassa Korley.
Photo courtesy of Sean Miller.
While St. Louis has been crowned the nation's chess capitol, most will agree that New York has arguably the most vibrant activity in the country. The chess energy is infectious, widespread and self-sustaining. It does not rely on government grants or a benefactor to propel it forward, but its energy is generated by the sheer love of chess. Chess is literally everywhere.
New York is home to the famous Marshall Chess Club and several public parks where chess is home, most notably Washington Square Park. On a beautiful Sunday afternoon, another park took center stage in chess to host the 5th Annual "King of the Park". New York City's Bryant Park staged the event and chess promoter Sean Miller served as the organizer and host. He states,
The King of the Park is a speed chess tournament attracting some of the best blitz players in the New York City area. It was formed as an idea of Sean Miller's to bring together the best blitz players in the NYC area for a spirited competition for one day to truly see who the best is that day.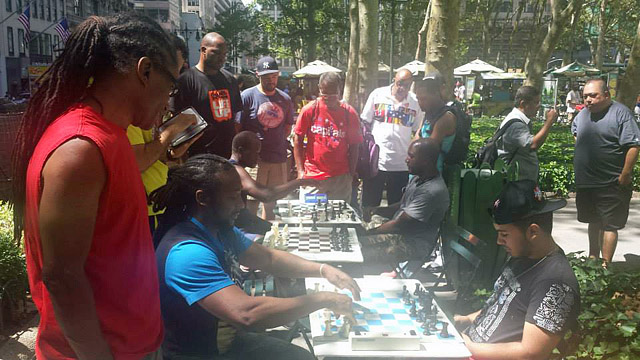 James Jeffrey about to rumble with Kenneth Fernandez!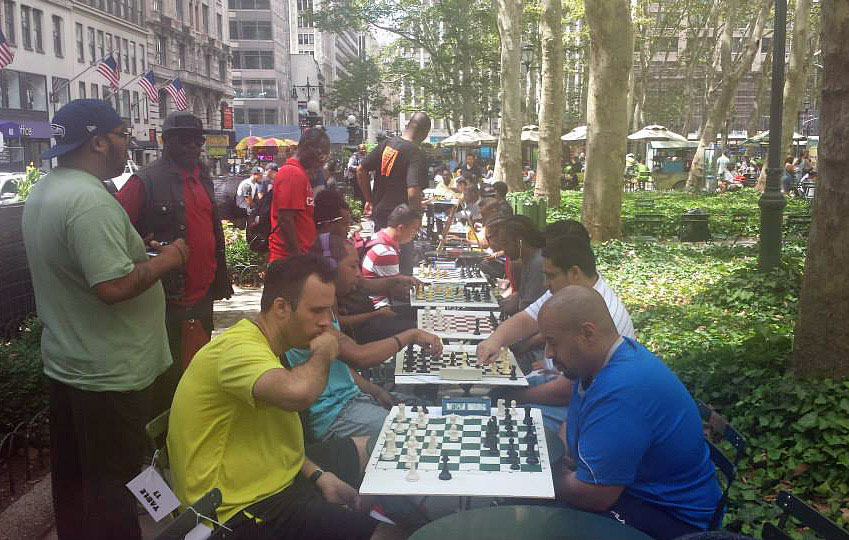 Action in Bryant Park!!
Angel Lopez with Alexis Paredes, the "Brooklyn Castle" star. Omar Cunningham looks on. All are alumni of the famed IS-318.
The hardest working man in Bryant Park, Sean Miller.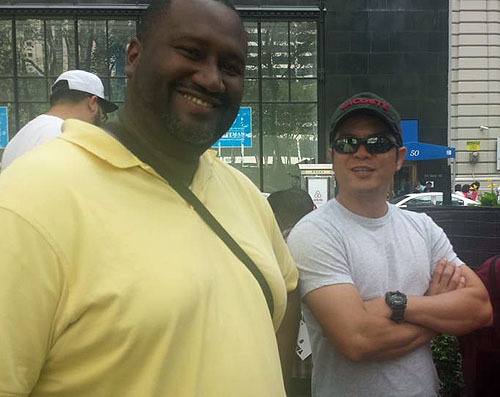 NM Tyrell Harriott with FM Rico Salimbagat.
For those looking for a staid event, the would have not expected the energy witnessed on the peaceful Sunday afternoon. Sean Miller described the competition as the toughest of the five tournaments and Harlem-based IM Kassa Korley earned the title after winning the last game tie breaker. Past King of the Park champions have included 2014 winner NM Rico Salimbagat, 2013 winner NM Ryan Goldenberg and two time champion from 2012 and 2011 NM Jehron Bryant.
Everyone watching Kassa running the tables.
Kassa playing Larry in the finale'!
Photos courtesy of Vera Cruz-Swinton.
Miller devised a scoring system which tracked wins, but also the amount of time left against the entire field. Thus, each player's time is compared and ranked to each other where the best player's scores advance each round. Interesting. According to Miller, "It is the goal of the King of the Park to continue to grow and attract stronger players every year. King of the Park champion has their name inscribed on the Plaque of Champions and has a free entry the next year when defending their title."