Daaim Shabazz with Erick Takawira in Durban, South Africa.
While on a recent visit in South Africa, The Chess Drum's Daaim Shabazz got a chance to meet with two members of the South African chess community. Bruce Tendai Mubayiwa had been in contact with Shabazz and began to tell others about the pending visit of the chess journalist. While in Durban, local chess teachers Erick Takawira and Mbongeni Sithole met with Shabazz at the Regal Inn just a short walk from the North Beach.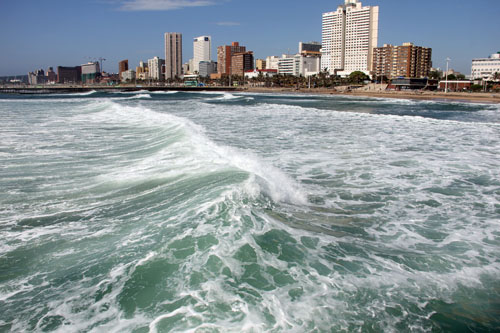 Durban's North Beach

Takawira told Shabazz about the chess environment and the classes that are conducted at the Jewish Center right across from the Regal Inn. In fact, last year's World Youth Chess Championship was held a short distance from this area and attendees used the Regal Inn as well as hotels on the beachfront. Takawira is originally from Zimbabwe and mentioned that Rodwell Makoto also lives in South Africa where he coaches.
According to Sithole, the Durban Chess Club meets on Thursdays at St. Cyprian's Church Umbilo from 7:30pm and it is one of the oldest chess clubs in the country. Former World Champion Max Euwe once visited in his capacity as FIDE President and Viswanathan Anand remains the only sitting World Champion to visit the African continent.
Mbongeni Sithole, Daaim Shabazz and Erick Takawira.
Photos by Daaim Shabazz.
2 Responses to "The Drum beats in Durban, RSA!"
on 26 Mar 2015 at 6:12 am

1

Alaa Mattar

Hello Doc Daaim,
Have a good day from Cairo, Egypt..
Well, Durban was privileged with a "Chess Journalist" visit when will Cairo have the same delight and honor. I believe, it will be in the near future if your schedule permits you to visit Egypt next May for this purpose https://www.africa-chess.org/files/2015_AICC_Invitation.pdf the African Individual Chess Ch. that qualifies the winner to Baku, the FIDE World Ch. 2015… You will see lots of enthusiastic young men fighting for the Gold and a ticket to Baku. Kings will bleed on chess board by the Nile river side.
Stay well and think about it

Alaa

Certainly! I have not been to Egypt in many years. Perhaps I will consider such attendance at the Individuals. Thank you!
Leave a Reply!