The Drum Majors of Chess: Part Three
Chess enthusiasts and supporters,
Chess Grandmaster. That title carries a ring of prestige… an aura of honor. It is a coveted title worn by only a relative few. Unfortunately, few in the Black community have been fortunate enough to reach such chess attainment. In the first two segments of this series we have looked at the evolution from the 19th century pioneers to the first instances of chess masterdom among Blacks. In this last Black History segment we will examine the emergence of the Black Grandmaster and the shattering of barriers. There were some important events that led to these highlights.
The main purpose of The Chess Drum is to highlight players in the African Diaspora wherever they may be… present them to the world… and present the world of chess to them. The universality of chess should not be lost on just a small cadre of elites. This perception is one that dies hard in the minds of the uninitiated. If chess is able to grow we must show the expanse of how different communities have been able to evolve and succeed. It is only then that others (including sponsors) will feel that chess is approachable.
Chess has a story to tell and this is a part of it!
Enjoy!
Dr. Daaim Shabazz, The Chess Drum
# # #

The Drum Majors of Chess:
100 Black GMs by 2100
Eight months prior to Maurice Ashley's feat of becoming a Grandmaster (GM), there had been an interesting 1998 U.S. Chess Life article written by Gregory Kearse titled, "A Brief History of Black Chess Masters in America". It paid homage to those Black Masters who would pave the way for succeeding generations. At that same time, I began the process of putting into place a 10-year old dream of establishing a communication vehicle for Black chess players worldwide. A marketing plan had been written and now the time was ripe.
The Ashley Factor
After Maurice Ashley's earning of the GM title, there was quite a bit of excitement as his story traversed the globe and became common fare in the diet of chess discussions. His inspiring story served as a beacon of light as the first in the Black community to have earned the coveted title. The suspense was over and a new millennium would began with a new-found reality of chess in the African Diaspora. It was inconceivable to believe that other Black players would trod Ashley's rugged and tortuous path. It was a tough road.
At the end of the millennium, there were some initiatives to increase the activity of the strongest Black masters. There were Ashley's Unity tournaments of 1992 and the Murphy's APC Invitationals in 1994. At the start of the millennium, Ashley helped to host the historic Wilbert Paige Memorial in 2001 and then organized the Generation Chess International Tournament in 2003 which was designed to reduce the amount of draws. Nevertheless, the event that will go down in history was the 2001 Wilbert Paige Memorial tournament held in Harlem, New York.
(Note: Maurice Ashley wrote his pioneering "End of the Draw Offer" appeal and introduced the idea at the 2003 Generation Chess International. A modified version was attempted in 2005 at the now-defunct MTel Masters in Sophia, Bulgaria. Along with restricted draw offers, the so-called "Sophia Rules" includes a point scoring of three points for a win and one point for a draw.)
The Wilbert Paige Memorial
Wilbert Paige
Photo by Jerry Bibuld.
The tournament was named after Wilbert Paige, a Philadelphia master who was part of the vibrant scene that included other masters like Norman "Pete" Rogers, Glenn Bady and Raymond "Dragon" Robinson. These men would often drive to New York for weekend battles. Philly was also home of legendary Roberts Vaux Junior High School teams of the 1970s and its star Howard Daniels. The predominantly-Black school won seven national championships.
Held a week after the 2001 World Open, The memorial tournament was the brainchild of Dr. Jones Murphy and organized by Jerry Bibuld with logistical support from a number of others. The Chess Drum, only five months old, would be the official website of the event. The tournament was a celebration of Black chess excellence as several of the players represented the strongest candidates for title contention. Here was the lineup:
Wilbert Paige Memorial Chess Tournaments
July 14th-23rd, 2001 (Harlem, New York, USA)

Players

#

Name

Title

Federation

Flag

Rating

1
Amon Simutowe
IM
Zambia

2470
2
Michael Schleifer
IM
Canada

2374
3
Watu Kobese
IM
South Africa

2373
4
William Morrison
FM
USA

2381
5
Stephen Muhammad
FM
USA

2307
6
Ronald Simpson
FM
USA

2296
7
Kenneth Solomon
FM
South Africa

2290
8
Norman Rogers
NM
USA

2272
9
Grace Nsubuga
NM
Uganda

2264
10
Ernest Colding
NM
USA

2258

Average FIDE Rating = 2328.5 (Category IV)

Official Site
Strangely enough, Emory Tate was not invited, so all eyes would be on 19-year old sensation Amon Simutowe who had scored some strong results in international events. Upon his rise came a string of successes including an equal 2nd at the 2000 World Junior Championships where he scored 8½-4½. Just prior to his American tour, Simutowe took 2nd in Germany's Bad Wörishofen including a nice win over FM Jan Sprenger.
The eclectic lineup of the Wilbert Paige Memorial was made up of many interesting players, all legendary figures in their own right. IM Watu Kobese was perhaps the only one known to all of the players having developed a high profile over the years. He had beaten Judit Polgar a few years prior in the 1998 Cap d'Agde tournament in France.
Bright days for Stephen Muhammad.
Photo by Jerry Bibuld.
Canadian International Master Michael Schleifer was probably the most enigmatic since few had competed against him. However, his games showed that he would be quite a tough opponent. Of Jamaican ancestry (with a German-sounding name), he would arrive from Montreal by bus on the day of the event. Schleifer was a mild-mannered individual, but his chess had an energetic quality. He certainly brought a unique characteristic to the tournament.
Rogers had already earned an IM norm a week prior at the World Open. Players came from Philadelphia to support his effort. William Morrison was looking for his last IM norm and two others from the "Black Bear School of Chess" were present in Ronnie Simpson and Ernest Colding. South Africa's Kenny Solomon would bring his fighting style to the U.S. for the first time. For Grace Nsubuga, he had trouble getting a visa, but after vocal appeals by Bibuld, he finally made it.
In the end it was Stephen Muhammad who would win the tournament and earn his first IM norm with 6½-2½. The tournament was memorable and was exemplary in the expression of brotherhood. There was a memorable speech given at the player's dinner as Jerry Bibuld gave very heartfelt words as this would be a crowning achievement in his storied career of service to chess. Enthusiasm was at an all-time high and a tournament booklet was published to immortalize the event.
Hotel Theresa of Harlem, New York (background) was the site of the Wilbert Paige Memorial. It was also the meeting place for Malcolm X's Organization of Afro-American Unity and the place where Fidel Castro sought refuge in 1960 after being snubbed during the United Nations session. Photo by Daaim Shabazz.
Organizer and Arbiter Jerry Bibuld before the start of the Wilbert Paige Memorial. Three of the competitors shown are the late IM Michael Schleifer (Canada), IM Watu Kobese (South Africa) and the late FM Ronald Simpson (USA). Photo by Daaim Shabazz.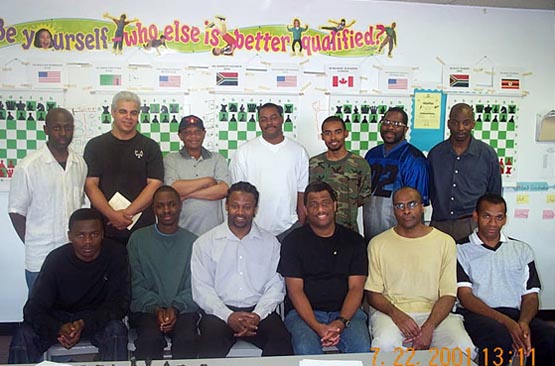 2001 Wilbert Paige Memorial (Players and Commentators)
Seated (L-R): IM Amon Simutowe, NM Grace Nsubuga, GM Maurice Ashley (commentator), FM Ronald Simpson, IM Michael Schleifer, FM Stephen Muhammad. Standing (L-R): NM Jerald Times (commentator), NM Ernest Colding, IM Watu Kobese, FM William Morrison, FM Kenny Solomon, NM Norman Rogers, NM Elvin Wilson (commentator). In this photo, both Simutowe and Solomon became Grandmasters. Muhammad became an International Master. As of 2015, two players in the photo are now deceased: Schleifer (2009) and Simpson (2013). Photo by Daaim Shabazz.
After the successful Wilbert Paige event, there was a buzz sent around the globe and it circulated for several years. There was talk of another such tournament, but planning never got above discussions and a devised budget. The proposal of a 2nd Wilbert Paige tournament was answered by Bibuld, "There will never be another Wilbert Paige tournament." Prophetic words perhaps. The event certainly left an indelible mark in chess history. (Note: Jerry Bibuld passed away in November 2013, but will be remembered for his efforts.)
The Second Wave of GMs
With the excitement still high, there was a meeting at the 2002 World Open on how the Black community would chart a course for future development of talent. Ashley contended that the way he became a Grandmaster is not a viable strategy for producing Black GMs in the long run. Simutowe would be the next player to find out the hard way. The Zambian IM had a difficult American tour, but subsequently enrolled in University of Texas-Dallas (UTD) to continue his quest for the GM title.
Sweden's Pontus Carlsson
Meanwhile, a story had begun to unfold at The Chess Drum. A player in Sweden had a story to be told… Pontus Carlsson. While Europe was already familiar with him since his youth, the rest of the world would come to know his story. While it is unusual for a Black man to have been raised in Sweden, Carlsson told me he had no ambivalence about identifying with his African roots and The Chess Drum.
Having lost his family in Columbia at age one, he was adopted by a Swedish family and taught chess at age four. He proceeded to represent Sweden in a number of youth tournaments starting with the under-10 European Youth Championships in Rimavska Sobota, Slovakia. From that point, he continued to improve at the youth level. As fate would have it, Carlsson met Amon Simutowe in the 2001 World Junior Championships.
Since his introduction to The Chess Drum community, Carlsson earned his GM title in 2007 and has been a successful player in the Swedish League. He reached a high Elo of 2531 and has represented Sweden in several European Team Championships and Chess Olympiads. In a 2007 interview with The Chess Drum, he was asked if international opponents are surprised when placing his name and country with his face he quips,
"No I don't think so. I mean there are only two black GMs in the world and I'm the only one that plays in Europe so everyone knows who I am. It's not possible for me to hide!"
Certainly, there are few players of African descent who have reached a high standard in European chess. Simutowe was very active on the international circuit during his rise and certainly made an impact. However, his schooling at UTD delayed his GM aspirations and he could not get the final norm during his matriculation.
After graduating with high honors from UTD, Simutowe decided to continue his pursuit and months later Simutowe earned his final norm. Despite earning two more GM norms, his title would not be conferred until 2009 due to rating requirement. His evolution was captured in an article written for ChessBase titled, "The Journey of GM Amon Simutowe".
Amon Simutowe receives his certificate for his 3rd GM result. Today there have been five Black players to achieve the Grandmaster title… Maurice Ashley (USA-1999), Pontus Carlsson (Sweden-2007), Amon Simutowe (Zambia-2009), Orelvis Mitjans (Spain-2012), Kenny Solomon (South Africa-2015). Photo by Ben Schulte.
The traditional three-norm route to the GM title is hard and all of the men above were fraught with tremendous challenges. Getting one norm is hard enough, but getting three and the 2500 Elo rating can be very daunting… and expectantly so. There are players who have received their GM titles by getting more than the required number of GM norms. While it is unusual, sometimes FIDE uses that privilege.
FIDE has recently invoked a rule that will award a GM title to the winner of a continental championship. For the first time, this was seen in Africa when Kenny Solomon trod such an efficient path to the title. A humble, yet determined player, he had already earned three GM norms including a double-norm at the 2012 Olympiad. His latest victory at the 2014 African Individual Championships made him South Africa's first Grandmaster.
Perhaps Kenny Solomon's GM title was a proud moment for those
who struggled for recognition in the days of apartheid.
Photo by Daaim Shabazz.
100 Black GMs by 2100
Why not more Black GMs? It is a question often asked. It is clearly not a question of talent or intellect. In most cases, talent is not harnessed efficiently and players either lose interest or abandon the dream because of lack of resources. In an article titled, "The Challenge of Black Chess Masters", there was a discussion about the factors that may determine one's ability to earn the title.
IM Kassa Korley now represents the Danish Chess Federation. The GM title is in his sights.
Photo by Whitsung Grandmasters.
In the U.S., only Tate has a GM norm among the Black masters. In Africa, Kobese has one and Zimbabwe's Robert Gwaze has two. While there have been eleven GMs crowned from African countries, only two of those are from sub-Saharan Africa. While Egypt remains the standard bearer with four GMs, countries like Zambia and Zimbabwe have shown flashes of talent. Angola and Nigeria also have boasted a coterie of IMs.
Kassa Korley, a 21-year old IM from Harlem, New York stated that he wants to be the "strongest Black player in history". That is well within his reach as the Duke University senior prepares for a life after graduation in May. His philosophical views about chess show a keen mind (interview). In addition, young masters such as FMs Justus Williams and Josh Colas have already voiced their GM aspirations. National Master James Black, Jr. is another huge talent!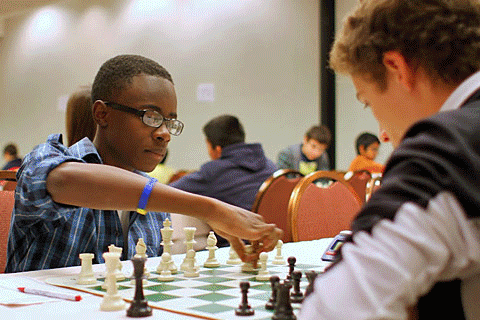 Josh Colas, Justus Williams and James Black, Jr. have risen together.
Lisa Hanna, Minister of Youth and Culture, makes the ceremonial first move on the top board at 2014 National High School (semi-finals), as Shreyas Smith (left) of Calabar High, Jeremy Parchment (third right) of Ardenne High, Ian Wilkinson QC, President of the Jamaica Chess Federation and Alistair Walker of St Jago High look on.
Players like Shreyas Smith of Jamaica and Joshua Johnson of Trinidad have shown talent and enthusiasm. In Africa, the newly-launched African Grand Prix series and initiatives of the Kasparov Chess Foundation Africa hope to bear fruit. With all of these facts, how long will it take before we have a plethora of Black GMs instead of being able to name all of them during Black History Month? Is it inconceivable that we can see 100 Black GMs in the year 2100? Not at all. The real question is… who's next?
# # #

The Drum Majors of Chess: Part One
(Pioneers of 19th Century)
The Drum Majors of Chess: Part Two
(The Rise of the Black Chess Master)
The Drum Majors of Chess: Part Three
(The Future: 100 Black GMs by 2100)