GM Jean-Marc N'Djofang… Draughts' African Lion
GM Jean-Marc N'Djofang (Cameroon)
Grandmaster Jean-Marc N'Djofang of Cameroon will play an unprecedented World Championship match next year against seven-time draughts champion Aleksandr Georgiev of Russia. It will be the first time an African will play a match for the title. There has been only one African to hold the title. Baba Sy of Senegal held the world title, but it was awarded posthumously after he succumbed in a car accident.
Draughts has been a mainstay of Francophone Africa producing a number of top-level Grandmasters. N'Djofang qualified for the title after last year's UFA preliminaries and the final. Twelve players (top three in four ten-man preliminaries) qualified for the final and Georgiev won with 15 points followed by N'Djofang's 14 and Dutch phenom Roel Boomstra on 14. With better tiebreak (wins) N'Djofang earned the right to player Georgiev in the championship match to take place in 2015. He had competed six previous times never qualifying for the world championship.
N'Djofang at the 2014 World Mind Sports Games in Beijing, China.
This is a historic moment in mind sports for Africa. Those who play draughts, chess, shogi, xiangqi will appreciate this gargantuan accomplishment. Draughts has been played on the continent for perhaps hundreds of years, African players have only begun to make a larger impact after Baba Sy set the tone for the African renaissance.
Sy's story is well-known.
The story goes that French player, Emile Biscons saw the 23-year old Sy playing in Dakar, Senegal and invited him to play in Europe. Sy summarily won the French Championship in 1959 in Châtellerault and began a string of victories that took Europe by storm. He then scored 2nd in the 1960 World Championship behind V. Shchegolev and in front of Iser Kouperman (the previous World Champion). The latter figure was involved in a dispute surrounding the 1963 championship match with Sy. (Read about GM Baba Sy here)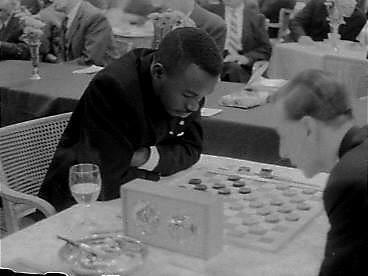 GM Baba Sy (Senegal)
The Russian Draughts cancelled the match when Kouperman forfeited. The title match was in limbo. What happened next was a tragedy. Sy died in the car accident in 1978 before an official championship match could be arranged. The title was finally awarded in 1986. N'Djofang has a chance to win the world title by beating his adversary Georgiev in a match whose place is to be determined.
This may serve as a boon to draughts in Africa where games (including chess) enjoy widespread appeal. Interestingly enough, chess is more popular in Anglophone Africa while draughts is king in Francophone Africa. Nevertheless, N'Djofang's quest for the title is historic for Black people worldwide and will certainly be quite an accomplishment to win.
GM Jean-Marc Djofang breaking a simul record in 2008.
# # #
2014 SportAccord World Mind Games
Day #2 (Draught Highlights)
12 December 2014 (26:02 minutes)