Philippines welcomes Orrin Hudson!
Orrin Hudson has been traveling around America with lessons for life. He has a number of motivational slogans such as "think it out… don't shoot it out" which are that much more relevant in the wake of the massacre in Newtown, Connecticut. More on that later.
Hudson made his international debut in the Philippines and made an impression.
On Friday, December 14th, Hudson told The Chess Drum that he was in the Philippines. He arrived in Manila after a 10,000-mile, 20-hour flight to take his message of "chess as life" to the youth.
---
"Chess plays its own music."
~Orrin Hudson
---
In a place where chess is a major part of Filipino culture and once a temporary residence of Bobby Fischer, he had a captive audience. When asked about how and why he ended up in Asia he mentioned Dante Lee, founder of BlackNews.com. Ironically, Hudson said he met Lee through one of the articles appearing on The Chess Drum. Lee sponsored Hudson to come to Southeast Asia to work with students.
Hudson with a captive audience.
Hudson got the motivation in 2000 to start Besomeone when he saw a news report about a robbery at Wendy's in which seven employees were shot brutally execution-style over a mere $2,000 dollars. Reflecting on the increasing culture of violence and the recent shootings in Connecticut, Hudson lamented, "We must heal as a nation and come together as one to solve these horrible issues that plague our society." When discussing the issue of violent images and music in society, Hudson says, "Chess plays its own music."
His mission is to teach one million students to play chess worldwide and make smart moves in life. "This isn't where it ends, but it is definitely where it starts." Hudson told The Chess Drum that he will begin to move his program into the international realm. The reception from the children in the Philippines was quite remarkable.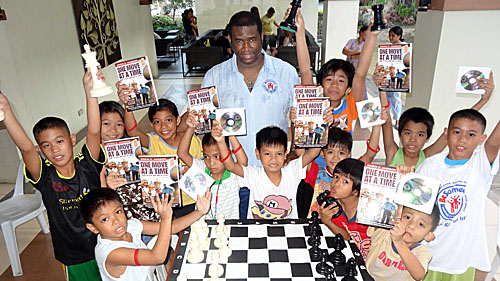 Young Filipinos with copies of Hudson's book, "One Move at a Time".
Photos by Dante Lee.
# # #
Orrin "Checkmate" Hudson is an award-winning author and master motivational speaker who has inspired many to "make the right move" and solve problems peacefully. He has taught many groups at churches, schools, organizations, and corporations. For more details and to watch his recent interview on CNN, visit www.besomeone.org or call (770) 465-6445.
Orrin Checkmate Hudson, Speaker & Master Strategist & Motivator
949 Stephenson Road
Stone Mountain , GA
30087, Tel: 770-465-6445
E-mail: Orrin@besomeone.org
Website: www.besomeone.org