Manhattan Open attracts surprise entries!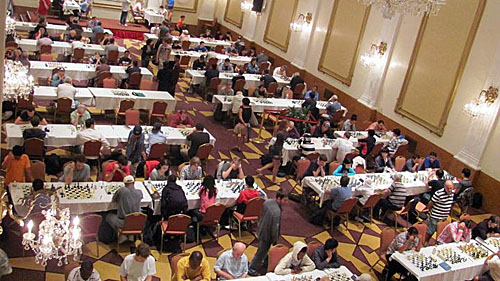 2011 Manhattan Open at the posh New Yorker Hotel.
All photos by Adia Onyango.
The Manhattan Open is in full swing and some surprise entrants are competing. Besides U.S. Open Aleksandr Lenderman, GM Maurice Ashley is playing in his first major tournament since the 2003 U.S. Championship.
GM Maurice Ashley in action.
Poker star FM Ylon Schwartz is also playing as well as US Chess League Commissioner IM Greg Shahade. All eyes will be on these three players to see how they fare against the young lions like FM Alexander Ostrovskiy and FM Kassa Korley. German GM Jan Gustafsson is the top seed.
Link: https://manhattanopen.com/
Games: https://www.chesstournamentservices.com/viewer/games/manhattanopen2011.pgn