Chess at Chicago's Dumas Tech
Chicago has a long history of chess. The famed Palmer House was once a hub for major tournaments in the U.S., but over the decades has lost its luster due to a number of factors. Chicago Public Schools also has a history of producing strong scholastic players, but activities are usually handled by dedicated volunteers on shoestring budgets.
On Chicago's southside, Alexandre Dumas Elementary (Dumas Tech) recently got a visit from Barbara Radner, the director of the Center for Urban Education at DePaul University's School for New Learning. She ran a summer enrichment program at Dumas and was assisted by several teachers in this program. They invited Jerry Neugarten (Youth Committee Chairman of the Illinois Chess Association) to help run the program's chess championship. The tournament was a success and a good time had by all.
1st: Shomari Tillett; 2nd-3rd: Coriyana Richardson, Robert Redmond. Other plus score awards were given to Royon McCoy, Michael Harper, Eddie Jackson, Demeatreas Whately, Tevin White, Martinez Butler, Eaon Pier, Gregory Bennett, Zachary King, and Jamariah Crider.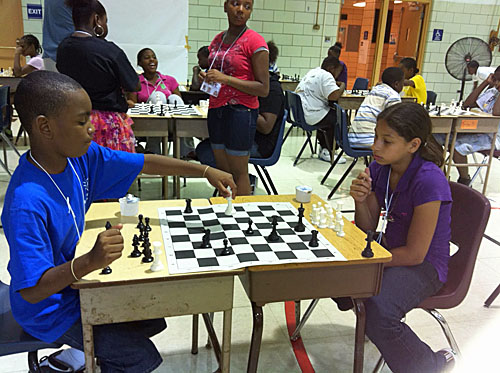 Jerry Neugarten of the Illinois Chess Association
Link: https://chicagochess.blogspot.com/2011/07/dumas-technology-academy-tournament.html