Lubbock welcomes Dyhemia Young
The story of Dyhemia Young has become well-known. After surviving a turbulent lifestyle as a runaway and moving in and out of foster homes, the 15-year old may have received a turn in fortune when her mentor Adisa Banjoko encouraged her to find consolation in the game of chess. Banjoko, who founded the Hip-Hop Chess Federation, has as a mission to help troubled youth like Dyhemia. On yesterday, this help came and could be a life-changer… even life-saver.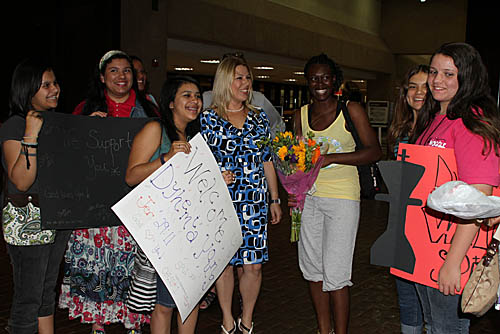 Dyhemia Young arrives in Lubbock, Texas for the Polgar Invitational.
Photo by Paul Truong.
Dyhemia was invited to the 2011 Susan Polgar Girls' Invitational as part of the "Cinderella" theme, a notion that one can succeed despite being an underdog, or less-favored. She arrived in Lubbock, Texas with her custodian Sheila Young to a throng of well-wishers holding signs and also Susan Polgar who presented her a bouquet of flowers.
The Polgar Foundation released a video of Dyhemia arriving for the tournament. Polgar's husband FM Paul Truong can be seen greeting Dyhemia and discussing the generosity of actress Jada Pinkett-Smith with Ms. Young. Pinkett-Smith is the wife of megastar actor Will Smith, a hobbyist chess player. Dyhemia was excited and grateful of the generosity and quipped about meeting Will Smith's son, Trey Smith. 🙂
The Chess Drum community supports Dyhemia Young!
GO GET 'EM!
* * *