Shogi finds a home in Africa!
Both chess and draughts have claimed different parts of the African continent. There is a new game in town… that is the Japanese game of shôgi. Lionnel Kouassi of the Ivory Coast (Côte d'Ivoire) wrote an article of the activities currently being conducted in Africa to spread the shôgi.
The article was written in French, but it basically details the history of how Cote d'Ivoire (Ivory Coast) became the first staging ground for shôgi back in 2009 with Kouassi's initiative. He got support for an Ivorian federation and organized a shôgi tournament that drew 20 participants. In a country featuring some of the world's strongest draughts players, this is quite remarkable.
Tapé Fabien (left) playing Boni Brice while a referee keeps time.
Under the leadership of Kouassi, the Ivorian community has already established contacts with shôgi enthusiasts in Kenya, Morocco, Senegal, Burkina Faso. The idea is to create linkages to share the love of shôgi and to help other countries establish federations. There are foreigners involved including Lei Saarlainen and René Gralla. Gralla is also known for his interest in Senetrej, an Ethiopian version of chess.
The Ivorians will send a delegation to the 5th International Shôgi Forum in October 2011 in Paris. The meeting is co-sponsored by Japanese and French Shôgi federations.
Note: Kouassi told me will send an English version soon, but the local conflict has made it quite difficult.
---
Shogi Afrique!
Il y'a un peu plus d'un mois, la côte d'ivoire a reçu une invitation officielle des fédérations japonaise et française de Shôgi, co-organisatrices du 5e forum International de Shôgi d'Octobre 2011 à Paris.
Par cet acte historique l'Afrique vient d'intégrer l'univers du Shôgi.
C'est en effet, la première fois qu'une nation africaine est conviée à ce rendez-vous mondial des Echecs japonais.
Longtemps après son introduction sur les continents européens et américains, le Shôgi fait finalement son apparition en 2009 en Afrique, en la faveur de la création de la première fédération nationale, en Côte d'Ivoire.
Cette première fédération jette, ainsi les jalons d'une nouvelle phase du processus d'expansion du Shôgi.
C'est en suivant un épisode du célèbre manga Naruto Shippuden que j'ai découvert pour la première fois, le Shôgi ; J'ai été particulièrement frappé par les facultés intellectuelles du personnage Shikamaru qui surpassait largement les autres jeunes de son âge. Shikamaru, en fait, jouait très régulièrement au Shôgi avec son père et cela impactait considérablement, son sens de l'analyse…
C'est donc fort de cela que j'ai décidé de connaitre davantage ce jeu.
Quelques jours plus tard, grâce à internet, j'avais une connaissance parfaite des règles de jeu et au fil des parties, je réalisais combien était excitant et passionnant cette variante japonaise des Echecs.
De plus j'ai trouvé au Shôgi une certaine profondeur et richesse qui a mon sens pouvait être très profitable à la jeunesse africaine.
Par exemple la leçon que j'ai tiré du parachutage c'est que l'obstacle pouvait devenir un avantage et la force de « l'adversité » devenir « notre propre force », un peu comme au judo. J'ai alors pris la décision de promouvoir le Shôgi tant en Côte d'Ivoire que dans toute l'Afrique. ???
Partant de là, je fis confectionner un shôgiban « local » en Eté 2009, et trois mois plus tard j'étais à un peu plus d'une trentaine d'initiés, a partir desquels, la fédération ivoirienne fut investie. Au mois d'Avril suivant, après des campagnes de sensibilisations, se tint le premier OPEN de Shôgi sur le continent avec une vingtaine de participants.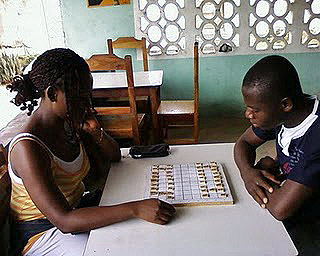 Aujourd'hui plus d'une centaine de personnes en Côte d'Ivoire ont reçu une initiation au Shôgi, des rencontres quotidiennes de jeu ont lieu dans des quartiers, et les joueurs ivoiriens ont même déjà pris part à des tournois amicaux internationaux en ligne dont le tournoi euro-ivoirien, d'Eté 2010, le kyosha…
Le prochain ISF pourrait être l'occasion pour la fédération ivoirienne de poser un pas de plus notamment en prenant part à un tournoi hors ligne contre d'autres joueurs du monde entier, beaucoup plus expérimentés.
En outre, hors de la Côte d'Ivoire, de nombreuses actions sont menées avec le soutien d'autres passionnés tels que Lei Saarlainen and René Gralla…pour une expansion du Shôgi sur l'ensemble du continent.
Dans ce sens, nous avons déjà établi des contacts au Kénya, au Maroc, au Sénégal, au Burkina Faso…avec des personnes intéressées par le Shôgi, pour la plupart des joueurs d'Echecs, avec qui nous travaillons à trouver les voies et moyens idoines pour l'implantation du Shôgi dans ces différents pays, en vue, éventuellement de créer de nouvelles fédérations et pourquoi pas une confédération africaine de Shôgi à l'image de la FESA.
En attendant, un tournoi africain de Shôgi se tiendra dans les mois à venir.
Sommes toute, cette avancée quelque difficile du Shôgi en Afrique, aboutira à des résultats conséquents, du fait de la motivation de tous. Car comme le dirait un japonais : « Suki koso mono no jouzu nare », « celui qui aime ne peut que progresser ».

---
Shogi Facebook Group