Uganda elects 2011-2012 Officers



Vianney Luggya
Chairman of Uganda Chess Federation
Aviation Chess Club's Vianney Luggya has been voted into office as the new Chairman of the Uganda Chess Federation following an election held at the Federation's Annual General Meeting held on Saturday 29th January 2010 at the National Council of Sports Headquarters in Lugogo.
Luggya now replaces Joseph Kaamu who has headed the local chess body for the last four years. To win the election, Luggya scooped 11 votes to beat closest challenger Milton Kasaija who notched 9 votes as the third contender James Diiro did not get a single vote. A total of 12 registered active Chess Clubs were eligible for voting and each club is constitutionally granted two votes.
Former UCF Vice Chairman and FIDE Arbiter, Stephen Kisuze was returned as Vice Chairman after beating Robina Namwanje with 11 votes against 10.
Chris Turyahabwe of Kireka Chess Club took the General Secretary's slot after beating Enkabi Chess Club's Muke Bright with 17 votes against 4. Turyahabwe now replaces long serving Godfrey Gali.
Andrew Bakiza Nkwasibwe, David Kibanda and veteran Joachim Okoth all had a smooth sailing as they were unoppossed for the positions of Treasurer, Publicity Secretary and National Coach. Nkwasibwe replaced Albert Otete as Okoth replaced Dr. George Zirembuzi.
The new executive assumes office on the heels of various successes recorded by the past executive which include among others taking a Ladies team to the Olympiad for the first time in history, clearing all the Federation's previous debts, getting a FIDE Arbiter, two FIDE Masters, two Candidate Masters, vibrant website and having successfully held a number of sponsored tournaments.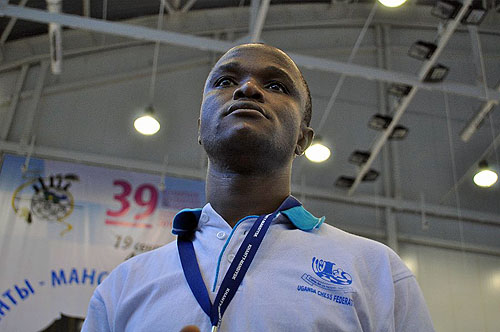 Uganda's Robert Katende
Photo by ugra-chess.com.
There are also various challenges left behind that need to be urgently addressed by the new executive among them lack of appropriate office premises, low sponsorship base, reduced turn up for tournaments, need to continuously teach and attract more children to the sport (spread game countrywide), and the need to get a corporate sponsor for the National Chess League.
The fact that the new executive still has two members who were equally instrumental in registering successes in the previous regime will help to consolidate on past achievements as the new team braces for action.
~Released by Uganda Chess Federation
Crested Crane, national bird of Uganda
Photo by Daaim Shabazz.