Ken Gibson: 2010 Bahamaian Champion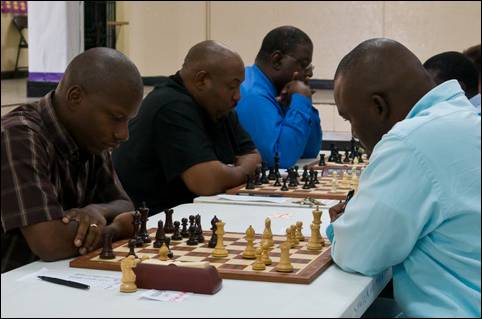 Ken Gibson (left) facing Chappel Whyms in the final round of the Bahamas National Championship. Gibson would win the encounter to earn the title. Photo by Bahamas Chess Federation.
Ken Gibson is Bahamas National Champion for the 2010-2011 year after scoring +2 to win the crown. The tournament was heavily contested as the result was in doubt until the end. Gibson's win over Chappel Whyms left him a point ahead of the field on 5½-3½.
Bahamas is coming off the successful hosting of the 2.3.5 Subzonal whose presence was graced by the 12th World Champion, Anatoly Karpov. At the time, Karpov was running for FIDE President. Kean Smith is the current President and has lead the BCF to unprecedented growth and activity.
FIDE: https://www.fide.com/component/content/article/4-tournaments/4891-bahamas-national-chess-championship-2010.html