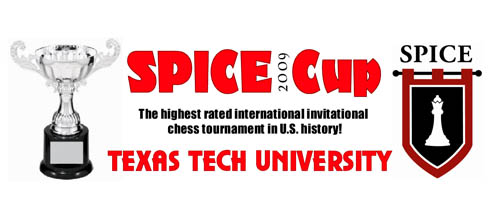 More SPICE in Texas chess! GM Susan Polgar is bringing world class competition to the U.S. in the form of a Category 16 tournament. She bills it as the strongest invitational ever held in history. While chess historians are scrambling to verify this, Polgar continues to promote chess on a number of fronts.
Most notably she has promoted the idea of more girls playing chess with a number of tournaments designed to help increase participation. There are no data to verify whether girls are sticking with chess after their teens years, but Polgar has certainly built a huge following in this regard. She held the Polgar Tournament for Girls alongside the Denker Tournament of Champions at the World Open.
Political rankling and contentious lawsuits has resulted in a less than amicable parting between Polgar and the USCF, but she continues to promote chess independently through the Susan Polgar Institute for Chess Excellence (SPICE) at Texas Tech. SPICE will host two tournaments, the aforementioned Category 16 (2630) and then a 2500-level tournament.
The "A" tournament has an impressive lineup with a number of top juniors including GM Dmitry Andreikin of Russia and GM Wesley So of the Philippines and GM Yuriy Kuzubov of the Ukraine. The "B" tournament features GMs Gabor Papp, Eugene Perelshteyn and Amon Simutowe and GM-hopeful Ray Robson. Should be exciting!
More details here!