Black Stars shine at World Open
The World Open has been the stage for realizing that chess has many faces. In 37 years, this tournament is typically a time of great celebration for players of African descent. There is no official side event designated for this celebration, but this is a tournament that attracts players from around the world and many Black players find the conditions inviting. The defacto "reunion" is arranged by Philadelphia players who are often hosts for out-of-state players and generally provide much needed hospitality.
In the 2009 edition, there were a number of players in the under-2400 section while young star Kassa Korley was vying for an IM norm in the Open section. Under-2400 section has IM Emory Tate (USA), IM Oladapo Adu (NGR), FM William Morrison (USA), FM Farai Mandizha (ZIM), FM Norman Rogers (USA), NM Chikwere Onyekwere (NGR), NM Dr. Okechukwu Iwu (NGR), Kimani Stancil (USA) and Antoine Hutchinson (USA). At one point, there were six players on consecutive tables.
Drum Majors (L-R): NM Dr. Okechukwu Iwu, IM Oladapo Adu, FM Farai Mandizha, IM Emory Tate, FM William Morrison, NM Norman Rogers.
One may ask why this is such a big deal since players of African ancestry have been playing at Master level for decades. Currently there is a gradual push to enter the top sections and this is buttressed by a number of talented young players. Of course, Black players do not make up a large percentage of players in the top section, where typically there are 1-2 players and no Grandmasters. However, this surge is needed is chess is to continue to show its universal appeal. When one thinks of the Sudan, there is only one issue that comes to mind, but during this World Open that may have changed. Sudanese player Kamanyola Awan Bior scored 8/9 in the under-1400.
(L-R): Daaim Shabazz, Glenn Umstead, Kamanyala Bior (winner of under-1400) and IM Emory Tate.
The young cadre of young talent was present as players like Josh Colas, Adonis Turner, Darrian Robinson battled in the under-2200 section. Colas seems to have an insatiable appetite for chess and Robinson is poised to become the first African-American female Master. Twins Jehron and Nigel Bryant were seen at the tournament and the former is already approaching Expert level.
The most promising talent appears to be Kassa Korley (pictured right with Shabazz) who shined in the open section and barely missed making an IM norm. Now at 16, Korley is solidly at the Master class and is holding his own against titled players. Perhaps this time next year, he will be an International Master… he has the talent and the drive to do it. He comes from a solid family and will only continue to get better.
Hopefully in the future, there will be more participation in the top sections from the African Diaspora. There is no shortage of Black players in the gambling blitz sessions in the smokey, testosterone-charged rooms. These players have pride in showing their fast hands, but how does that translate into good play? History shows that such fame is short-lived and does little to establish a good foundation for consistent play over the board during tournaments.
NM Chikwere Onyekwere playing Dr. Kimani Stancil in under-2400 section.
Certainly Morrison, Mandizha and Adu and phenomenal blitz players, but they have also established a foundation for playing good chess based on strategy and not merely tactical blows. While Tate is a tactical wizard, he never fails to show his understanding of weak squares and themes like opposition. He is also famous for rook lifts and "long moves". Rogers is an intriguing player. He has a mixed style, but hinges more on creative opportunities rather than straight tactics or strategy. These players all have something unique to offer chess and the sport is better for knowing that there is growth in segments that often go overlooked. What stories will we see in 2010? Will more stars shine? We'll find out!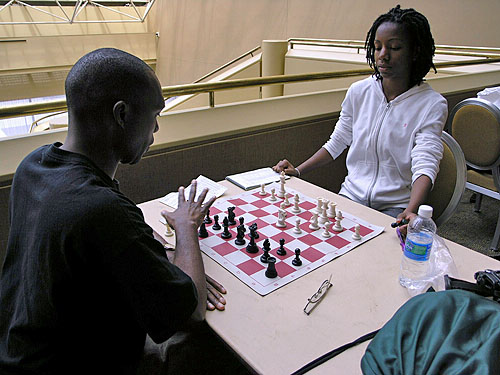 Daaim Shabazz analyzing with Darrian Robinson after their game in round #8.