Pre-Olympiad Quandary… Choosing the Team
If you are a fan following professional sports, you know that choosing national teams is a difficult process. There is always a question of who qualifies as it relates to nationality, skill level, experience, etc. Chess Olympiad teams are no different.
The U.S. team was coming off of a disastrous 2002 Olympiad where they came in 41st with only 30.5 points… less than Ireland. They went forth to decide on a team and controversy brewed when they left leaving teen phenom Hikaru Nakamura off the team in 2004 because a largely inactive Boris Gulko had a higher rating on a year-old rating list they used. Alexander Goldin and Igor Novikov, both inactive and around 40 years of age, also made the team.
While the team made a big improvement, they came in 4th and out of medal contention. The U.S.C.F. corrected their wrongs when a resurgent Nakamura (along with Varuzhan Akobian) made the 2006 team and helped the U.S. to a well-deserved bronze medal.
Currently, the Philippines and Nigeria are facing similar challenges. In the case of the Philippines, two veteran players feel they should be seeded on the team without a qualification. This is bringing controversy because the federation has several Grandmasters who can qualify for the team. Florencio Campomanes added that seeding players is already outdated. It appears that the formed FIDE head is making a case for younger talents such as GM Wesley So (pictured above).
"When Eugene became a grandmaster in 1974, it was okay to seed him on the team because he was the only Filipino grandmaster, but currently we have more grandmasters," Campomanes explained.
Nigeria's case has a twist. While the team has no Grandmasters, it has five International Masters and players like IM Odion Aikhoje (England), IM Oladapo Adu (U.S.) and National Champion Chikwere Onyekwere (U.S.) are spread out around the world so choosing the best team becomes problematic. There is the thought that the strongest players should be seeded on the team because of the titles or as national champions, but does this stunt the development of up-and-coming players? Nigeria is considering a tri-continental qualifying tournament, but they are still in negotiations with the Nigerian Chess Federation on this issue.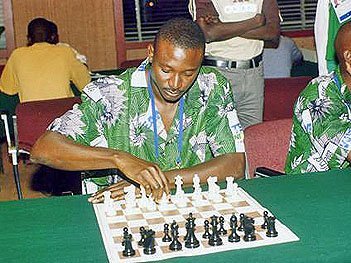 IM Odion Aikhoje
These are recurring issues in countries that have traditionally not had much of a qualifying event. Teams generally hand-select their best players and wish them well. With a surge in strength in national federations, up-and-coming players want a fair shot at representing their country in the chess world's biggest stage. It is now July, so the time is late and many teams have already registered for the November event. Stay tuned for updates.
See Filipino story, "Ex-world chess chief: 'Seeding players outdated'"