Philly beats Baltimore in match!
A match between Baltimore and Philadelphia took place at Malik Rogers' place. The match was supposed to include New York, but they were not able to secure ten players. Actually there were nine players per side. FM William "the Exterminator" Morrison reports that Philadelphia won the match 10½-7½ avenging last year's loss. 
FM Norman Rogers (Philly) defeated Morrison on board #1 and Glenn Bady (Philly) defeated IM Oladapo Adu on board #2. Morrison told me that Philly opened up a 6-1 lead. "We came back," he told me. Despite a Baltimore surge, they came up short.
Exterminator said the match had an atmosphere of a cookout with food cooking on the grill and plenty of cold drinks. Perhaps this Philly hospitality is what lead to Baltimore's undoing. He also said that Philadelphia invited pretty women to distract them! No… it was probably eating the BBQ ribs that did it Extermo! It'll do it everytime. 😆
No board results or game scores as of yet, but here are a few photos I got from Michael Williams. He sent me in an e-mail,
"Morrison, Adu, and 2100 Antawn (don't remember his last name) showed up … (last yr they whipped us!). We had of course Pete, Glenn Bady, and Glenn Umstead. Paulina, Larry Pugh, Jeffrey Johnson, were also there… we won this time!"
That's Antoine Hutchinson man… get with the program! 🙂
FM William 'the Exterminator' Morrison
vs.
FM Norman 'Pete' Rogers
PHILLY STRONG!!
(Seated L-R) Larry Pugh, Pete Rogers, Glenn Bady,
José Espinosa, Bruce Thompson, Michael Williams.
That's Malik standing over there with the plate and the Mountain Dew!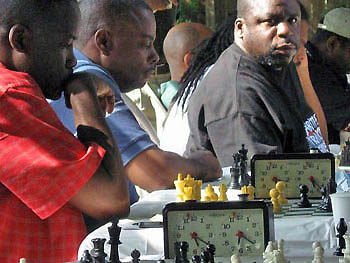 IM Oladapo Adu and FM William Morrison ponder moves.
How did you all do the board arrangement?
Isn't that Antoine and then David Paulina next to him?
Looks like National Master Steve Colding came from New York.
Pete and Oladapo reflect on the day's event.
They are still playing in the dark!