Baltimore edges Philly 14-12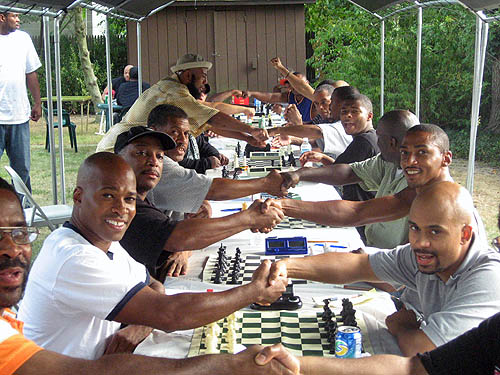 Philadelphia (left) faces off against Baltimore!
Photo by Michael Willliams.
Players from Baltimore locked horns with rivals from Philadelphia to engage in the annual match for bragging rights on the east coast. The match took place in Delaware (Pennsylvania) at the home of Malik Rogers. Baltimore avenged their loss from last year's sound beating by the score of 14-12.
In last year's matchup, Baltimore fell behind early and closed the distance but Philly won by a comfortable margin. This year several key players were missing from both sides. Michael Williams was on the scene and stated that top Baltimore player IM Oladapo Adu was missing and Philly Masters Elvin Wilson and Glenn Bady were unable to play.
Baltimore gets to trashtalk for one year!
Photo by Michael Willliams.