Wilbert Paige Memorial: Round #9
Wilbert Paige Memorial
(14-23rd of July 2001, Harlem NY, Hotel Theresa)
Round #9 Tuesday, 23 July 2001)
Pre-game analysis: The heat is on for two players in the penultimate round of the Wilbert Paige Memorial tournament! Both FM William "The Exterminator" Morrison and NM Norman "Pete" Rogers will have to come through in the clutch to earn IM norms. Morrison has gone undefeated while Rogers is coming off of an impressive win against IM Simutowe. Will FM Morrison earn his 3rd and final IM norm against the 21-year old South African star? Will "Pete" Rogers earn his 2nd norm in a month? Both games will be high-octane as Solomon-Morrison features a relentless fighter vs. a player who's incredibly tough to beat. Look for board magic! Rogers has completely destroyed IMs in the last year including two wins over IM Simutowe in a month's time! Kobese studies his opponents carefully and will probably expect the Caro-Kann. This will be a tough, tough fight as both players have similar styles. Colding has the unenviable task of breaking into the win column against Simutowe, who is looking to close out the tournament on a high note (and prepare for the World Junior). Colding will face an aggressive Simutowe and must not allow him to get spatial freedom or he will live the fate of his good friend FM Simpson who was thoroughly crushed. Simpson and Schleifer played their game on the rest day and the game ended in a draw. Simpson steered the game along tactical lines. When Simpson's antics didn't result in a gain of material or mate, it was Schleifer who had chances. In a tricky finalé, he got his rook trapped and had to sack a pawn to free it. This forced a draw. Muhammad needs only a draw to win clear 1st in this historic inaugural tournament. Nsubuga has suffered a 5-game skid, but got good positions against IMs Schleifer and Kobese. A draw seems to be the probable result in this game given the tournament situation.
The main event… Solomon vs. Morrison (foreground). FM William Morrison playing for the IM title. FM Stephen Muhammad plays Ugandan national master Grace Nsubuga in background.
Muhammad-Nsubuga, ½-½
Solomon-Morrison, ½-½
Kobese-Rogers, 1-0
Simutowe-Colding, 1-0
Simpson-Schleifer, ½-½ (played on 20 July 2001)
Post-mortem analysis: As expected, FM Muhammad clinched 1st place with a draw. Thus he becomes the first winner of the historic Wilbert Paige tournament. Congratulations to FM Muhammad!!
FM Stephen Muhammad earns 1st IM norm!
In two other key games, both Morrison and Rogers came up short in their respective quests for IM norms. For Morrison, his norm chances were hurt by an endless string of draws and he missed earning his IM title by half a point. The game was very exciting as Morrison played sharply but entered unfavorable complications resulting in a cramped position. Solomon played a brilliant bishop sortie with 18. Ba3! daring Morrison to grab the bishop. Morrison declined perhaps fearing 19. Rd8! White got an attack, but Morrison had to give up a pawn to survive. In the ensuing rook and pawn ending, Solomon could not make use of his extra pawn and conceded the draw. Morrison finished the tournament the only undefeated player.
Morrison and Solomon analyze to close out the tournament in epic fashion.
Analysis session attracted a crowed, but Jerry Bibuld had to close it down. Wonderful tournament!
Morrison was the only player undefeated,
but came up 1/2-point short for his IM norm and title.
"Pete" Rogers went into this game with a lot of confidence, but was totally outclassed by the South African IM. Rogers played an aggressive Caro Kann, but overextended a bit and soon after, Kobese unleashed the wrath of a powerful counter. Rogers' position crumbled as did his hopes for his second IM norm in a month. The tough African IM played solidly and only lost one game (to Muhammad). For Rogers, he flirted with an IM norm and scored a respectable five points including a nice win over Simutowe. Looking for his first win, Colding played a nice King's Indian setup, but wasted precious time and allowed Simutowe to start a powerful attack with 27. Nxc6! Simutowe proceeded to dominate the board dashing hopes of Colding's quest of winning a decisive game. Not a good result, but to Colding's credit, he played hard and attempted to win each round.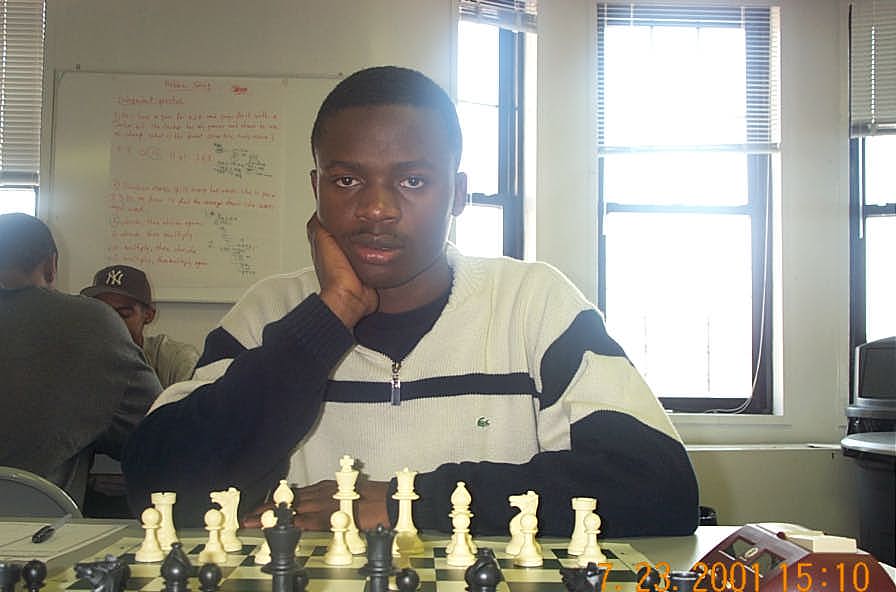 A future GM… IM Amon Simutowe