Wilbert Paige Memorial: Round #8
Wilbert Paige Memorial
(14-23rd of July 2001, Harlem NY, Hotel Theresa)
Round #8 (Monday, 22 July 2001)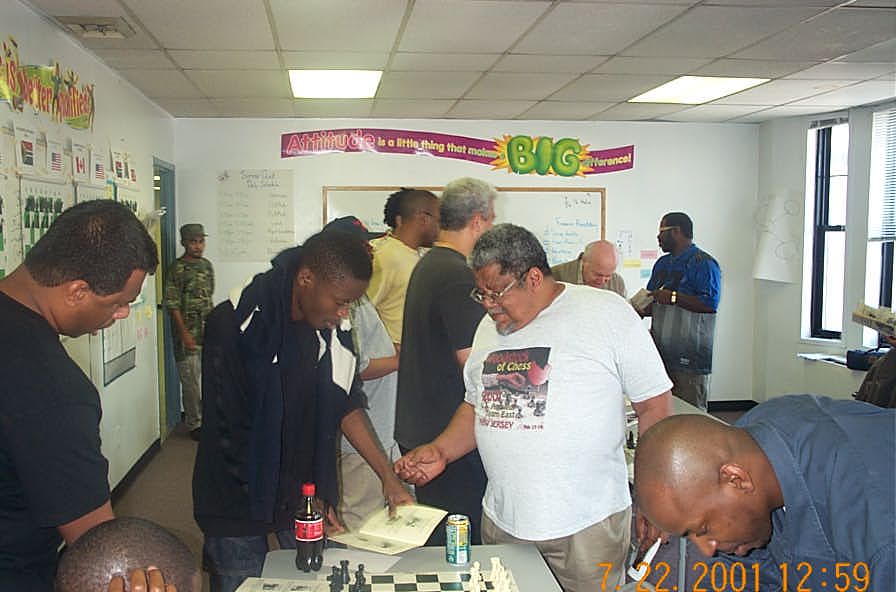 Exchanging and getting autographs… classic moment!
Bob Ali getting autograph from Amon Simutowe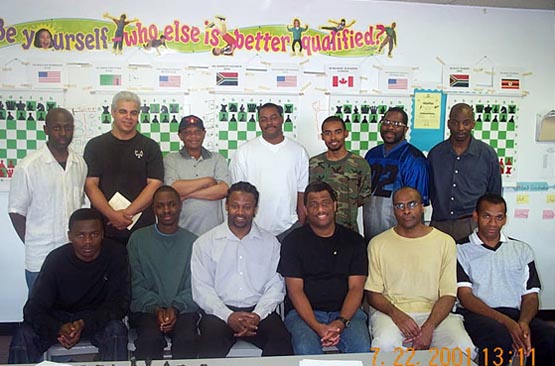 Wilbert Paige Memorial players and commentators. Seated (L-R) IM Amon Simutowe, NM Grace Nsubuga, GM Maurice Ashley (commentator), FM Ronald Simpson, IM Michael Schleifer, FM Stephen Muhammad. Standing (L-R) NM Jerold Times (commentator), NM Ernest Colding, IM Watu Kobese, FM William Morrison, FM Kenny Solomon, NM Norman Rogers, NM Elvin Wilson (commentator)
Pre-game analysis: With Muhammad's IM norm out of the way, the attention of this round focuses on two players: FM William "The Exterminator" Morrison and Norman "Pete" Rogers. Both have an outside chance to collect IM norms if they win their last two encounters. For Morrison, he has to defeat an old friend in the fiery FM Ronald Simpson. He then has the tenacious player of FM Kenny Solomon to beat. . . both tough assignments. Look for "The Exterminator" to brandish his bazookas and blast away the last two rounds. For Rogers, he has to face the two African IMs in Amon Simutowe and Watu Kobese. These are the top seeds in the tournament and both will prove to be tough tests. Simutowe will be looking to avenge an earlier loss to Rogers at the World Open. For Rogers, he must continue to play solidly while applying pressure. Both African players defend very well and can play in sharp positions. Colding is still looking for his first win after having collected two draws in seven rounds. Schleifer has not played sharply as of late, so both players will play with energy. Look for a board brawl. Kobese is coming off of a tough loss to Muhammad which allowed him to earn his first IM norm. No one wants to be written as a person who allowed someone to get a norm. However, Kobese will be heavily favored against the slumping Nsubuga who somehow has lost four games in a row after a strong start. The Ugandan Master will let Kobese know he's in a fight. Since Solomon cannot earn a norm in this tournament and Muhammad has already earned one, this matchup doesn't have the importance that it did one round ago. However, Solomon is a fighter and should give Muhammad a battle. The only matter left for Muhammad is to earn at least draw for a share of first prize. This will be an exciting encounter as Muhammad has been impressed by Solomon's tenacious play in earlier rounds.
Simpson-Morrison, 0-1
Simutowe-Rogers, 0-1
Colding-Schleifer, 0-1
Kobese-Nsubuga, 1-0
Solomon-Muhammad, 1-0

Post-mortem analysis: Every game was decisive. Morrison kept his hopes for an IM norm by beating FM Simpson. Simpson (who, as it turned out, was ill) became obsessed with trying to pry weaknesses in Morrison's position with his queen. Morrison continued to consolidate and seized the center. Simpson got lost in the complications and a sacked a piece for counterplay, but got nothing at all. Morrison needs to beat Solomon to earn his 3rd and final IM norm. Later, Solomon upset FM Muhammad to give the norm winner his first goose egg on the cross table. The game transposed into a Modern Defense which is out of Muhammad's terrain. Solomon soon grabbed space, penetrated Black's position and won a trivial ending.
Simpson vs. Morrison. FM Morrison attempting to keep IM norm hopes alive.
Simutowe vs. Rogers (foreground); Colding vs. Schleifer (background)
"Pete" Rogers going for a win against the "Zambezi Shark."
Rogers played perhaps the best game in the tournament on the black side of a classical King's Indian. Rogers went right for Simutowe's throat and hit him with the cute 17. . . hxg2! after which the black's position sprung alive. With a decisive material disadvantage, Simutowe went for a perpetual draw, but Rogers ended the game smartly with 61. . . Qb7! stopping all tricks. In Colding-Schleifer, Colding fell on the black's raking bishops and Schleifer wasted no time mopping up. Kobese-Nsubuga was interesting in that Nsubuga stuck with the Philidor after getting inferior positions with it earlier in the tournament. Nsubuga actually got counterplay for a pawn sac, and it appeared as if he would score after 25. . . Bd3, but Kobese uncorked 25. Qf7!! After winning two rooks for a queen, Kobese's rooks went on a rampage and eventually snared the queen. Tough loss for Nsubuga who is on a five-game skid.