Capital City Open IV (Tallahassee, Florida)
Tallahassee hosted its fourth Capital City Open rapid tournament within the past year with Jacob Sperber leading the initiative. With the temperatures soaring into the upper-90s, Florida got a welcome rain shower on the day of the tournament, but it may have deterred some from making the trip. The tournament did not feature any of its higher-rated players, but Sperber plans a classical tournament soon attracting experts, masters, and titled players from Florida and surrounding states.
Colin Meagher vs. Jonathan Walker
Viswa Janapati vs. Caleb Parker
Colin Meagher won the open section with 3.5/4 followed by Jonathan Walker and Caleb Parker with 3/4. Sperber reports that Meagher is new to tournament chess, but studies regularly and has an 1800 rating on chess.com. He has only played in a few tournaments and like others, the COVID-effect results in players being underrated after having played a high amount of games online. Meagher had a 1600 performance rating. Amiel Hernandez won the U1000 section. This was his first Cap City Tournament. He mentioned he is he was to have rated chess in Tallahassee.
Colin Meagher and Amiel Hernandez receive prizes.
Coach Richard Kennedy, who tied for first in Capital City III came to support his students.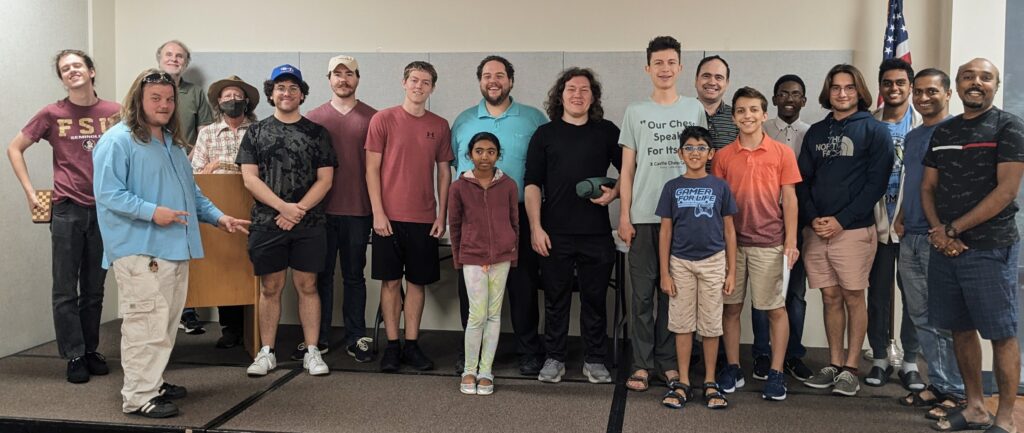 Photos by Claudia Sperber/Capital City Chess Club
Tournament Director Jacob Sperber has done the difficult task of playing and directing the previous Capital City Opens, but did not play in this edition. He spent the summer competing at the World Open in Philadelphia, and an action tournament at the historic Marshall Chess Club in New York City. He also competed in the Southern Open in Orlando where he beat NM Theo Slade and an IM Nelson Gamboa.

The tournament proceed went toward the Florida wildlife collection. See https://www.centralfloridazoo.org/about-the-zoo/ocic-2/ link for details.
Photos of Capital City Open IV
Photos by Daaim Shabazz
Open: https://www.uschess.org/msa/XtblMain.php?202308050602-30798463
Under-1000: https://www.uschess.org/msa/XtblMain.php?202308051322