2023 FIDE World Cup: Round 4
Favorites ousted (not Carlsen)… Indian prodigies soar
There were some shocking outcomes at the 2023 World Cup with both Hikaru Nakamura and Ju Wenjun being eliminated from the competition. Wesley So was also upset by Alexander Sarana ending what seemed to be a tournament where the Filipino-American was off-form. While Magnus Carlsen endured an intense match after an initial loss to Vincent Keymer, he was visibly shaken by the scare in the second classical game. Keymer missed a tactical shot because his mind may have been set on equalizing after his impressive win. After the missed opportunity, he played suboptimal moves in the ending and was ground down by Carlsen's technique.
Magnus Carlsen's reaction to escaping 17…Nxe4!! pic.twitter.com/oMEifGqvoR

— Olimpiu Di Luppi (@olimpiuurcan) August 10, 2023
While the Indian prodigies have been the talk of the tournament, there were other stories. Nijat Abasov (2632) has flown under the radar while eliminating Peter Svidler after beating Anish Giri. Abasov admitted that he got a "second chance" after Svidler missed a tactic in the first classical game. However, he held both draws and won the second tiebreak rapid. Apart from the Indian players, Abasov is a local favorite and the last to hold the Azeri flag. He plays Salem Saleh who won both tiebreak games against Daniele Vocaturo.
Paehtz ends Ju's run
Ju Wenjun stated that she had only one week of rest after winning the world championship in China. She proved her stamina by playing a couple of marathon games but ran out of steam against Germany's Elisabeth Paehtz.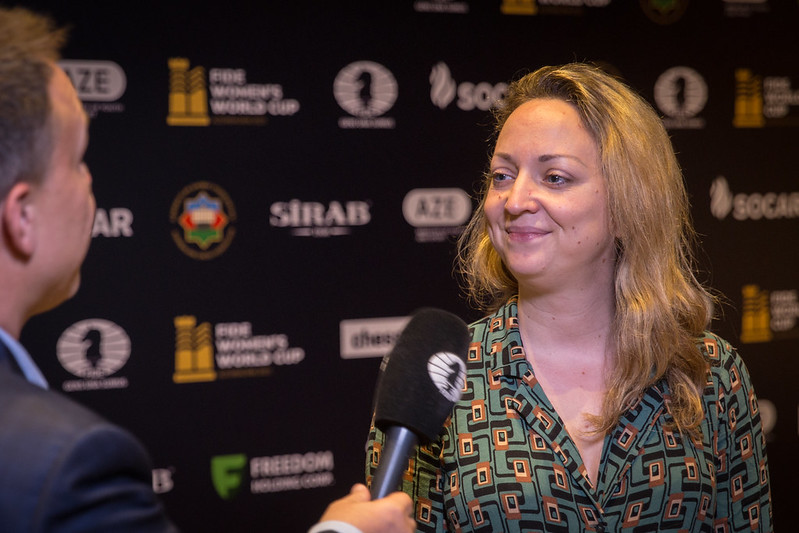 Humpy Koneru also lost her match in tiebreaks against Georgia's Bella Khotenashvili after winning on demand. We are down to eight players. Perhaps the favorite is Aleksandra Goryachkina who won her match against another Georgian player, Nino Batsiashvili. Anna Muzychuk beat her younger sister Mariya as all of the games were fiercely fought and went into instructive endings.
Round 4, Game 1
Wednesday, 9 August 2023
Keymer topples Carlsen!
FIDE Report
Former World Champion in classical chess, Magnus Carlsen, suffered a defeat as Black against 18-year-old German prodigy Vincent Keymer. This was the first time that Keymer beat Carlsen in a classical game.

Playing as Black in the Queen's Gambit Declined, Carlsen created a solid position in a typical Carlsbad structure. In a rook and knight endgame that transpired, Carlsen made a mistake on move 36 and ended up losing a pawn. Soon afterward, the rooks were exchanged, and in a knights endgame where Vincent smoothly converted his extra pawn.

Carlsen under pressure.
Photo by Stev Bonhage

Keymer was realistic when asked to sum up the game: "It was an equal game, and then I got a chance and used it… This was a one-off blunder [for Carlsen] otherwise, the game would have ended with a draw which would have been totally fine with me."


Video by FIDE Chess

To stay in the race, Carlsen will have to win the second game, where he will be playing as White.

In another upset, Alexey Sarana beat Wesley So with black pieces. In the exchange line of the Queen's Gambit Declined, the reigning European champion gradually outplayed his opponent. By move 23, Sarana was significantly better.

Wesley So then managed to get close to equal after a mistake by Sarana, but in the proceeding moves, he made a drastic error of judgement and was lost again. Sarana finished off the opponent with several impressive moves.

Three other grandmasters won today – Nils Grandelius beat Jamie Santos Latasa, Vidit Gujrathi defeated Etienne Bacrot in a sharp Sicilian battle, and Hungary's Ferenc Berkes is continuing his impressive run, outplaying Ruslan Ponomariov.

All other games ended in a draw, including those of Caruana, Nakamura, and Nepomniachtchi.

Women's Section

The Women's tournament saw Bella Khotenashvili secure the only victory of the day by defeating India's top-rated woman player, Humpy Koneru, with black pieces. After Koneru made a mistake early on in the opening, she ended up defending a weaker position throughout the game. Despite Khotenashvili giving Koneru a few chances to equalise, in the end, the Indian didn't use them and was forced to surrender after 42 moves.

The road was a bit bumpy, but Bella Khotenashvili scored an impressive win over Humpy Koneru
Photo by Maria Emelianova

Round four saw an unusual pairing where two sisters – Anna and Mariya Muzychuk had to play against one another. In the Semi-Tarrasch, neither side managed to get much advantage, and the two agreed to a draw after reaching an even rook endgame.

Women's World Champion Ju Wenjun drew as White with Elisabeth Paehtz in what was a largely calm game. Serbia's Teodora Injac had a nearly winning position as White against Polina Shuvalova in the opening but misplayed in the middlegame and her advantage gradually evaporated.

~Milan Dinic, FIDE
Videos by FIDE Chess
Round 4, Game 2
Thursday, 10 August 2023
Keymer misses chance, Carlsen equalizes

FIDE Report
Magnus Carlsen had a lucky break today surviving his "first serious scare" as he put it. Following a stunning defeat in the first game, he made an error in the first part of the second but wasn't punished. In the end, he defeated Vincent Keymer with white pieces thanks to a better performance in the endgame. Fabiano Caruana is also through, while Wesley So is out after not being able to achieve more than a draw against Sarana.

In the Women's tournament, among the top favourites, Alexandra Goryachkina and Polina Shuvalova qualified for the next round, while Ju Wenjun and Elisabeth Paehtz will decide the winner on the tiebreaks. Humpy Koneru won her second game against Khotenashvili, reaching the tiebreaks.

~Milan Dinic, FIDE
Videos by FIDE Chess
Round 4, Tiebreaks
Friday, 11 August 2023
Nakamura ousted in tiebreaks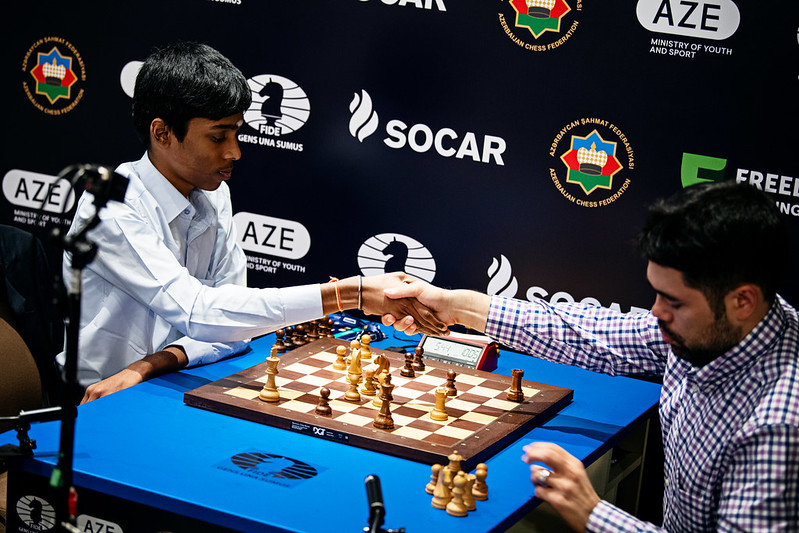 The story of the round was Hikaru Nakamura exiting the tournament after losing both rapid tiebreak games to Rameshbabu Praggnanandhaa. The Indian prodigy called it one of his "best days."
Full interview: https://t.co/1JbmxAuH52

— International Chess Federation (@FIDE_chess) August 11, 2023
While the hall was buzzing after Nakamura resigned, a moment occurred when Magnus Carlsen left his game in progress to share some words with Pragg on his win. Obviously, this is not allowed, but the arbiter who stood close by allowed the brief exchange. There were regulations prohibiting this and the running joke was that there were endless nods and polite smiles being exchanged between the aisles.
Magnus Carlsen congratulates 18-year-old Indian sensation Rameshbabu Praggnanandhaa for knocking out Hikaru Nakamura. pic.twitter.com/LCMG95S77K

— Olimpiu Di Luppi (@olimpiuurcan) August 11, 2023
In the first game, a wild position was on the board, but the reality was the position had occurred in a game Nakamura played with Anand in 2016. Apparently, Pragg received some notes from his mentor.
This is Nakamura-Anand Candidates 2016.

It is also Nakamura-Praggnanandhaa today at the World Cup!@FIDE_chess #fideworldcup pic.twitter.com/Jd2EDjUXMu

— Viswanathan Anand (@vishy64theking) August 11, 2023
However, exploded after Nakamura admittedly mixed up his preparation. After 8…g5! black equalized and a couple of moves later wrested the initiative.
FIDE Report
Magnus Carlsen managed to qualify to the next stage but it wasn't easy: the World Champion in Rapid had to play two sets of rapid matches against German prodigy Vincent Keymer who gave the Norwegian a nasty shock, defeating him two days ago.

The first tiebreak match ended with two draws, despite Carlsen having strong chances in both games. The second tiebreak match started with a draw where neither side managed to get an advantage. In the second game, Carlsen had a winning position by move 23. However, he first dropped the advantage but then regained it a few moves later. Carlsen continued to gradually improve his position until forcing Keymer to surrender after 68 moves in a queens' endgame.

Photo by Stev Bonhage

One of the strongest world players, including in rapid chess, Hikaru Nakamura, was knocked out of the World Cup today by R Praggnanandhaa who turned 18 just yesterday! The Indian defeated Nakamura in both of their rapid games during the first tiebreak. In both games, Praggnanandhaa emerged better from the opening and held the initiative until sealing the victory.

Surprisingly, as soon as Praggnanandhaa won, Magnus Carlsen, who was in the middle of his own game, stood up to congratulate the Indian player. Speaking after his victory, the 18-year-old Indian happily noted: "It is one of my best days".

In another notable upset, Azerbaijan's Nijat Abasov overcame the seasoned Grandmaster Peter Svidler, winning 1.5:0.5 in their rapid tiebreak. Svidler lost the second rapid game as White after blundering in an even position.

Photo by Anna Shtourman

One of the top favourites, Ian Nepomniachtchi, defeated Nihal Sarin 2:0 in their rapid tiebreak match. Sarin had more chances in the first game and missed a win, while in the second his opponent dominated throughout the game.

Salem Saleh advanced into the round of 16 after defeating Daniele Vocaturo in both rapids finishing a great run of the Italian GM in Baku. Gukesh D is also through after beating Esipenko 1.5:0.5 in the first tiebreaker. Duda, Dominguez and Ivanchuk progressed to the 1/8 stage after winning in their second rapid matches of the day.

Photo by Anna Shtourman

The longest tiebreak duel of the day was played between China's Wang Hao and Germany's Rasmus Svane. After all four games in the two rapid tiebreak matches ended in a draw, it all came down to the Blitz. In time trouble, Wang Hao missed a winning opportunity in game one which ended in a draw. In the second game, the German finally broke in the endgame allowing Wang to win and proceed to the next stage.

The Women's Tournament Highlights

The Women's World Champion Ju Wenjun has been knocked out of the Women's World Cup after losing the second tiebreak game to Germany's Elisabeth Paehtz. The tiebreaker saw a quiet draw in game one, but in game two Paehtz (playing as White) punished her opponent's imprecisions made early on and converted her sizable positional advantage in a rook endgame.

Photo by Anna Shtourman

In another big upset, Women's fourth strongest woman player, Humpy Koneru, lost both of her rapid games against Georgia's Bella Khotenashvili. The Georgian was clearly better in game one, but in the second duel, Harika blundered in an even position and ended up facing checkmate.

Bulgaria's Nurgyul Salimova is through to the next stage, having prevailed over Medina Warda Aulia 1.5:0.5 in the first tiebreaker after the player from Indonesia blundered in a better position as Black in game two. Harika Dronavalli bested Dutch Women's Champion Eline Roebers.

~Milan Dinic, FIDE
Videos by FIDE Chess