2023 FIDE World Cup: Round 3
Top Three Seeds Go Through, but a Few Surprises
In a trend where the youngest stars are shining at the World Cup, some of the veterans are still showing that experience is an enduring quality in the knockout system. Besides Magnus Carlsen and Hikaru Nakamura winning their matches, both Peter Svidler and Vasyl Ivanchuk, both wildcards, won their matches. One big upset was Anish Giri flaming out to Azerbaijan's Nijat Abasov. Danil Dubov was also upset by Italy's Daniele Vocaturo and hometown hero Teimour Radjabov was ousted by Spain's Jaime Santos Latasa.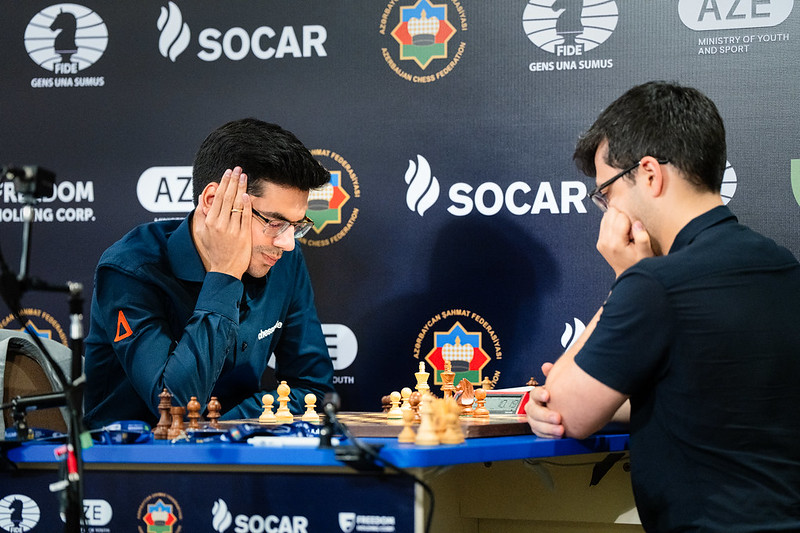 In the women's field, Ju Wenjun nearly went down a game after being two pawns down to Azerbaijan's Ulviyya Fataliyeva. Then the unthinkable happened. After bungling her advantage, Fataliyeva then walked into a mate after attempting to defend with a rook versus Ju's rook and knight. It was a devastating loss in front of the home crowd as she crashed out in tragic fashion. A marquee matchup will be Germany's Elisabeth Paehtz versus Ju Wenjun.
The Muzychuk sisters (Anna and Mariya) are through and play each other in round 4. There are three Chinese, two Indians, two Russians, two Georgians, and two Ukrainians in the round of 16. Indonesia's Medina Warda Aulia made national history, being the country's first player to make it to the fourth round, open or women. She scored an upset victory over newly-naturalized Spanish citizen Sarasadat Khademalsharief. She then mated Alina Bivol of Russia and then held a draw to advance.
Defending World Cup champion Alexandra Kosteniuk was also forced from the tournament after losing both tiebreak games to Serbia's Teodora Injac. India's Harika Dronavali had to play a 10-game match ending in a sudden-death blitz win over Georgia's Lela Javakashvili.
Round 3, Game 1
Saturday, 5 August 2023
Lots of draws in the opening game… tension ratcheting up
Carlsen wins an interesting ending against compatriot
Caruana misses win
Round 4 begins!
Photo by Stev Bonhage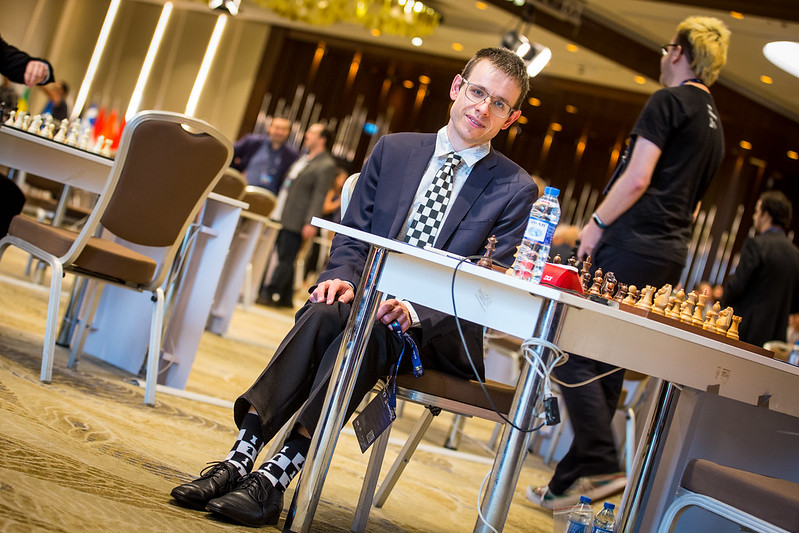 David Navara (Czech Republic) with the best outfit!
Photo by Anna Shtourman
Fabiano Caruana is one of the favorites to win the World Cup and had been in tremendous form thus far. He was cruising to victory in the first game against Turkey's Mustafa Yilmaz. Just when it appeared that he would reel in the point, he erred with 32.a6? and in a cloud of dust, his win dissipated. This position ended up in social media discussions.
Caruana missed the win in the World Cup today, can you find it? (W2P)
by u/_felagund in chess
Winning instead was 32.Rxc6!! Commentators suggested that the American would regret this mistake, but after a draw in the second classical game, he showed his class by winning both rapid games.
In the following position, Caruna played a deep, positional exchange sacrifice with 29…Rxd3!! After 30.Rxd3 h3! black was completely winning. The idea is instructive enough to show the evolution of the idea.
In the C-Squared podcast, Caruana talked about his match with Yilmaz and the close call in the second classical game. The complications were mind-dizzying and after 32.Qg1 and "stacking" on the g-file, commentators were predicting an upset. However, the Turkish player overlooked Caruana's 33…Qxf4 and the American could breathe a sigh of relief. The analysis Caruana gave in the interview was insightful.
Magnus harkens back to Chaturanga
If anyone remembers anything about the origins of chess, they will have read about the "tabiyas" or opening setups. Sir Sultan Khan introduced some of these unorthodox ways of playing, but these hypermodern ways were scuttled for a more standard approach. This is not the Bongcloud with 1.e4 and 2.Ke2 or 1.f3 and 2.Kf2, but against his friend and compatriot Aryan Tari, Carlsen played an opening and arrived at the position below.
What a position! Which of us would feel confident enough to play this position with the heavy pieces still on the board? Well… Tari had two pawns for the exchange and appeared to be OK, but In the follow position, the Norwegian #2 played 31…f5? and allowed the lone rook to exploit the weakened pawns.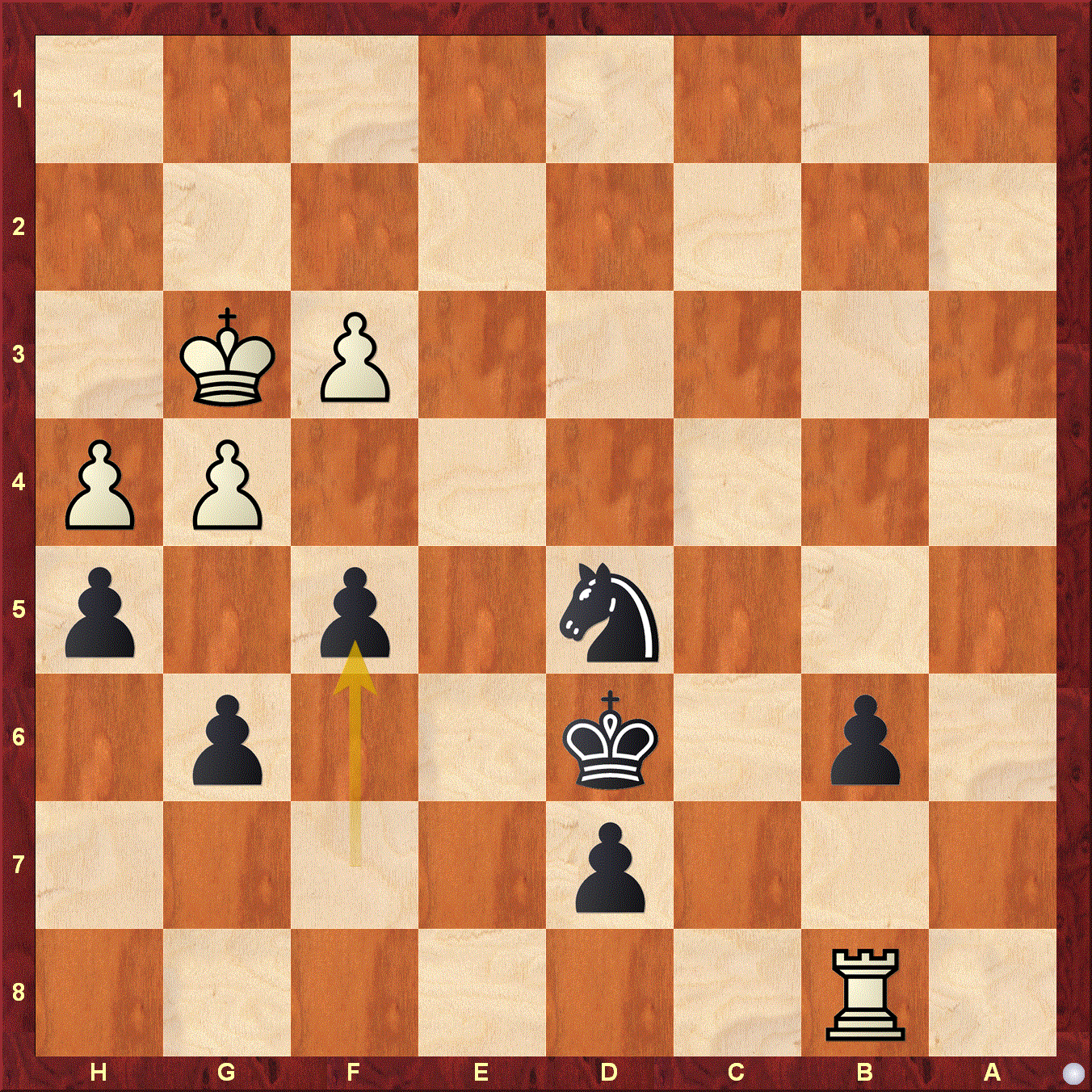 It would seem like black could hold his own with the passed queenside pawns, but there is a reason why the rook is so powerful and the knight is so clumsy at catching runaway pawns. Carlsen dispatch his king to the queenside to confront the pawns and executed a zugzwang maneuver. Black had to donate material. In the end, Carlsen was able to sacrifice the exchange to arrive at a winning pawn ending. Very instructive!
Carlsen went on to earn his ticket to the 4th round with a draw in a better position. Hikaru Nakamura won against Benjamin Glendura when he forced a fatal kingside weakness. The Hungarian's position was like Swiss cheese and he preferred not to continue in a hopeless state. In a shocking result, Daniele Vocaturo beat Danil Dubov in a strange opening.
The Russian player is known for his creativity but ended up regretting the experiment. By move 14, black had equalized. The shock came later when Dubov sacrificed a rook thinking he had an initiative after recovering the rook, but it would have only been good enough for a draw. Unfortunately, he forgot about an intermezzo check and ended up completely lost. Vocaturo was elated after notching his first win against Dubov.
Indonesian History!
Indonesia has the world's largest Muslim population, but it has another fact to add to its annals of history. Medina Warda Aulia advanced to the fourth round after beating Russia's Alina Bivol in a rather smooth victory. Not even Utut Adianto or Susanto Megaranto made it that far. Aulia stated that she had studied very hard on chess and was focused on making good results. Her beleaguered opponent played a bit too loose with her king and was mated with the king flapping in the open wind.
Former women's world champion Mariya Muzychuk beat Vaishali Rameshbabu of India, bringing to a close the event for the big sister of the chess prodigy Praggnanandhaa Rameshbabu. She was fortunate to survive against Pauline Guichard after coming from two pieces down to win. Hopefully, she will continue her ascent to the top of women's chess.
Most of the games were drawn.
Best Shots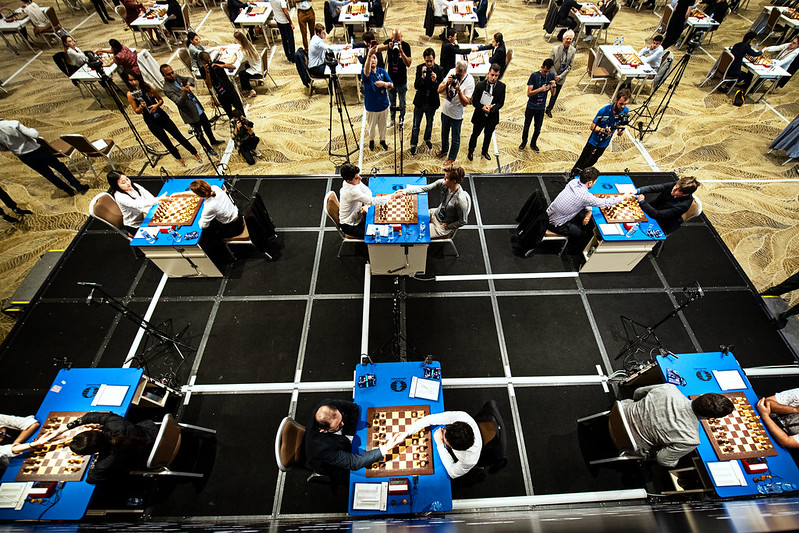 Round 3, Game 2
Saturday, 5 August 2023
Ju survives lost position, advances to the round of 16

Ju Wenjun won the women's world championship for the fourth time just over a week ago, but has shown that she has tremendous stamina playing a couple of 100-move games. Her game against Ulviyya Fataliyeva was a thrilling match that should have resulted in an early exit, but disaster struck with the Azeri player simply collapsed after playing a masterful game.
At several points, Fataliyeva could have repeated moves and headed for tiebreaks, but she kept on playing for one result when there were three results possible. Watch the progression…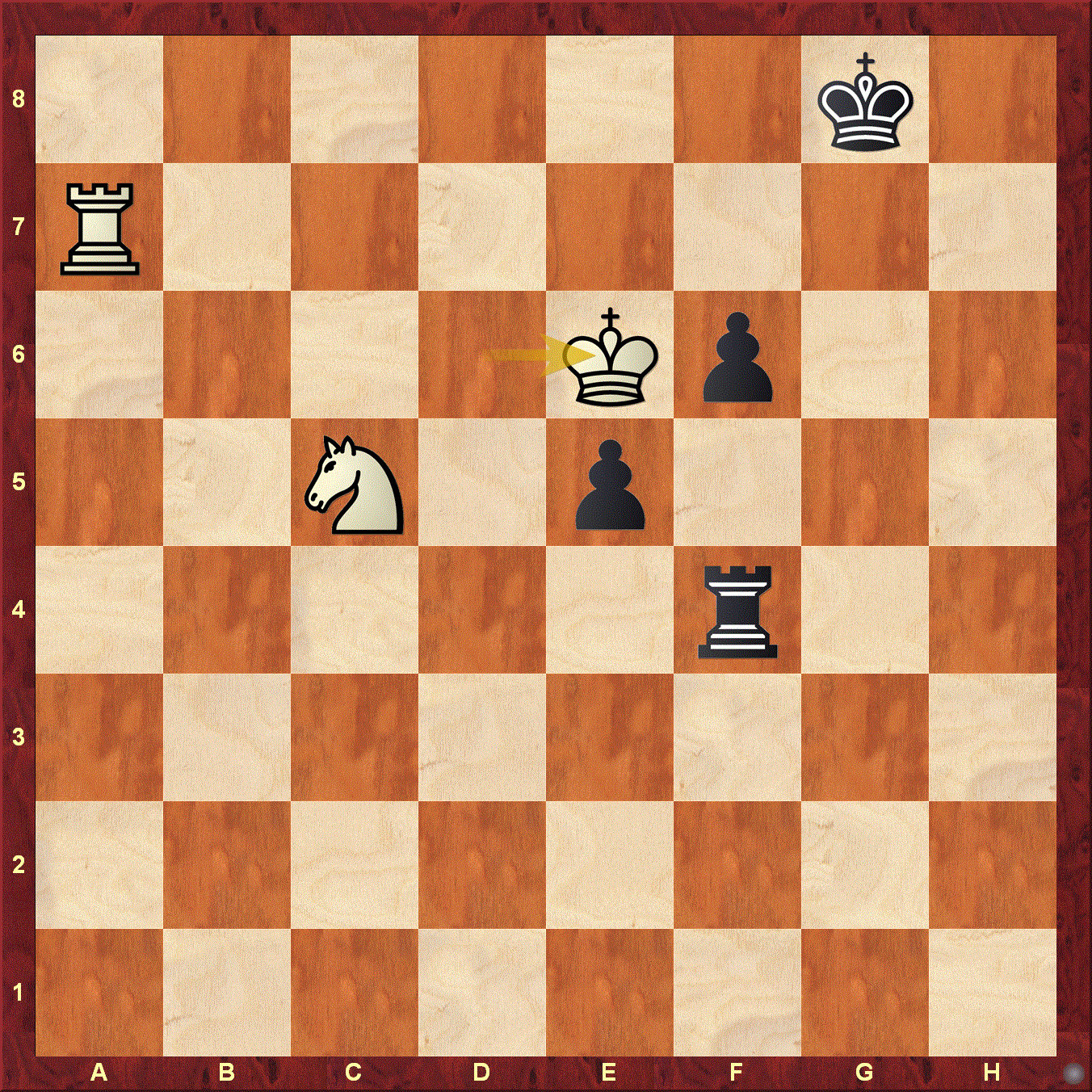 Unbelievable turn. It is apparent that Fataliyeva totally lost her nerve as the game went on and did not appreciate white's plan of attacking with the king. Even before the fatal 128…Kh2?? the game was drawn. The final combination was pointed out by an excited Daniel Naroditsky.
The moment Ulviyya Fataliyeva blundered and went on to lose a game where she looked sure to beat the Women's World Champion Ju Wenjun! #FIDEWorldCup pic.twitter.com/1ttLfbVJpO

— chess24.com (@chess24com) August 6, 2023
Devastation.
FIDE Report
Of the top women's favourites, Aleksandra Goryachkina is through after drawing her second game, while Mariya Muzychuk won again today and qualifies for round four with two victories. Her sister, Anna, is also through to round four as she defeated the former Women's World Champion and compatriot Anna Ushenina with an effective attacking combination to finish the match 1,5:0,5.

Divya Deshmukh crashes out against Goryachkina, but her compatriots Humpy and Harika go through.
Photo by Stev Bonhage

Polina Shuvalova eliminated American Irina Krush, while Humpy Koneru was better than Olga Badelka, outplaying her in the Torre Attack. Dutch champion Eline Roebers is also through with a maximum score, beating Poland's Klaudia Kulon in both games.

The 2021 Women's World Cup winner, and former Women's World Champion Alexandra Kosteniuk, will head to the tiebreaks as today again she could not break the resistance of Teodora Injac of Serbia. Zhu Jiner and Harika Dronavalli also go to the tiebreaks.

~Milan Dinic, FIDE
Indian prodigies go through
Dommaraju Gukesh, Arjun Erigaisi and Praggnanandhaa Rameshbabu go through to the fourth round with Nihal Sarin and Vidit Gujrathi needing tiebreaks after drawing both classical games. Gukesh took advantage of a blunder by S.L. Narayanan to punch his ticket while Erigaisi ground down Vladimir Fedoseev in a mostly equal endgame where his active king and two bishops ruled. As the chess world adjusts to the changing balance of power, it is clear that Indians entering the fourth round are here to compete for their first knockout title since Viswanathan Anand won the world championship in this format.
A couple of upsets took place as another from the group of prodigies sent and top player home. Javokhir Sindarov beat Maxime Vachier-Lagrave in a wild game in which the black king ended up in the middle of the board surrounded by two rooks. The Frenchman sacrificed an exchange for a two pawns and 4 vs. 1 queenside majority. MVL went for an attack, but it would be better to show the game.
Young Russian turned-Serbian chess player Alexey Sarana advanced to the next round. The reigning European champion has been overlooked and in the shadow of Vincent Keymer, the Uzbek and Indian prodigies, but will face and off-form Wesley So in the next round.
FIDE Report
Magnus Carlsen is through to round four after a draw with Aryan Tari (1,5:0,5 for Carlsen). Hikaru Nakamura also qualified after defeating Hungarian Benjamin Gledura in the second game with White. Leinier Dominguez Perez advanced to Round 4 after a lucky escape with a draw in a lost endgame against Guseinov. Parham Maghsoodloo also qualified, eliminating Alexander Donchenko (1,5:0,5) after making a hard-fought draw in the second game.

After scoring victories in game one, Peter Svidler and Sleh Salem lost today, which means they will go to the tiebreaks.

The 2021 World Cup winner Jan-Krzysztof Duda drew as White with Ivan Cheparinov and will be going to his first tiebreak in Baku.

Photo by Stev Bonhage

Several top favourites will also be playing in the tiebreaks after two draws: Fabiano Caruana, Ian Nepomniachtchi, Teimour Radjabov, Wesley So (who finished today after just 17 moves!), and Anish Giri. Other super GMs going to the tiebreaks after two draws are Yu Yangyi, Vidit Santosh Gujrathi, Nikita Vitiugov, Wang Hao, Wei Yi, Vasyl Ivanchuk and Radoslaw Wojtaszek who managed to level the score playing with the black pieces after losing the first game against Ivan Schitco.

~Milan Dinic, FIDE
Video by FIDE Chess
Round 3, Tiebreaks
Sunday, 6 August 2023
Ivanchuk, Svidler, Vidit go through… Giri out
A thrilling conclusion to the last match of the day saw Vidit Gujrathi advance with a blitz win against Matthias Bluebaum and exhaled after an exhausting battle.
Wang Hao who had retired from professional chess, returned and is now heading to the fourth round after a tiebreak win over David Howell. In the first rapid game, the Chinese player totally dominated the Berlin showing the dominance of the bishop over the knight. Anish Giri lost his tiebreak match against Nijat Abasov who has had a wonderful tournament. In fact, Giri lost on time!
The last African participant Bassem Amin was eliminated by Nils Grandelius after losing the first rapid game and being unable to equalize in the second. The first game appeared to be headed for a draw, but the Swedish player had the two bishops and was able to exact an advantage in the ending.
In the women's section, Alexandra Kosteniuk bowed out of the tournament after losing both rapid games to Teodora Injac. The defending World Cup champion switched her federation to Switzerland and this would have been a tremendous boost for Swiss chess.
FIDE Report
In a monumental upset for the women's tournament, Serbia's Teodora Injac eliminated Women's World Cup 2021 winner and former Women's World Champion Alexandra Kosteniuk, defeating her in both games of the first rapid tiebreak. However, in the first game, Kosteniuk missed an opportunity for a perpetual check, allowing Injac to secure victory.

This was a very long day for India's Harika Dronavalli, who qualified for Round 4 only after winning the final blitz-game match with a 3+2 time control. Dronavalli was playing Lela Javakhishvili of Georgia after they drew both games in the classical part of round three.

Video by ChessBase India

The first rapid match ended with two draws. In the second, Harika scored first, but Lela bounced back in the second. Then, in match three – with a time control of 5+3, both games ended in a draw. In the final two-game match, played under 3+2 time control, game one ended without either side having many chances. But in the second and final game, Harika took advantage of her opponent's imprecisions and ended in a knight endgame where she was two pawns up, finishing with a victory.

Grandmaster Zhu Jiner (whose title was officiated just recently by FIDE) has qualified after winning both of her rapid games against IM Yuliia Osmak.

Another Chinese GM and former Women's World Champion, Tan Zhongyi, is also through, having defeated Estonia's IM Mai Narva in the second rapid match 2:0 (the first one ended with both sides scoring a victory each).

~Milan Jiner, FIDE
Video by FIDE Chess
Video by FIDE Chess