Brewington Hardaway gets 3rd/Final IM norm!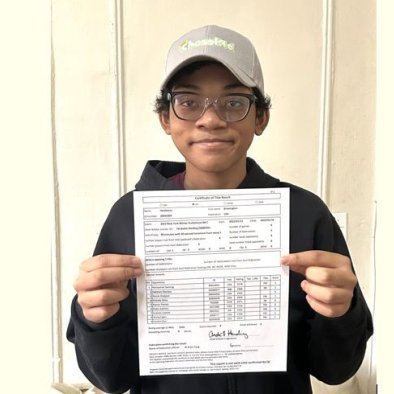 Brewington Hardaway (Twitter)
In a span of seven months, Brewington Hardaway secured three norms for the title of International Master. His last one came at the 2023 World Open where he scored a strong 6/9 including a key win over GM Illia Nyzhnyk. "Brew" earned his first IM norm and the FM title in January and only a month later earned his second IM norm. Both were at the Marshall Chess Club.
In what has been a whirlwind year of chess improvement Brewington has completed the norm requirement. He made the big announcement on Twitter with the mention of his big win in a theoretical Sicilian with a hedgehog setup.
I just got my last IM Norm at the 2023 World Open with 6/9. I also gained around 30 FIDE points and in the process I got to play 3 GMs rated over 2600, one of which I managed to win against! I just need 10 more rating points to become an IM elect. https://t.co/MGLEWDn8eQ

— Brewington Hardaway (@BrewChess) July 5, 2023
Brewington Hardaway vs. GM Illia Nyzhnyk
Brewington also played three other Grandmasters with a draw against Aram Hakobyan and losses against Victor Mikhalevski and Lazaro Bruzon. Such a score is decent against such competition and will be a tremendous learning experience as he begins to go for the GM norms.
GM Aram Hakobyan vs. Brewington Hardaway
What the game above shows was his eagerness to fight for the initiative against a higher-rated opponent. That's an admirable quality and it will take him a long way. Hopefully, Brew will continue to trod his course toward the GM title. Following are two games against legendary figures Cuban legend Lazaro Bruzon (now playing under U.S. federation) and veteran International Master Tim Taylor.
GM Lazaro Bruzon Batista vs. Brewington Hardaway
Brewington Hardaway vs. IM Timothy Taylor
FM Brewington Hardaway (2361-USA)


#
Player
ELO
Nation

Flag

Result

1
Matthew Shih
1980
USA

2
Vikram Rajmohan
2075
ENG

1

3
GM Aram Hakobyan
2613
Armenia

4
IM Jason Liang
2527
USA

5
GM Illia Nyzhnyk
2641
Ukraine

6
GM Victor Mikhalevski
2519
USA

0

7
Jeffery Wang
2165
USA

8
GM Lazaro Bruzon Batista
2617
USA

9
IM Timothy Taylor
2103
USA

Score: 6-3 IM NORM (PGN Games)